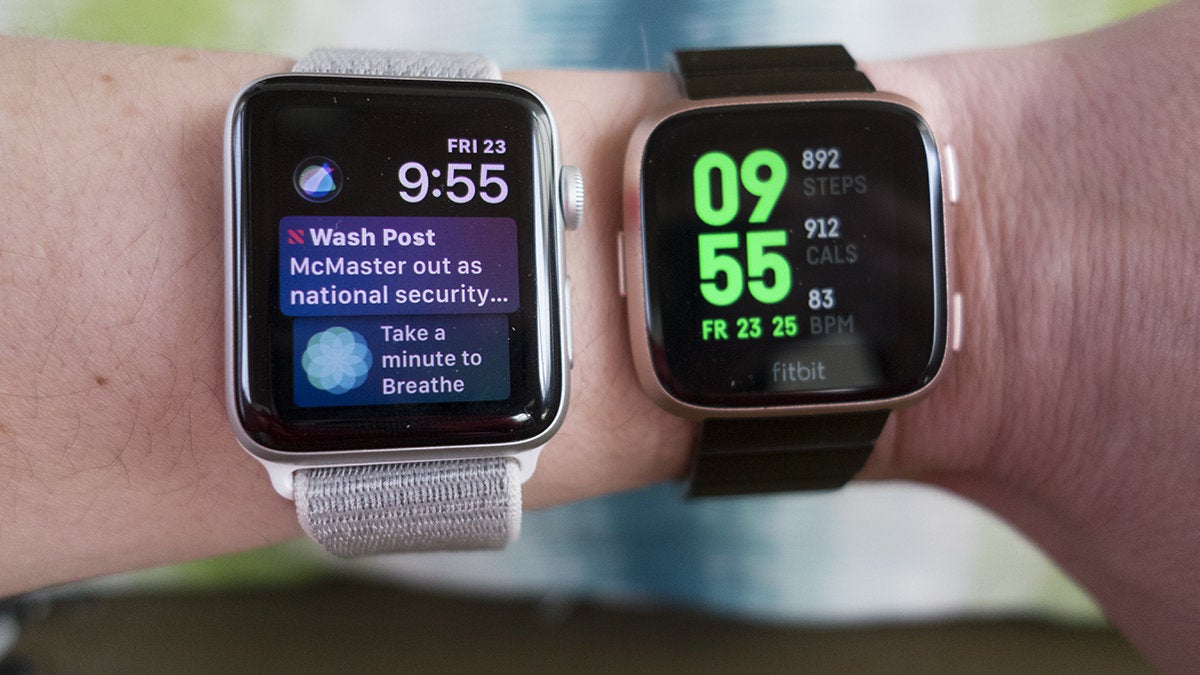 If you don't remember Pebble, it's easy to write off Fitbit's Versa as a cheap Apple Watch knockoff. It has the same square body as Apple's dominant wristwatch. Its size strikes a perfect balance between the 42mm and 38mm sizes. You can dress it up with a similar series of metal and leather bands. And it comes in rose gold.
But spend a little time with Versa and you'll see that it's not as much of an imitator as it is Apple Watch's first real competitor. Granted, that's not saying all that much. Fitbit shut down Pebble before Apple Watch hit shelves, most Android Wear/WearOS watches have been dead on arrival, and Fitbit's own Ionic smartwatch was too buggy and expensive to seriously challenge Apple Watch. But Fitbit's new $200 wearable is the Pebble Watch we always wanted, combining fitness acumen with technological smarts into a sleek, attractive package.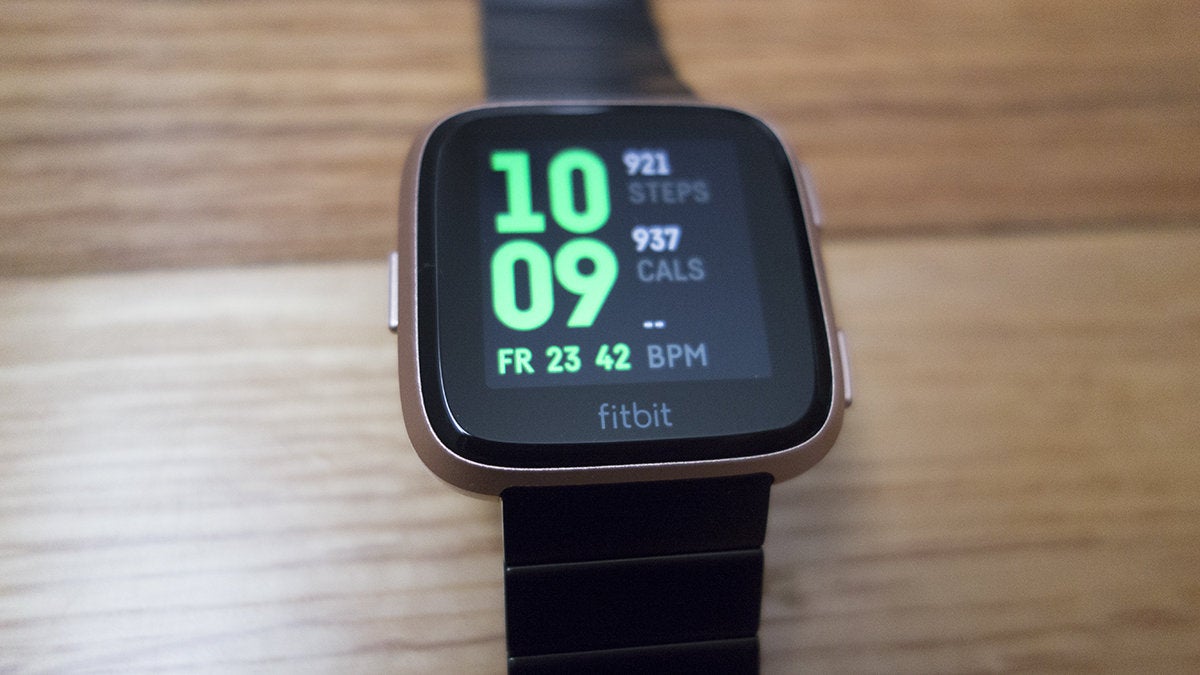 Fitbit Versa is small, light, and packed with features.
It still has a heavy focus on fitness and health, of course, but Versa is a something of a watershed product for both Fitbit and the smartwatch industry, a true lifestyle product that rights many of Ionic's missteps and proves that Apple Watch isn't the only game in town.
A design for all sizes of wrist
When Fitbit launched its Ionic wearable last year, it was a bit of a disappointment. While it predictably excelled at fitness tracking with multi-day battery life and on-watch coaching, it was more than a little underwhelming as a smartwatch. Too big to appeal to anyone other than bulked-up athletes, Ionic and its app-starved Fitbit OS was most certainly at the beginning of what seemed to be a lengthy work in progress.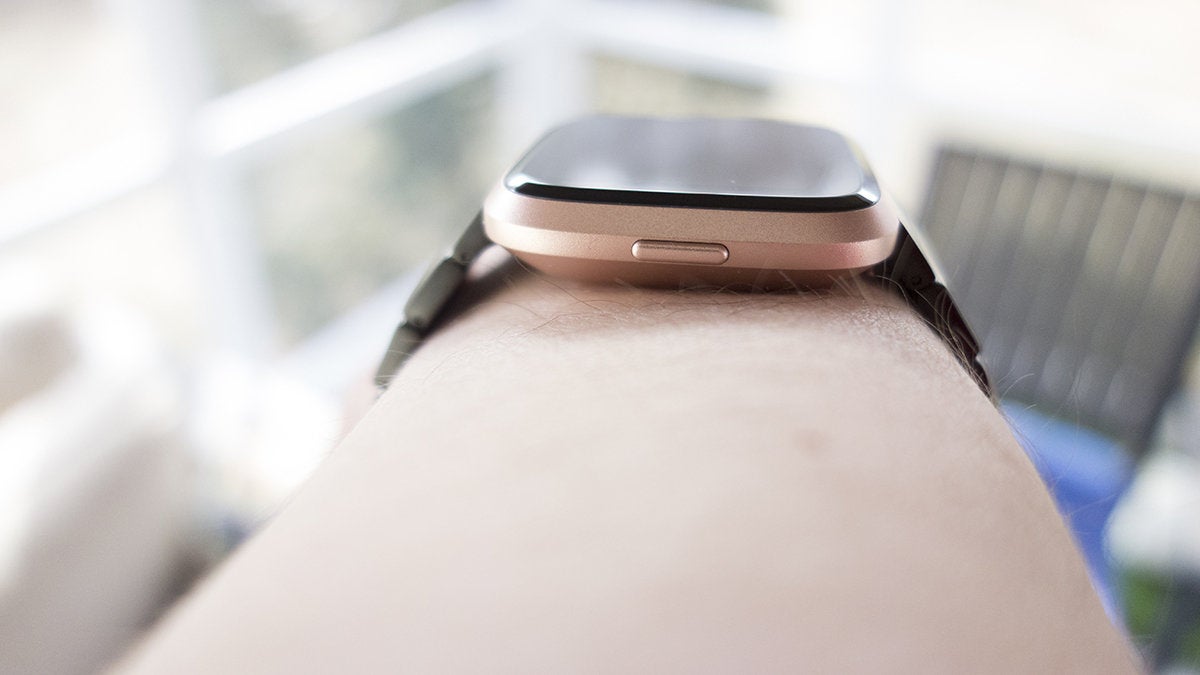 One button is probably enough to control Versa but it actually has three.
ut less than six months later. Versa is pretty much everything Ionic isn't. While Fitbit has thankfully stuck with its square shape, the lugs that extended aggressively above and below Ionic's screen are gone, leaving a squat square body. Without the extra frame, Versa's bands attach directly to the edges of the watch body, giving it a more natural wristwatch look. The similarities to Pebble Time and Apple Watch are inevitable, but Versa is still very much its own device.
Like Ionic, Versa comes in three colors, but the black, silver, and rose gold here feel much softer than Ionic's gray and burnt orange. It's both thinner (11.2mm versus 11.4mm) and shorter (37.6mm versus 38.6mm) than the female-friendly 38mm Apple Watch, and its decidedly non-athletic aesthetic makes it look more like a fashion statement than a fitness one. Where Ionic is more at home on a treadmill or triathlon, Versa is, well, versatile enough to be worn to a business meeting or a night out. And perhaps most importantly, it won't look ridiculous on a tiny wrist.
At just 23 grams, Versa is also incredibly light, even when using one of the heavier metal link bracelets. Swapping the bundled sport band for one of the 16 leather or fabric ones Fitbit is selling is easy enough, with a small lever that controls a standard 22mm watch pin. Though Ionic's snap-on system is far superior, as is Apple's slide-out mechanism, Versa's band options are attractive and affordable, particularly the metal link band that Fitbit is selling for $100. It's not as luxurious as Apple's Space Black link bracelet, but it's also $450 cheaper.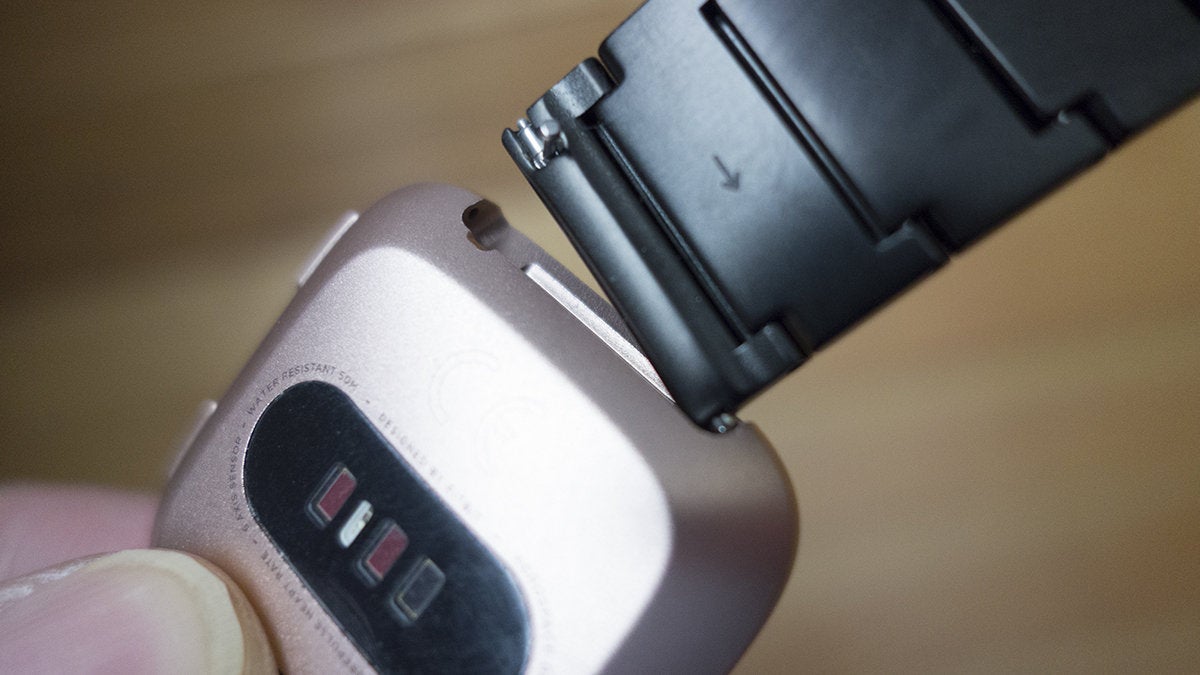 Versa's band-switching mechanism isn't as elegant as Ionic's, but it does the trick.
Versa's display is on the small size at 1.34 inches—and slightly off-center due to Fitbit's insistence on putting its name on the front of the device—but it's incredibly bright and crisp. The bezels are a little chunkier than the ones on Apple Watch, and without a black-friendly OLED screen, you'll notice them a whole lot more on Versa.
The sides of the frame feature the same three-button layout as Ionic, which is probably one button too many. Two shortcut keys are a bit of overkill, especially since you really don't really need to use the buttons for navigation anymore. Swipes and taps register much quicker on Versa than Ionic, and Fitbit has tweaked the interface so it's much more intuitive and touch-friendly.
A fitness tracker with a focus on health
As a fitness tracker, Versa is pretty much Ionic without on-board GPS, but for the price, the lack of a dedicated tracking chip isn't a surprise. (Apple's Series 1 watch doesn't have GPS either.) More bothersome is the absence of NFC on the base model. If you want to make payments using Fitbit Pay, you'll need to spring for one the $230 special-edition models, available in graphite or rose gold with woven bands.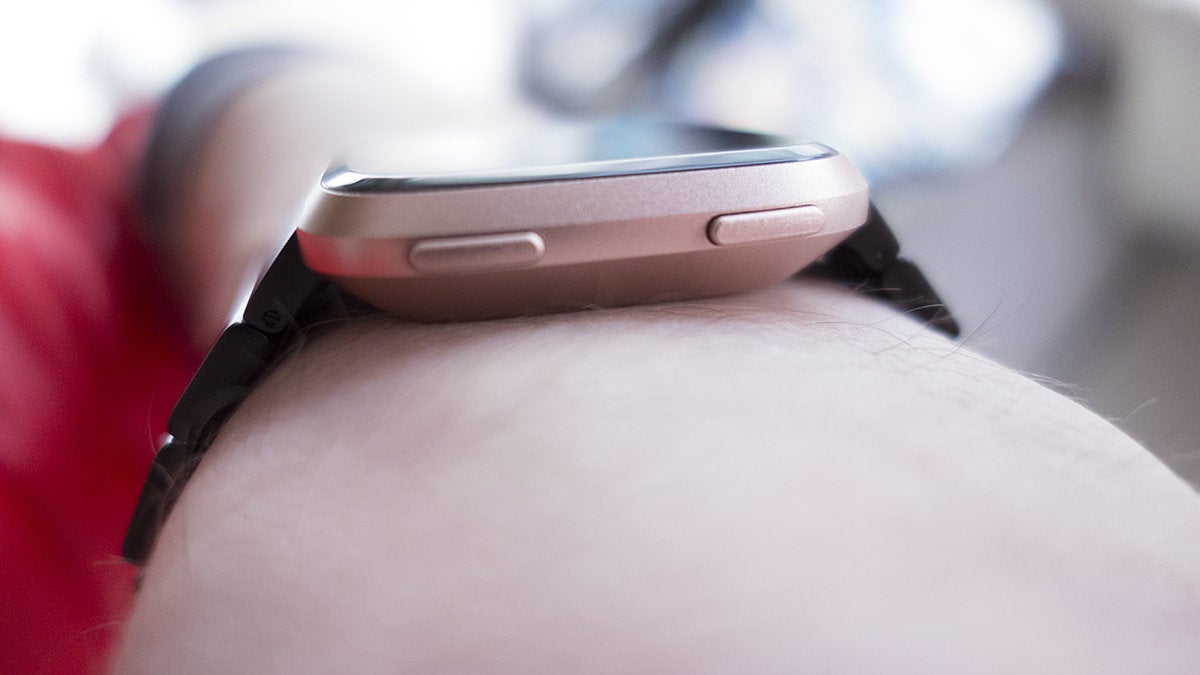 Versa's concave design cuts a nice profile on your wrist.
Otherwise, everything else is here, including on-watch training, specialized exercise tracking, and advanced heart rate monitoring. It runs the same Fitbit OS as well, whose library of apps have been greatly expanded from the early days of Ionic. While it's still nowhere near as robust as the Apple Watch store or even Samsung's Gear store, you'll find a decent selection of apps, including Yelp, The New York Times, Philips Hue, and Nest, as well as several fitness-related apps. There are 550 apps and clock faces available for Ionic, with about half of them available for this review and the rest on the way, Fitbit tells me.
Like Pebble, Fitbit's apps are decidedly specialized and mostly single-featured—for example, the Starbucks app is still just a place to store your loyalty card—but I can see a similarly passionate community building around it as Versa grows. Fitbit has started the ball rolling with its own Fitbit Labs section, which contains more specialized, nonessential titles, such as Think Fast, a mental agility game, and the upcoming New Parents app that lets moms and dads track diaper changes and feedings.
Apps load far more quickly and effortlessly than they did when Ionic launched, and I didn't receive any error messages when switching clock faces. That's an important improvement, because users are going to want to swap out their faces a lot. While writing this review, I counted more than 50 styles to choose from, many of which are professionally designed with smooth animations and up-to-date stats, and Fitbit says hundreds more are on the way.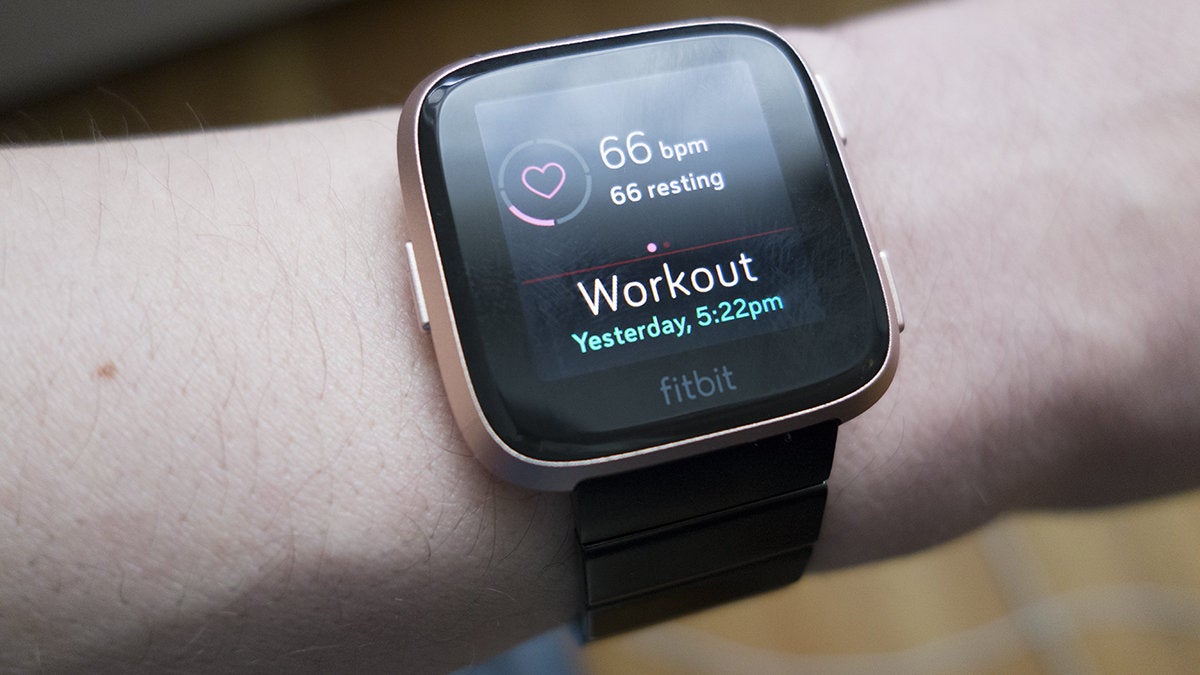 Versa's new Today screen will show your steps, heart rate, and other stats.
Fitbit's impressive sleep tracking is on display here too, though the lack of a dedicated app means you'll have to log into your dashboard to see the results. Fitbit has added a nifty Today screen that shows your daily stats by swiping up from the bottom of the screen. While it isn't as visually polished as Apple's Activity app, it's a smart way to see steps, goals, floors, distance, and workouts. And coming soon, women will also be able to track their menstrual cycle on this screen, an important piece of Versa's feature set that isn't quite ready yet.
Period tracking gives Versa an important distinction over Apple Watch. While Apple gives women a way to track their cycles using Health or various third-party apps on the iPhone, Fitbit will be baking it more deeply into its ecosystem, pushing it to Versa and prominently displaying it in the Fitbit app. Women have long been underserved by the smartwatch, and Fitbit's whole approach with Versa is a breath of fresh air.
The killer feature is battery life 
Versa's battery life is about the same as Ionic, but it's even more impressive in such a small package. I wore Versa along with an Apple Watch Series 3 while listening to an hour of music, two half-hour workouts, six hours of sleep, and lots of notifications, and here's what was left after 24 hours:
Fitbit Versa: 75 percent
Apple Watch: 38 percent
That's not a small difference by any stretch. Those numbers put Versa's battery life at exactly four days, but I reckon most people will be able to push it into a fifth. The biggest battery suck was music playback, but even then, I lost just eight percent after an full hour of listening, as compared to 14 percent on Apple Watch.
When you need to charge it, Fitbit has introduced yet another plug with Versa, and this one is a little less portable than Ionic's magnetic cable. The watch comes with a small cradle that opens when you pinch the sides and shuts to hold the watch in place. It's a nice piece and I liked it better than Apple's inductive puck, but some outdoors enthusiasts might miss being able to toss a simple cable into their bag on lengthy sojourns.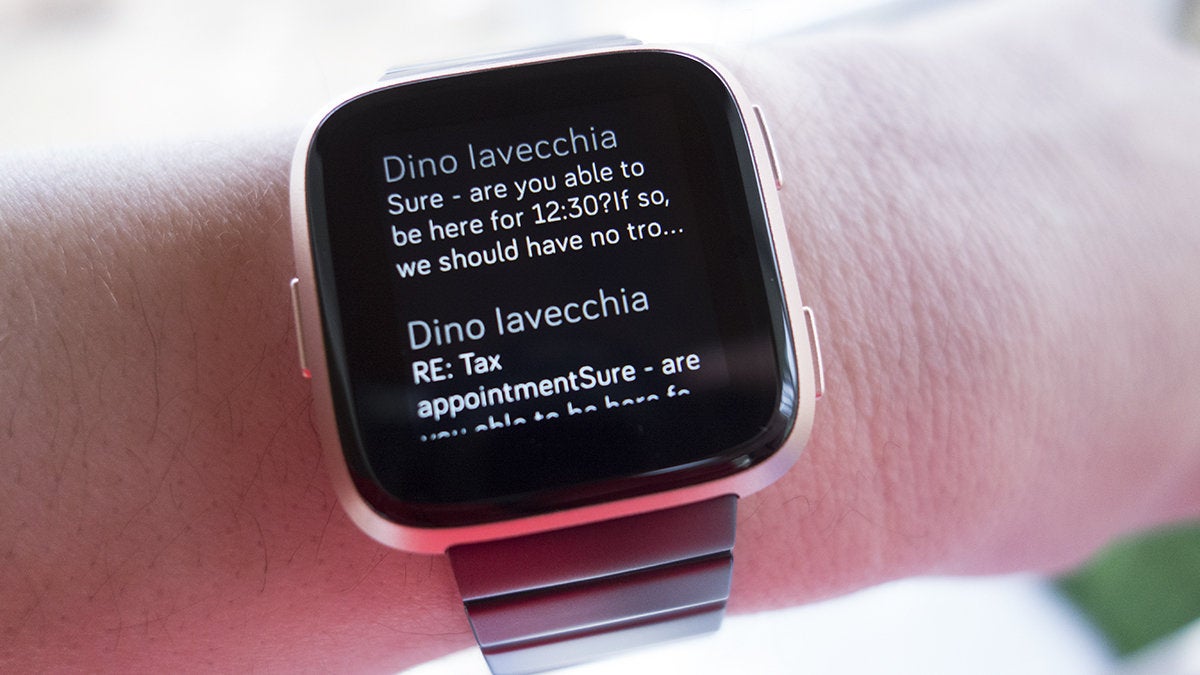 Notifications aren't interactive in Versa and sometimes you'll get duplicates.
Notifications on Versa mimic the ones on your phone, so unless you spend some time managing them on the Fitbit app, you'll probably be getting a pretty consistent stream of buzzes. You can set default message, calendar, and email apps from the ones installed on your phone, and notifications from those apps will receive a degree of prominence, but the system isn't nearly as robust or refined as Apple's. You can't interact with notifications in any way (even if a Versa version of the originating app is installed on your watch), and they occasionally duplicated or didn't show up at all.
Fitbit has at least promised to bring Android quick replies in a future update, but for the most part, notifications on Versa or any other Fitbit smartwatch will never be central to the experience. I can live with that, though I wouldn't mind Fitbit adding voice control or teaming with Amazon to bring Alexa to Versa. The lack of any sort of assistant is a glaring omission in the age of AI, and it would make a great addition to Versa 2.
Should you buy a Fitbit Versa?
The $200 Fitbit Versa is hardly a perfect smartwatch. It's missing GPS and NFC, has a small library of apps, and doesn't have any sort of voice control or AI assistant. However, it has three important things going for it: it's small, it's attractive, and it has a great battery. Plus it costs $50 less than the cheapest Series 1 Apple Watch.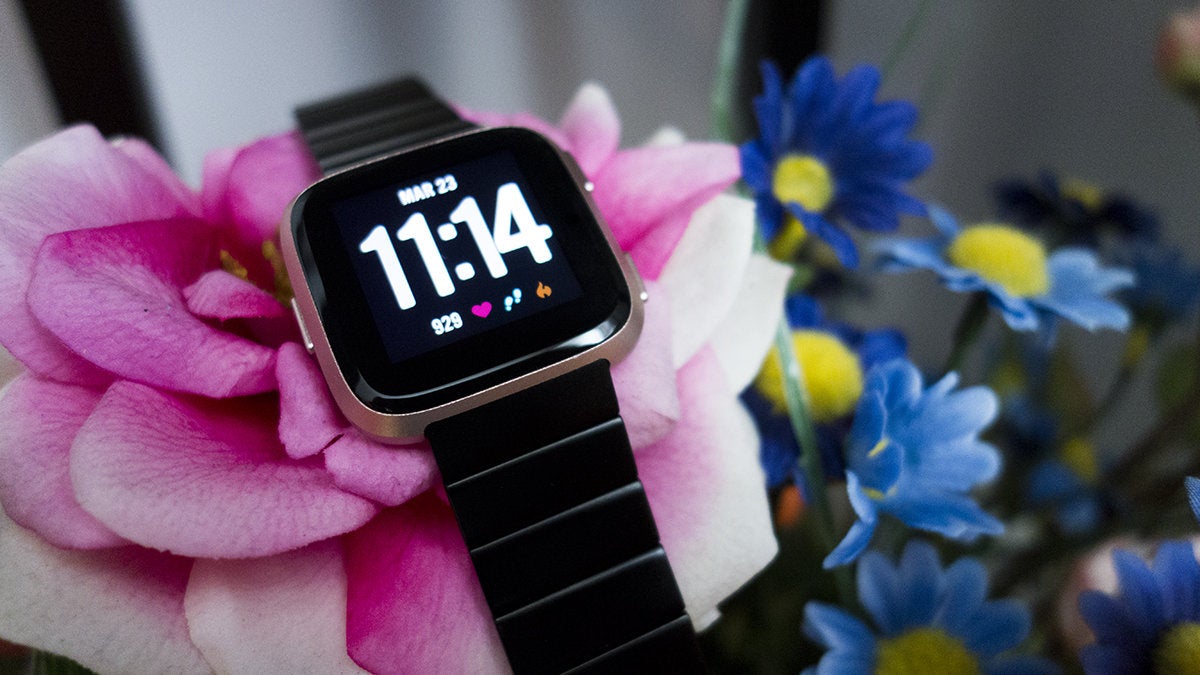 If you aren't an Apple devotee, Versa is a no-brainer, but iPhone users who don't want to spend $350 to $400 on an Apple Watch Series 3 should take a hard look at Fitbit's new smartwatch. And since it works across multiple platforms (iOS, Android, and any remaining Windows Phone users) you won't be stuck with a piece of costume jewelry if you switch.
Back when Apple Watch was just a glimmer in Jony Ive's eye, Pebble was showing the world what a smartwatch could and should be. That spirit can be felt all over Versa. And something tells me it'll make a much bigger dent in the smartwatch landscape than a pebble would.