The Xiaomi Mi 9 is a few months old now, so why not expand that family by introducing a follow-up – the Mi 9T? We won't pretend we know what's on Xiaomi's mind when it comes to naming phones, but the 9T we reviewed recently reminded us of the Mi 9 SE that went live in the Spring alongside the flagship. Today's the day we tell you more about that one.
The Mi 9 SE is the most compact of the 9s, the nearly-6-incher looking tiny next to the 6.39-inch Mi 9 and 9T. It's a Samsung-made SuperAMOLED like the ones you'd find on the other two, so the SE isn't getting treated like a lower-end device in this respect just because it's the most affordable of the bunch.
It's got a triple camera too, and the right triple camera – regular/tele/ultra wide, just like the big boys. It's the same arrangement you'd find on the Mi 9T, which means a couple of downgrades compared to the high-end Mi 9, but it's still a respectable lineup of shooters.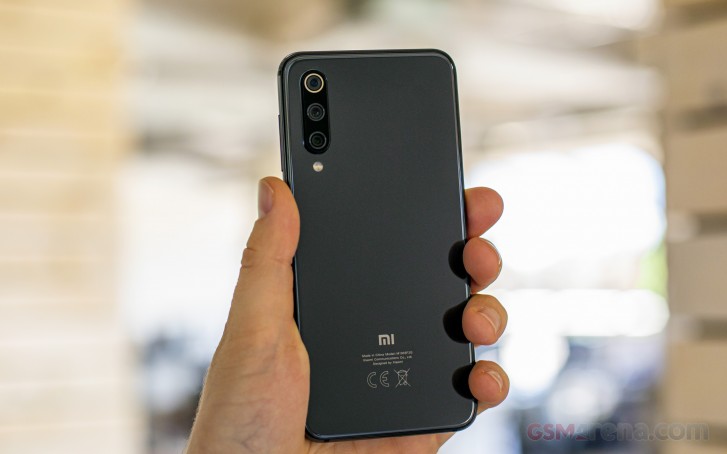 The Mi 9 SE does get the least powerful chipset in the family, but the Snapdragon 712 isn't half bad and packs plenty of punch. And with the smallest screen around, it shouldn't come as a surprise that the 9 SE has the lowest battery capacity too.
Xiaomi Mi 9 SE specs
Body: 147.5×70.5×7.5mm, 155g; aluminum frame, Gorilla Glass 5 front.
Display: 5.97″ Super AMOLED, 2,340×1,080px resolution, 19.5:9 aspect ratio, 432ppi.
Rear camera: Primary: 48MP, f/1.8 aperture, 1/2″ sensor size, 0.8µm pixel size, PDAF. Telephoto: 8MP, f/2.4, 1.12µm, 2x zoom. Ultra wide: 13MP, f/2.4, 1.12µm. 2160p@30fps video recording.
Front camera: 20MP, f/2.0 aperture, 0.9µm pixel size. 1080p/30fps video recording.
OS: Android 9 Pie; MIUI 10.
Chipset: Qualcomm Snapdragon 712: octa-core Kryo 360 CPU, Adreno 616 GPU.
Memory: 6GB of RAM; 64/128GB storage; no microSD slot.
Battery: 3,070mAh Li-Po (sealed); 18W fast charging.
Connectivity: Dual-SIM; LTE-A, Cat.15/13 (800Mbps/150Mbps); USB-C; Wi-Fi a/b/g/n/ac; GPS, GLONASS, GALILEO, BDS; Bluetooth 5.0; IR port.
Misc: Under-display fingerprint reader; single down-firing speaker; no 3.5mm jack.
A few items in the above list can raise an eyebrow or two – for example, why is there no headphone jack? We get that it doesn't look flagship-y in 2019, so the Mi 9 doesn't have it, but the 9T does, and not the SE, what's that about?
Then there's the missing microSD card slot. One could make a case that Xiaomi's rarely fit one on phones outside of the Redmi series, so the Mi 9 SE isn't an exception, but it would have been nice to have. It it nice to have an IR blaster too, and that's one tick in the SE's specsheet.
Xiaomi Mi 9 SE unboxing
The Mi 9T comes in a black box with the phone printed on it, the Mi 9 SE here doesn't show up with as much flair. It's still a nice looking box, plain white as it may be, with the odd silver logo stamped here and there.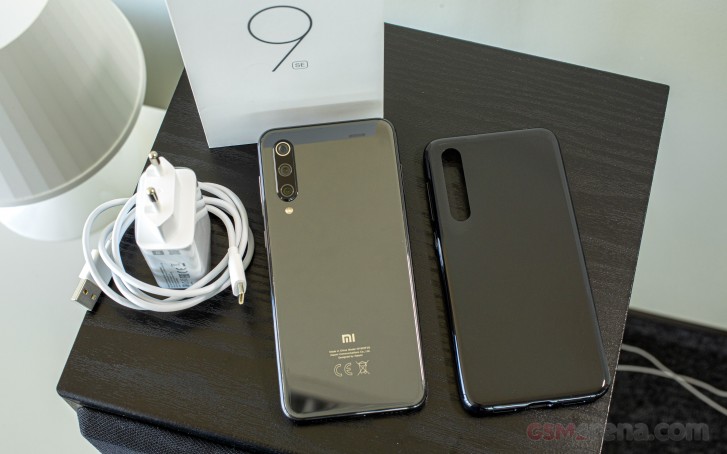 Inside, you're greeted by a paper sleeve that holds a smoked transparent silicone case. The phone lies in a tray underneath. When you get it out of the way you'll see the beefy power adapter rated at 5V/3A, 9V/2A, 12V/1.5A, and a USB-A-to-C cable to go with it. Xiaomi also bundles a USB-C-to-3.5mm adapter so you can use your headphones with the phone. There isn't a headset in the box, nor has there ever been with any Xiaomi phone that we can think of.
Design and 360-degree view
The Mi 9 SE is the smallest of the Mi 9s – with a screen diagonal of 5.97 inches it is, in fact, a remarkably pocket-friendly handset. While the Mi 9 and Mi 9T with their 6.39-inch displays pretty much require both hands most of the time, the SE is a lot better suited to single-handed use.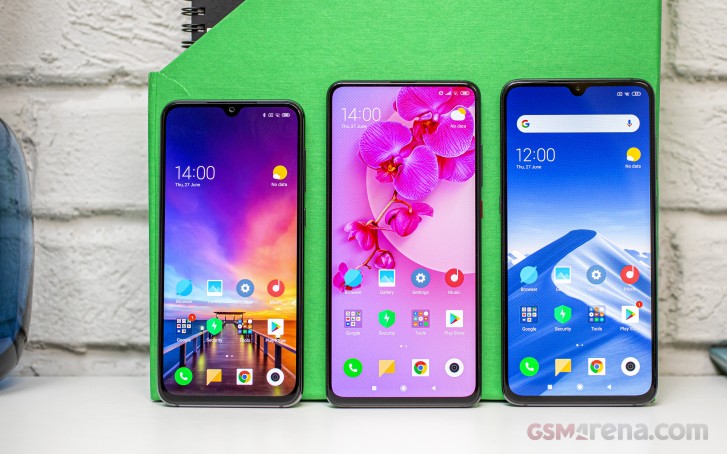 But don't go thinking that just because it's fun-size, the Mi 9 SE doesn't mean business – it's got a proper triple camera on its back like its more space-consuming brethren and unlike any other phone in its segment.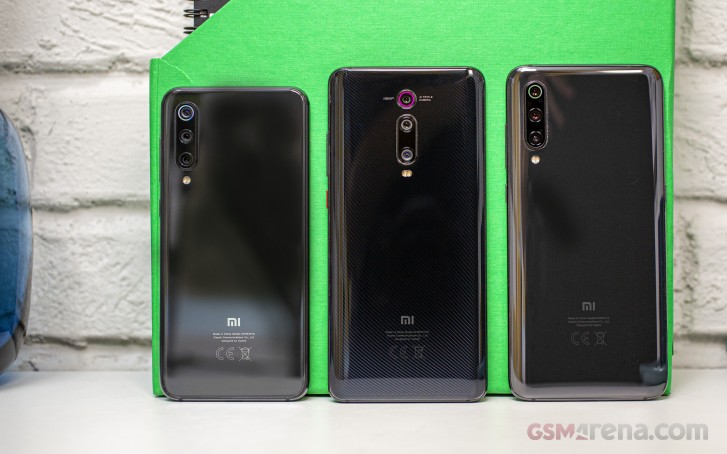 The three modules are stacked vertically in the top left corner and stick out by a good 2mm – place the phone on a table and it tends to wobble. We'd take wobbling phones if that means big image sensors, which is the case here.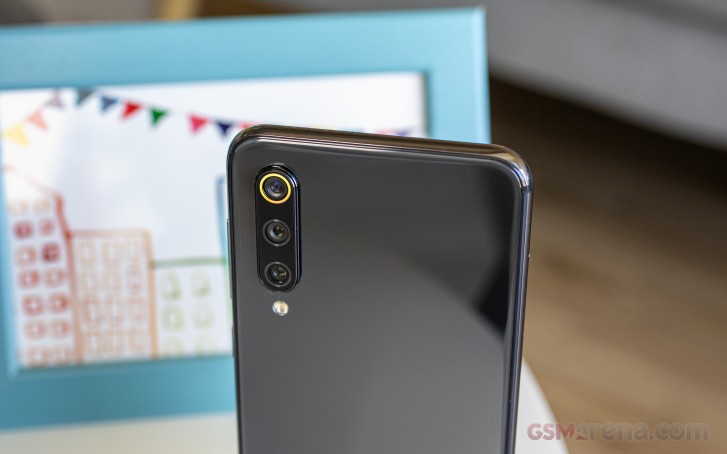 Mind you, we're seeing a particular resemblance in the Mi 9 SE's design to a certain iPhone X/XS, particularly when it comes to the camera assembly. Let's just say that the extra module and the flash being outside of the shared window make the Xiaomi phone unique and we'll put the copycat theme to rest.
Over on the front, the Mi 9 SE doesn't have the obnoxious notch of said iPhones, and it's just a waterdrop-style cutout for the selfie camera instead. It resembles the Mi 9 in this respect, while on the Mi 9T Xiaomi went with the more elegant pop-up camera solution. There's no room on the Mi 9 SE for that, probably.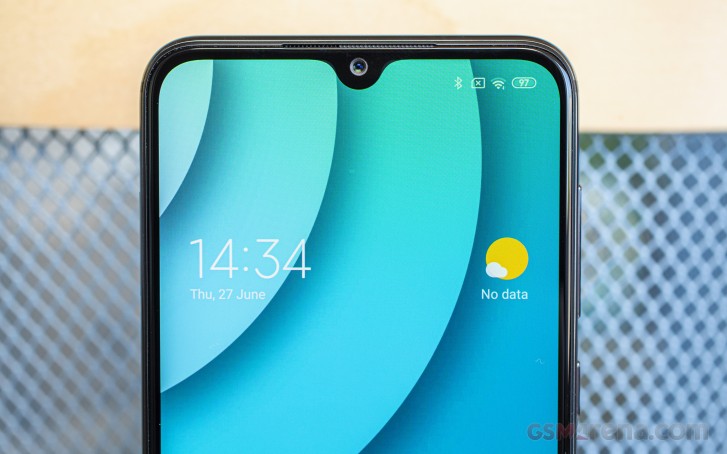 The SE gets a Super AMOLED display like the Mi 9 proper and the Mi 9T. It has relatively thin bezels on the sides and top, with a bit more material below it, though it's certainly one of the slimmer chins we've seen.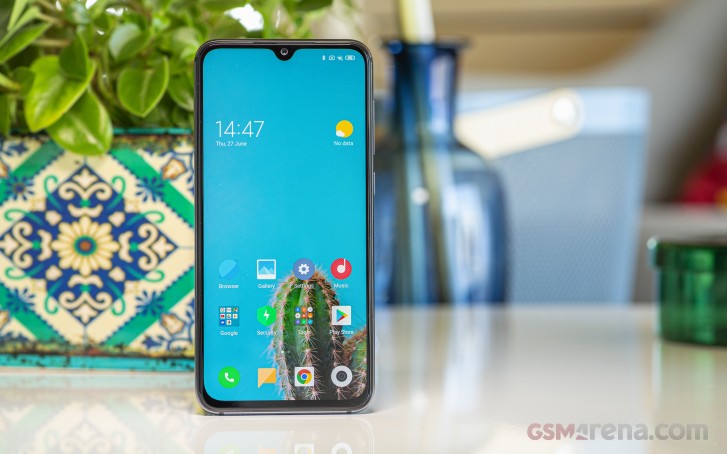 Having the OLED panel has enabled Xiaomi to install an under-display fingerprint reader, so that's another area where the SE is playing with the big boys – you could say that capacitive sensors are still the norm in the midrange, but the Mi 9 SE is no ordinary midranger. The flipside is that, like on most top-tier devices, the headphone jack has gone missing – you can't have it all, apparently.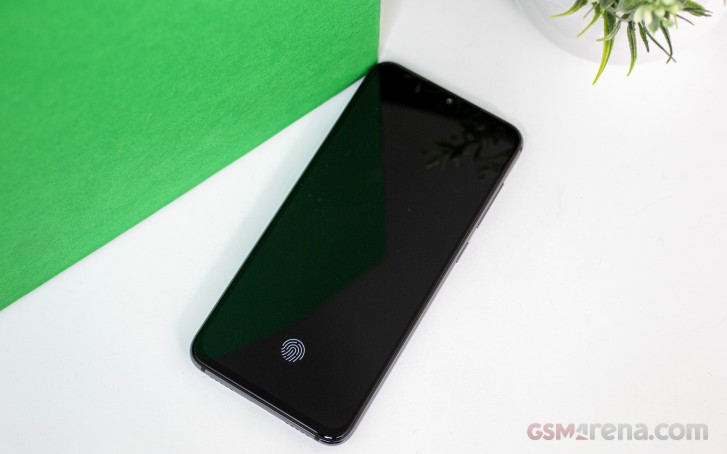 On a positive note, the Mi 9 SE does feature an infrared blaster, which paired with Xiaomi's excellent remote app turns the phone into a universal remote for all things not smart enough to communicate over Wi-Fi/Bluetooth.
Continuing the tour of the polished aluminum frame, we arrive at the buttons on the right. The power button is a centimeter above the midpoint, with the volume rocker above it. Both are generously sized, easy to operate with either hand and click nicely. Opposite the volume rocker, on the left side of the phone, you'll find the card slot – it takes two nano SIMs, but not a single microSD, sadly.
We've been on about how compact the Mi 9 SE is, but how compact is it, precisely? It measures 147.5×70.5×7.5mm and weighs 155g. The Pixel 3a which could potentially be on your shortlist if you're after a pocketable midranger is 0.4mm narrower, but 3.8mm taller and 0.7mm thicker, while also having all the bezels in the world around its smaller 5.6-inch display. The Pixel is admittedly lighter at 147g. The Huawei P30 lite is indeed more efficient with its use of space, but thanks to a larger 6.15-inch display, it is taller, wider and heavier than the Xiaomi.
Nice and small 5.97-inch SuperAMOLED
The Xiaomi Mi 9 SE has a 5.97-inch display – that passes for small these days, with the tall aspect ratio and slim bezels allowing 6-inchers to fit in even more compact footprints. The Mi 9 SE's panel is a Super AMOLED one – Samsung-made, as Xiaomi is keen to point out in its specs pages. It's in a 19.5:9 aspect with a resolution of 2340x1080px for a pixel density of 432ppi.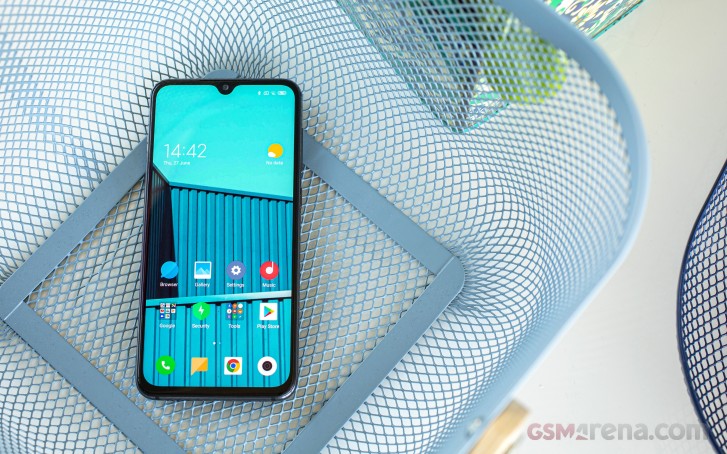 Xiaomi claims the 9 SE's display is capable of outputting 650nits of brightness, and in our testing, it nearly achieved that – we measured 638nits with auto brightness turned on. If you put the ambient light sensor to rest and adjust brightness manually, you'd get some 200nits less – both values are relatively typical for a good modern OLED display, and the entire Mi 9 family is in this ballpark. We measured a minimum brightness of 2.2nits, same as on the Mi 9T and a good value for using the phone in complete darkness.
Display test
100% brightness
Black, cd/m2
White, cd/m2
Contrast ratio
Xiaomi Mi 9 SE
0
444
∞
Xiaomi Mi 9 SE (Max Auto)
0
637
∞
Xiaomi Mi 9T
0
449
∞
Xiaomi Mi 9T (Max Auto)
0
646
∞
Xiaomi Mi 9
0
428
∞
Xiaomi Mi 9 (Max Auto)
0
620
∞
Xiaomi Redmi Note 7
0.358
479
1338
Samsung Galaxy A50
0
424
∞
Samsung Galaxy A50 (Max Auto)
0
551
∞
Samsung Galaxy S10e
0
389
∞
Samsung Galaxy S10e (Max Auto)
0
803
∞
Realme 3 Pro
0.285
508
1782
Huawei P30 Lite
0.39
480
1231
Huawei P30 Lite (Max Auto)
0.413
501
1213
Realme X
0
448
∞
Motorola One Vision
0.39
464
1190
Motorola One Vision (Max Auto)
0.446
486
1090
Google Pixel 3a XL
0
451
∞
Motorola Moto Z4
0
458
∞
Motorola Moto Z4 (Max Auto)
0
645
∞
The color settings are a bit misleading on the Mi 9 SE. You have one field where you can select between default, warm and cool modes, and then another area for 'contrast' which, however, alters colors considerably.
In the out-of-the-box Default/Automatic state, we measured an average deltaE of 4.9 for DCI-P3 targets, which isn't a bad result. It's just that the whites are way too cool (deltaE 8.3). Opting for the warm preset brought some improvement – average deltaE of 3.9 and whites around 5.0. If you're after true sRGB rendition, the Mi 9 SE can deliver – switch it to Default/Standard, and you'd get a good average deltaE of 1.7, and only the slightest blue shift for white. Alternatively, you can put it in Warm/Standard, where we measured an average deltaE of 1.8 for sRGB target swatches with whites slightly shifted towards red/orange.
Xiaomi Mi 9 SE battery life
With the smallest screen among Mi 9s, the Mi 9 SE also has the smallest battery. Rated at 3,070mAh, the power pack is 3/4 the capacity of the one in the Mi 9T, and a few percents lower than the Mi 9 proper's.
In our testing, the Mi 9 SE did a respectable job with what it's got. We clocked 14:37h on our offline video-looping test and 25h of voice calls on a 3G network. The web browsing longevity is the least impressive, though at more than 10 hours, it's still a decent result. The standby efficiency didn't turn out particularly great which impacted the overall result, and the Mi 9 SE got an Endurance rating of 73 hours.
The Mi 9 SE supports Qualcomm QuickCharge 4+, meaning it's also compatible with the USB Power Delivery standard. The bundled adapter is rated at up to 18W and with it, the Mi 9 SE took 1:33h from flat to full. At the 30-minute mark, we were looking at a 47% charge. Even though it is a relatively small battery in the Mi 9 SE, both numbers are more than reasonable, and you'd have no trouble getting some juice in it quickly when in a pinch.
Loudspeaker
Testing the Mi 9 SE's loudspeaker ended up being a moderately unpleasant experience. No, no, it's not bad – on the contrary, it was just so loud. The single down-firing speaker easily earned an 'Excellent' rating, beating both the Mi9 and 9T and just about every other phone we've tested. It had no problems at this high volume producing rich and detailed sound, without any audible issues. We'd still like some more kick in the lows, but we realize that loud as it may be, the Mi 9 SE is still just a smartphone.
| | | | | |
| --- | --- | --- | --- | --- |
| Speakerphone test | Voice, dB | Pink noise/ Music, dB | Ringing phone, dB | Overall score |
| Samsung Galaxy A40 | 66.2 | 68.3 | 73.6 | Good |
| Samsung Galaxy M10 | 66.2 | 71.7 | 80.0 | Good |
| Realme 3 | 66.0 | 71.8 | 81.2 | Good |
| Realme X | 67.9 | 73.5 | 80.4 | Very Good |
| Samsung Galaxy A50 | 68.9 | 71.3 | 82.7 | Very Good |
| Motorola Moto Z4 | 70.8 | 73.6 | 80.7 | Very Good |
| Xiaomi Mi 9 | 70.1 | 74.2 | 81.6 | Very Good |
| Xiaomi Mi 9T | 70.6 | 74.8 | 81.2 | Very Good |
| Huawei P30 Lite | 71.5 | 73.8 | 83.1 | Excellent |
| Sony Xperia 10 | 68.7 | 73.0 | 87.8 | Excellent |
| Motorola One Vision | 73.5 | 71.3 | 85.8 | Excellent |
| Xiaomi Redmi Note 7 | 69.8 | 71.5 | 90.5 | Excellent |
| Realme 3 Pro | 67.5 | 73.8 | 90.5 | Excellent |
| Google Pixel 3a XL | 79.3 | 77.1 | 91.1 | Excellent |
| Xiaomi Mi 9 SE | 86.2 | 79.0 | 87.0 | Excellent |
Audio quality
The Xiaomi Mi 9 SE had a nicely high volume with an active external amplifier and the excellent performance we've come to expect from smartphones these days.
The Mi 9 SE handled the trickier headphones run with no drop in loudness while getting less stereo crosstalk than its Mi 9T sibling, which we just reviewed. The channel separation is still only average, and there was a tiny bit of intermodulation distortion, but other than that its performance was as good as in the first part. A solid showing, overall.
| | | | | | | |
| --- | --- | --- | --- | --- | --- | --- |
| Test | Frequency response | Noise level | Dynamic range | THD | IMD + Noise | Stereo crosstalk |
| Xiaomi Mi 9 SE | +0.02, -0.06 | -93.5 | 93.4 | 0.0011 | 0.0075 | -93.5 |
| Xiaomi Mi 9 SE (headphones) | +0.02, -0.13 | -93.0 | 92.8 | 0.0051 | 0.118 | -57.4 |
| Xiaomi Mi 9T | +0.02, -0.01 | -93.5 | 93.9 | 0.0025 | 0.0068 | -93.8 |
| Xiaomi Mi 9T (headphones) | +0.60, -0.04 | -92.9 | 93.2 | 0.020 | 0.454 | -49.4 |
| Xiaomi Mi 9 | +0.02, -0.01 | -93.9 | 93.1 | 0.0015 | 0.0066 | -91.9 |
| Xiaomi Mi 9 (headphones) | +0.05, -0.04 | -92.6 | 93.5 | 0.0026 | 0.072 | -58.7 |
| Asus Zenfone 6 | +0.03, -0.01 | -85.8 | 86.8 | 0.0012 | 0.014 | -76.2 |
| Asus Zenfone 6 (headphones) | +0.05, -0.01 | -81.1 | 82.7 | 0.0068 | 0.059 | -52.0 |
| Samsung Galaxy S10 | +0.03, -0.04 | -92.2 | 92.0 | 0.0015 | 0.0079 | -92.7 |
| Samsung Galaxy S10 (headphones) | +0.06, -0.03 | -91.9 | 91.7 | 0.0020 | 0.037 | -77.0 |
MIUI 10 on top of Android 9.0
The Xiaomi Mi 9 SE runs on Android Pie with Xiaomi's own comprehensively customized MIUI overlay on top. The version on the SE we had for review was 10.2, a notch behind what the 9T was running, which mostly meant minor differences in the camera app, and little else. In any case, MIUI updates typically arrive promptly and reach the majority of Xiaomi devices, so we have no reason to doubt the Mi 9 SE's software future.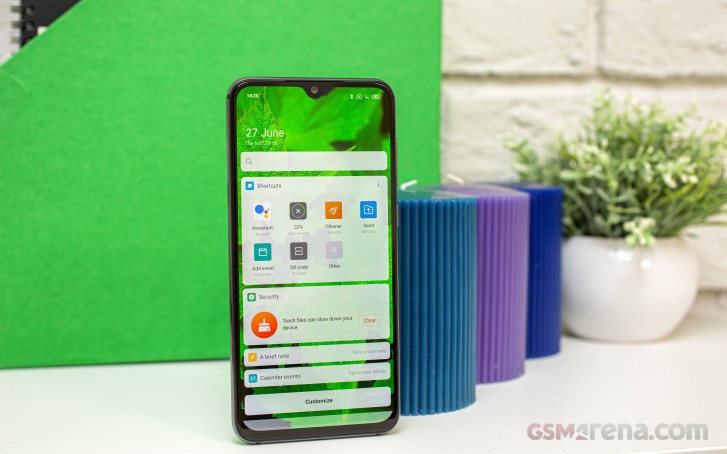 A recent addition to MIUI is the always on display feature, and the Mi 9 SE has that too. You get the usual options to schedule it or leave it on/off all the time. There are various themes you can choose from and make it yours.
You can unlock the screen via the improved under-display fingerprint scanner. Improved it is, indeed and after the easy setup it works quickly and reliably, making it our preferred option for unlocking the phone. You can also set up face unlock in addition to it – it's equally fast, though not as secure. Note that the face unlock option may not be available in all regions.
Introduced on the Mi 9, Dark mode is present on the Mi 9 SE as well – it will switch all system colors from white to black helping you save precious milliamps of power draw. Not all apps support the dark mode, but the majority do.
The Mi 9 SE also comes with various live wallpapers including the cool 24-hour wallpaper – it changes depending on the time of day. Perhaps having a few other scenes to choose from would be even nicer.
Themes are supported too, but the app appears only when the phone is set to a supported region. Otherwise, it's a very limited selection available from the settings menu with no option to download more.
There is no app drawer in MIUI, so all your apps are just sitting there on your homescreen, but you can still add them to folders to get things organized. Of course, the option to install a third-party launcher to get an app drawer is always there.
On the Mi 9 SE's default homescreen is a weather widget in the upper right corner across from a large clock widget. There is a Quick Card pane, to the left of the leftmost home screen. It contains different cards with relevant information – recent apps, step counter, notes, calendar events, the weather, and favorites, among others. You can configure what shows up here, or you can disable this altogether.
MIUI comes with one of the nicer implementations of gesture navigation around. Swiping from the bottom takes you to the homescreen, swiping and holding brings up the task switcher, and swiping in from either edge is a universal back action. That last one does clash with the side drawers of some apps, and you may need to make a point of swiping in higher than usual to get the drawer as lower swipes will trigger the back command.
SGetting used to the MIUI task switcher takes some time, but you'll soon start to appreciate it. Or we did, at least. It shows all of your recent apps in two columns. Tap and hold on a card for the split-screen shortcut, or just swipe it left or right to close it.
The notification shade is very sleek and all, but the fact that you can't just tap anywhere on the brightness slider but to grab it and drag it is irritating – you'll learn to live with it, but it's not ideal. Same with the one-way dismissal of notifications – to the right for making it go away, to the left for settings. Another one of the MIUI quirks that you either love or hate but get used to.
MIUI also offers a Security app. It can scan your phone for malware, manage your blacklist, manage or restrict your data usage, configure battery behavior, and free up some RAM. It can also manage the permissions of your installed apps and allows you to define the battery behavior of selected apps and applies restrictions only to the apps you choose.
Synthetic benchmarks
Powering the Mi 9 SE is the Snapdragon 712 chipset – essentially a 710 with minor tweaks, among them a whopping 0.1GHz higher potential clock speed on the high-performance cores. Those would be Cortex-A75-based Kryo 360-branded cores, two of them, ticking at up to 2.3GHz. The other six cores are Cortex-A55 derivatives, clocked at up to 1.7GHz. There's been no upgrade to the GPU for the 710-to-712 transition, and it's still the Adreno 616, if those numbers really mean anything.
MIUI also offers proprietary Gallery, Music, and Video player. In some regions, the music and video app include paid streaming options. With the Mi 9 SE's IR blaster, you can also control your choice of appliances, old and new, thanks to the Mi Remote app.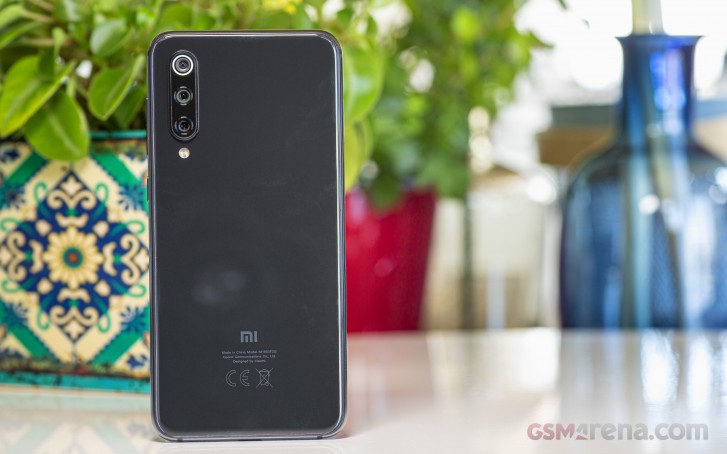 With that premise, it's no surprise that the Mi 9 SE puts out very similar results to the 710-based Mi 8 SE, for example. In GeekBench, the Mi 9 SE is right on par with the phone it replaces in single-core tasks and marginally ahead in multi-core. The Realme X and 3 Pro which both have the same chipset score noticeably lower in the single-core test, while mostly matching the 9 SE in multi-core. Snapdragon 675 devices like the Moto Z4 and Galaxy A70 offer significant improvement under single core-load and some improvement in multi-core. The Mi 9T and Galaxy A80, a Snapdragon 730 in each, are another step up the CPU performance ladder.
Triple camera on the back
The Xiaomi Mi 9 SE should theoretically have an identical camera setup to the one on the larger Mi 9T, itself a slight downgrade compared to the high-end Mi 9.
It's still a combination of an ultra wide angle cam and a telephoto module next to the primary shooter.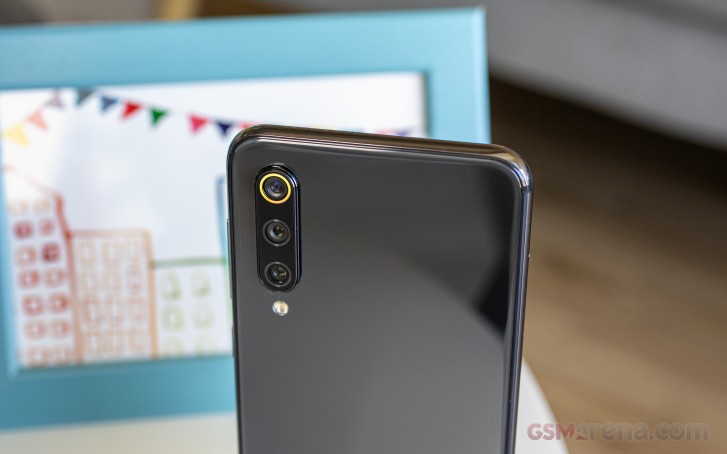 The main camera is based on a 1/2″ Quad Bayer 48MP sensor that outputs 12MP images by default. It's paired with an f/1.75 aperture 26mm equivalent lens which isn't stabilized – it is on the Mi 9. Then there's the ultra wide-angle camera which has a 13MP sensor behind an f/2.4 aperture lens with a 15mm equivalent focal length. The ultra-wide is fixed-focus.
It does get more interesting when we move on to the telephoto. Xiaomi specs pages list it as 8MP, but 2x shots from our unit come out at 4,000×3,000px, or obviously 12MP. In comparison, the Mi 9 T we had for review took 8MP telephoto shots. We can't be sure what to make of this – Xiaomi's specs page claims it's an 8MP camera. The focal length of the lens is specified at a 52mm equivalent, and the aperture is f/2.4.
The camera app is straightforward, but on the Mi 9 SE, there are a few kinks which were ironed out on the marginally newer build that was running on the Mi 9T. One of those is the camera switching, which on the SE is a 1x/2x toggle with an extra icon for accessing the ultra wide-angle module. The three-position switch on the 9T makes so much more sense. Then there's the 48MP mode which is accessed from the hamburger menu on the Mi 9 SE but is available on the regular swipeable mode selector on the Mi 9T.
There's an HDR setting with On/Off/Auto positions, and AI toggle for scene-based tweaking of image parameters, as well as a full set of filters. There are also a couple of subject enhancement options with a general Beauty mode (0-5 range) and a Figure mode for altering head and shoulders proportions and whatnot.
There's a Pro mode as well for when you want to take over control. It lets you adjust white balance (presets and a temperature slider), focus (in a range of 0 to 100 arbitrary units), shutter speed (1/1000s to 32s) and ISO (100-3200). Perhaps the best bit about the Pro mode is that it works with all three cameras and not just the main one.
Image quality
With the same main camera as the 9T, the Mi 9 SE takes similarly great daytime shots. The level of captured detail is quite high for a 12MP photo, and the way it's rendered has a very natural look without excessive sharpening and such.
We also enjoy the color rendition as the Mi 9 SE manages to take pleasingly colorful pictures without going over the top. Dynamic range is nice and wide, and the phone handles high-contrast scenes with poise.
The ultra wide angle cam's dynamic range is pretty good as well, and particularly so for an ultra wide cam. It may not be as sharp on a pixel level as the main module, but it still produces some of the most detailed images for an ultra wide-angle camera. That is unless you look at the corners, where sharpness does noticeably degrade.
On to the 12MP-posing-for-8MP telephoto. This camera does produce less contrasty images with a certain haze in more challenging light, plus some fairly noticeable purple fringes around bright areas in the photo. The level of detail is still more than acceptable and the noise that is visible when pixel peeping isn't overly distracting in the grand scheme of things. Dynamic range isn't quite on par with the other two, but it's not too shabby either – it's a tiny sensor after all.
Looking at 48MP images, we can now appreciate the fact that the mode is buried a few taps away as opposed to being readily available. Unlike on some other phones, Mi 9T included, the Mi 9 SE's 48MP shots are a blotchy mess and offer no practical advantages over the regular 12MP images. We gather the 48MP shots are just the 12MP ones upscaled back to 48MP.
Low-light images out of the main cam are quite good, but not spectacular. They're a little soft, and there isn't a ton of detail in there. Even so, we like the SE's regular night photos a little better than the T's.
Night mode to the rescue. The Mi 9 SE's Night mode exposes well even in the darkest of scenes, and produces very balanced shots with well-developed shadows and preserved highlights. There's a noticeable drop in sharpness, that's true, and some fairly prominent noise when you look up close, but at fit-to-screen magnifications, the photos do look good. What we're saying is that the Mi 9 SE's night mode isn't the best there is, but it's plenty nice, and perfectly alright for a midranger.
Night mode works on the telephoto camera, or rather in 2x zoomed-in mode. It is, in fact, the main camera that is taking the 2x shots in low light and for those, you're better off not hitting the 1:1 button at all. From afar, however, the shots do look nice with good tonal development and color rendition.
Zoomed in night shots in photo mode is mostly meh – shadows are dark, highlights are blown, detail is low. We'd stick to night mode.
There's no night mode for the ultra wide-angle cam, and you'd best refrain from using it after dark. If you so manage to find a well-lit scene, you could get a usable shot like maybe the first one below, but we ended up with more of the other ones.
Once you're done looking at real-life samples, don't forget to head over to our Photo compare tool to check out how the Mi 9 SE deals with our studio charts. We've picked a set of competitors to get you started, but feel free to look around.
Portrait mode on the Mi 9 SE uses the telephoto cam for image capture and the main cam for depth detection – so you're getting the better perspective of the longer lens, but the inferior light gathering capabilities of the smaller sensor and tighter aperture. Still, in good light, you can get some nice-looking faux-bokeh photos. Do take several shots to get a higher chance of ending up with the best possible subject separation as the results do vary from shot to shot.
Portrait mode can be used to emphasize non-human subjects, to varying success. We'd say the Mi 9 SE handled our attempts at fooling it quite well.
20MP selfies are pretty nice too
The Mi 9 SE has the same selfie camera as the Mi 9. The 20MP shooter has a 26mm equivalent lens and an f/2.0 aperture – so a fraction of a stop brighter than what could fit in the motorized pop-up rig of the Mi 9T.
The selfies come out with good detail, though they do have a fairly overprocessed look when viewed up close with more than what we'd call the ideal amount of sharpening – we'd blame the HDR. At more reasonable magnifications you're likely to appreciate the nice colors. The camera does struggle a bit with dynamic range in challenging light, but it's nothing out of the norm for a selfie cam.
Portrait selfies come with quite a competent subject separation for a single-cam setup, and we got very good results in a lot of settings.
Video recording
The Mi 9 SE captures video in three resolutions – 2160p, 1080p, and 720p. It does so at 30fps only (apart from the slow motion) – there's no 1080/60 mode, which the 9T does offer, as do most phones. You can shoot with the main cam and the ultra wide angle one, but there's no 2x toggle in the viewfinder, and the telephoto camera isn't used even if you pinch-zoom to 2x- the phone just takes the center portion of the main sensor.
4K clips are encoded at a 42Mbps bitrate, which is about the usual amount of bits for the task, while 1080p footage gets an above-average 20Mbps. Audio is recorded in stereo at 192kbps.
4K videos out of the main cam are nice and detailed and have very likable colors. Dynamic range is excellent too. 1080p footage is similarly good – aside from the drop in resolution, they look the same.
Ultra wide angle videos are very good too, and quite different from the ones we got out of the Mi 9T in terms of color – the SE's ultra-wide footage is more conservatively processed with truer colors next to the oversaturated ones of the Mi 9T. Dynamic range is also better on the SE's ultra-wide videos than it is on the 9T.
The video stabilization toggle in settings is there when you select 2160p resolution, but we're not seeing it do anything for removing shake. In 1080p, on the other hand, it is very effective at ironing out shake and handles pans well, though there is the occasional dropped frame if you're panning too fast.
Competition
Let's get something out of the way – if you want an affordable pocket-friendly phone with a real triple camera, just get the Mi 9 SE – there's no alternative. If you're willing to compromise on any of these three points, you open yourself up to other options.
For example, the Huawei P30 lite makes do without a telephoto camera, but remains relatively compact and is about the Mi 9 SE's price. Its Kirin 710 isn't quite as powerful as the Mi's Snapdragon 712 and the Huawei's LCD isn't as nice as the Mi's Super AMOLED. The P30 lite does comfortably outlast the Mi 9 SE in the battery marathon, however.
The same goes for the Galaxy A50, which requires another concession with the initial requirements – not only does it not have a telephoto camera, but it's also larger at 6.4 inches in diagonal. The Mi 9 SE's chipset is more powerful, and the Xiaomi phone has a superior camera across the board, but the Galaxy checks a few important boxes that the Mi 9 SE doesn't – microSD, 3.5mm jack, FM radio.
Returning to the realm of compact handsets, the Xperia 10 is about as pocketable as the Mi 9 SE and comes with a cinematic 21:9 screen. The Xperia's battery life is rather poor, and its Snapdragon 630 chipset is lagging behind the one in the Mi 9 SE. The Xiaomi has more cameras and takes better pictures with them too.
A small phone that takes great pictures and is reasonably affordable – that's the Pixel 3a. It's missing a couple of the Mi 9 SE's cameras on the back though, and you can't simulate the ultra wide perspective with computational means. The Mi's SD 712 chip is more potent than the Pixel's SD 670 too. If, on the other hand, you're after clean Android as opposed to MIUI, the Pixel will deliver.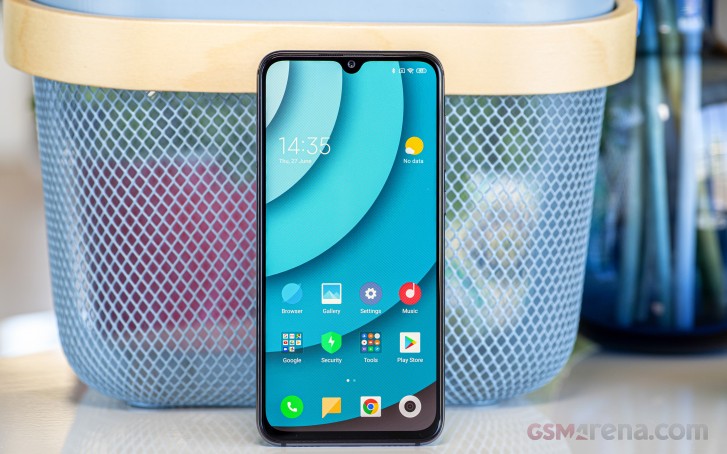 Verdict
Midrangers don't normally come with true triple cameras. Good phones which are good for single-handed use don't show up too often either. Imagine then trying to find one that meets both of these requirements. Only you don't need to imagine anything, the Mi 9 SE is real.
We certainly would have liked to have some basic conveniences like a memory expansion slot and a headphone jack. Xiaomi tries to make up for the absence of these with an infrared emitter, which is nice and all, but it's no extra storage.
Those are minor things, though, and the Mi 9 SE is plenty good at the important stuff – it's got an excellent display, takes great pictures with a camera trio you won't find outside of flagship territory, and has decent battery life. It also manages to fit all that in a small footprint and a more than a reasonable budget. What's not to like?
Pros
One of the most compact phones you can find with a proper triple-camera setup.
Very good display – bright when out in the sun, accurate if you want it to be.
Outstandingly loud speaker.
Excellent image quality in daylight out of all four cameras, not bad low-light stills too.
Cons
No storage expansion, no 3.5mm jack.
No 1080p/60fps video recording, no video recording with the telephoto camera, practically no stabilization in 4K.