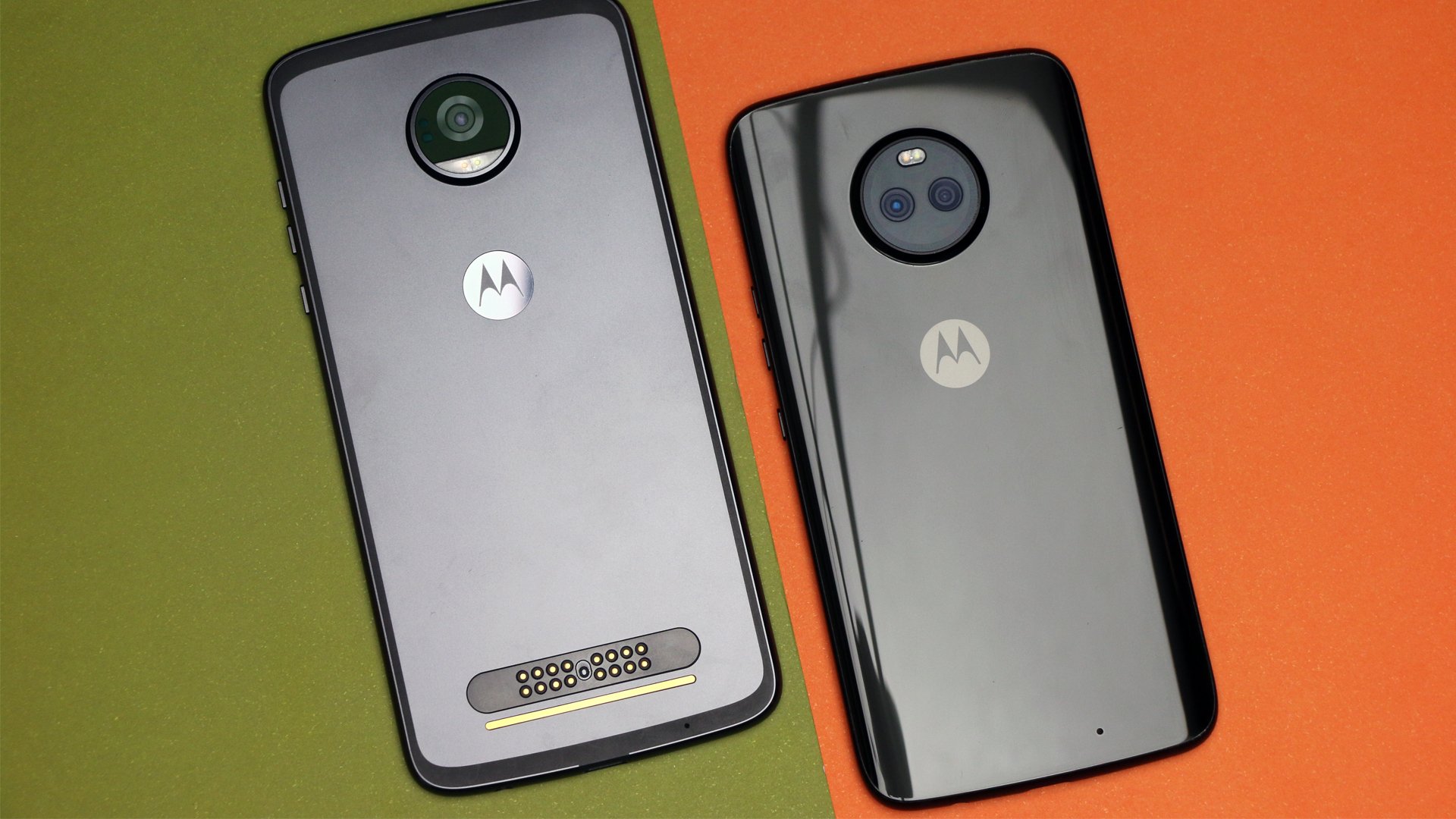 This year Motorola decided to expand its line of smartphones, and now it has so many devices that they're starting to compete with each other. This is the case with the Moto Z2 Play and the more recently launched, Moto X4, both of which are about $400. But what are the pros and cons of each device when compared to each other? Let's take a look.
Moto X4 vs Moto Z2 Play: software
Both phones come with Android Nougat and are projected to update to Oreo in the future. Motorola still has one of the purest Android experiences on the market even if in the past few years, they've added more apps and changed the interface a bit, especially the icons. There's not much difference between the two, but the Moto X4 has a slight edge with a couple decent features that Motorola created for especially for it.
Among those is one app that Motorola calls Moto Experience and it gives users the ability to connect their smartphone with up to four Bluetooth devices simultaneously. There's also a quick screenshot feature which lets you take a picture of the screen by pressing on the display with three fingers at the same time. And lastly, Moto Key, where you can unlock password protected sites, for your phone or laptop, just by touching the multi-functional fingerprint reader. It's not a massive advantage, but it still sets the Moto X4 apart from the Moto Z2 Play.
Moto X4 vs Moto Z2 Play: display
The display is one of the most significant differences between these two devices. The Moto Z2 Play has a Super AMOLED display while the X4 comes with an IPS LCD display. The screen on the Moto Z2 Play is 5.5 inches, and the Moto X4's is 5.2 inches. As for resolution, both come with 1,080 x 1,920 Full HD resolution, with a 16:9 aspect ratio. As we all know though, AMOLED displays offer much better brightness than IPS LCDs.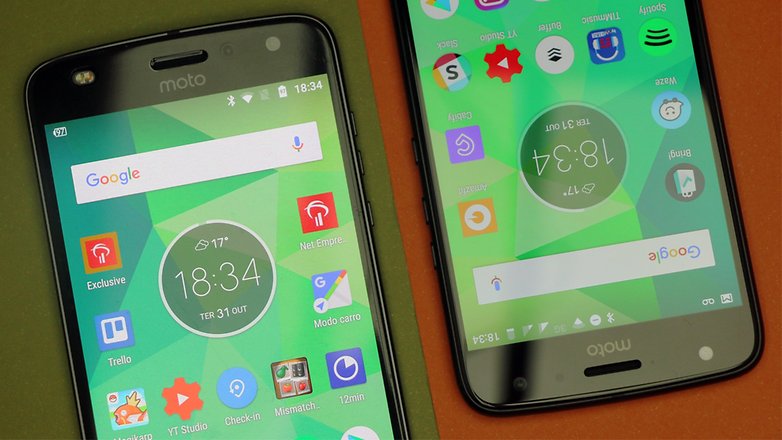 AMOLED or IPS, which do you prefer?/ © AndrdoiPIT
Moto X4 vs Moto Z2 Play: camera
This is one aspect that the Moto X4 might have a slight edge when compared to the Moto Z2 Play, considering it has a dual camera. The rear camera on the Moto Z2 Play does have a few exciting pieces of tech, though: dual autofocus pixels and laser focus, which can reach up to three times as far as the last generation, capturing images at up to 5 meters away. The 5 MP front camera comes with an 85 degree open angle and dual flash with color balancing.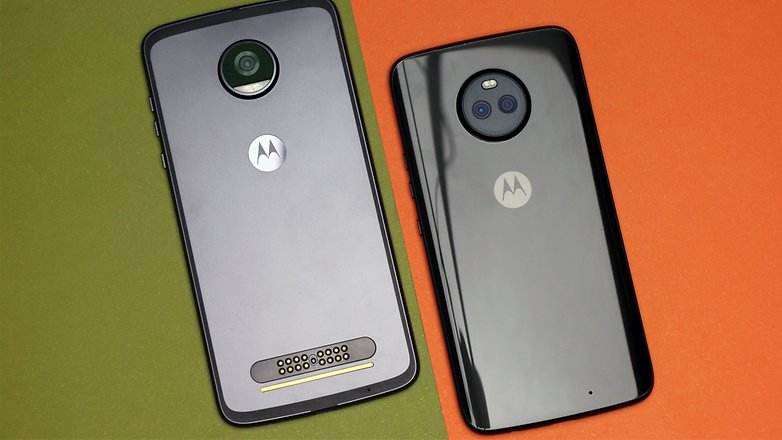 Normal or dual camera? / © AndrdoidPIT
On the other hand, the Moto X4 comes with a smart dual camera on the back, with advanced features such as selective focus, color highlighting, object recognition, all in addition to panoramic selfies with a 16 MP front camera. Among the upgrades that the camera's software has received is Landmark and Object Recognition, which displays information about the objects that are being shot and shown on the screen.
You can even quickly scan business cards and add them to your contacts. Another sweet feature is the animations and graphic effects, which let you add a layer of design to photos or videos using augmented reality. This is something we've seen on other phones from the brand, but it's still impressive.
The software of the dual rear camera lets you blur the background, similar to that Bokeh-type effect, choose black and white for the first or second plane of the image, or you can even change the background entirely as we saw with the Moto G5S and Moto G5 Plus.
Another update on the Moto X4 is the color highlighting, where you can enhance one of the colors within the photo, leaving the rest black and white. Plus, the camera on the Moto X4 also has dual autofocus pixels for quickly focusing in low-light situations. If the back camera isn't enough to win you over, then maybe the 16 MP front camera will do the job.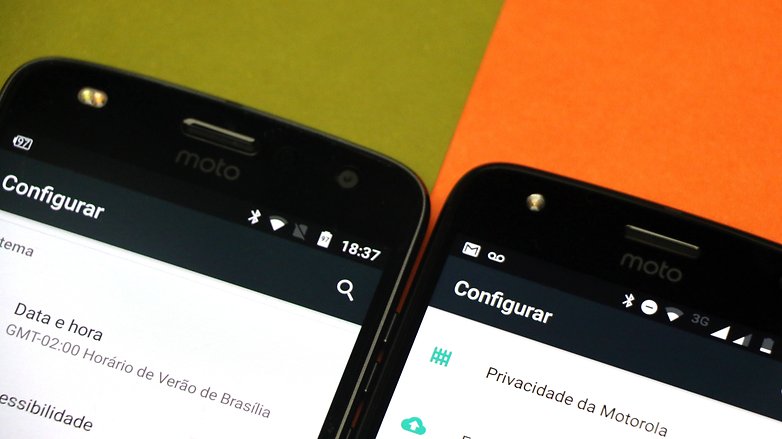 The Moto X4 has a dual camera. / © AndroidPIT
Moto Z2 Play vs Moto X4: battery
There really isn't much to say here about the battery. In the end, they both come with a 3,000 mAh battery equipped with TurboPower, which gives you up to six hours of use from only a 15-minute charge.
Moto Z2 Play vs Moto X4: Moto Mods
This might just be the Moto Z2 Play's secret weapon against the Moto X4, only if you want to spend more money buying mods that is. You'll only be able to find specific battery and camera accessories for the Moto Z2 Play. You could even get a speaker or portable projector.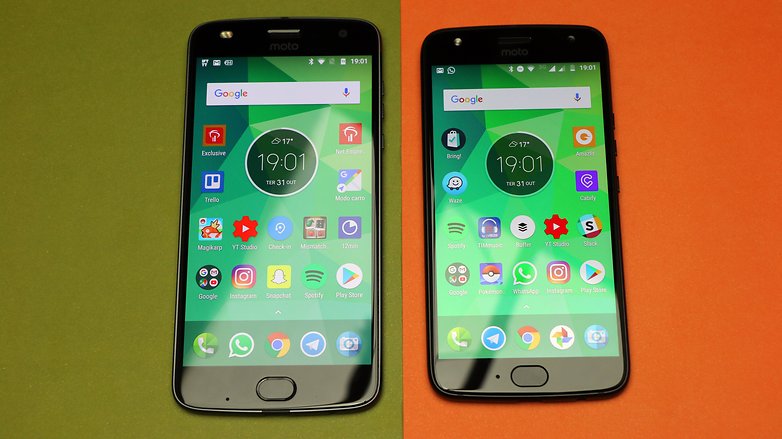 Hello Moto! / © AndroidPIT
Moto X4 vs Moto Z2 Play: conclusion
Of course, before we wrap this up, we have to take a look at the hardware on both devices. As for the Moto Z2 Play, it comes with a Snapdragon 626, GPU Adreno 506, 4 GB RAM and 64 GB memory, and the Moto X4 comes with a Snapdragon 630, GPU Adreno 508, 3 GB RAM and 32 GB memory.
If you're worried about having enough storage space on your phone, that's something that gives the Moto Z2 Play a slight edge. Honestly, the Moto Z2 Play seems to be ahead in almost every category, unless you're looking for a dual camera and a few new software features. You should probably go with the more recent launch.
Now it's your turn, which would you choose? Moto Z2 Play or the Moto X4?
Moto Z2 Play vs. Moto X4 technical specifications
| | MOTO Z2 PLAY | MOTO X4 |
| --- | --- | --- |
| DIMENSIONS: | 156.2 x 76.2 x 5.99 mm | 148.35 x 73.4 x 7.99 mm |
| WEIGHT: | 145 g | 163 g |
| BATTERY SIZE: | 3000 mAh | 3000 mAh |
| SCREEN SIZE: | 5.5 in | 5.2 in |
| DISPLAY TECHNOLOGY: | AMOLED | LCD |
| SCREEN: | 1920 x 1080 pixels (401 ppi) | 1920 x 1080 pixels (424 ppi) |
| FRONT CAMERA: | 5 megapixels | 16 megapixels |
| REAR CAMERA: | 12 megapixels | 12 megapixels |
| FLASHLIGHT: | Dual-LED | LED |
| ANDROID VERSION: | 7.1.1 – Nougat | 7.1 – Nougat |
| USER INTERFACE: | Stock Android | Sorry, not yet available! |
| RAM: | 4 GB | Sorry, not yet available! |
| INTERNAL STORAGE: | 64 GB | Sorry, not yet available! |
| REMOVABLE STORAGE: | microSD | microSD |
| CHIPSET: | Qualcomm Snapdragon 626 | Qualcomm Snapdragon 630 |
| NUMBER OF CORES: | 8 | 8 |
| MAX. CLOCK SPEED: | 2.2 GHz | 2.2 GHz |
| CONNECTIVITY: | HSPA, LTE, NFC, Dual-SIM , Bluetooth | HSPA, LTE, Bluetooth |