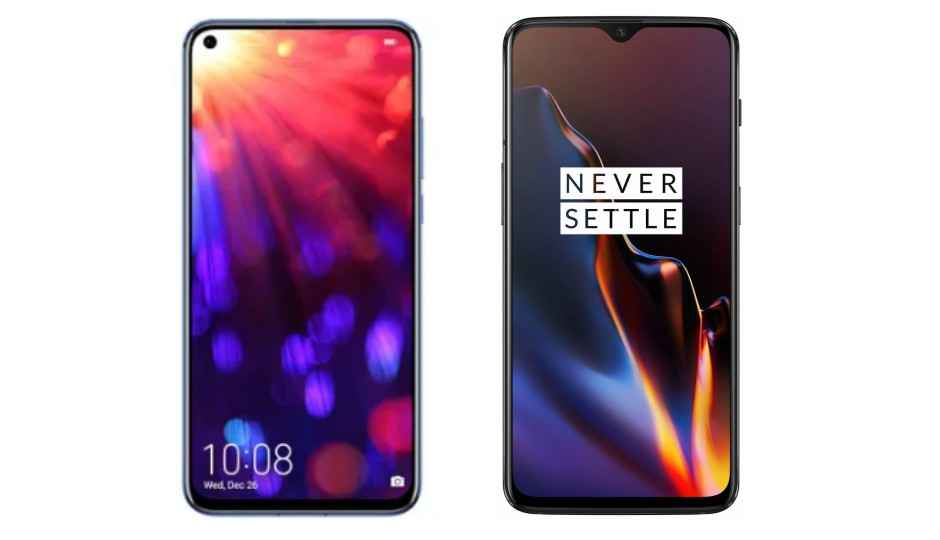 When it comes to offering consumers the most bang for the buck, the OnePlus 6T has proven itself in being untouchable. Few are the phones as compelling as the 6T, which blends high-end specs and excellent performance with affordable cost. Well, that's until now with the release of the Honor View 20! Huawei's sub-brand has taken nearly everything found with flagship Huawei smartphones and put it in a phone with a refreshingly new design slapped with an aggressive price point – a formula to give the OnePlus 6T a run for its money. Knowing all of that, who's going to come out on top?
Design
Put them side by side, and we'd bet that most people would take fancy in the Honor View 20's design. That's attributed primarily to the gleaming V-shaped effect on the back of the phone courtesy of the nanolithography technique that Honor has employed, resulting in a hypnotic, irresistible look. The OnePlus 6T continues to feel like a premium smartphone, but its glass-meets-metal construction doesn't have nearly the same level of pop and style that accompanies the Honor View 20.
Supplementing that too is how the Honor View 20 manages to package in a standard 3.5mm headphone jack and an IR blaster. Yes, the OnePlus 6T's in-screen fingerprint sensor is neat and forward thinking, but we don't mind having the finger print sensor on the rear of the Honor View 20. We'll happily trade that for a headphone jack any day of the week, seeing that it's still a valuable thing to have in a smartphone for many people!
Front View
6.2 x 2.94 x 0.32 inches
157.5 x 74.8 x 8.2 mm
6.53 oz (185 g)
OnePlus 6T
6.18 x 2.97 x 0.32 inches
156.9 x 75.4 x 8.1 mm
6.35 oz (180 g)
Honor View20
Side View
6.2 x 2.94 x 0.32 inches
157.5 x 74.8 x 8.2 mm
6.53 oz (185 g)
OnePlus 6T
6.18 x 2.97 x 0.32 inches
156.9 x 75.4 x 8.1 mm
6.35 oz (180 g)
Honor View20
Display
Most people would agree that the two phones have gorgeous, high-resolution displays that command attention. It's a 6.4-inch 1080 x 2340 AMOLED display for the OnePlus 6T, while the Honor View 20 sizes up nicely with its 6.4-inch 1080 x 2310 IPS LCD panel.
An aspect we have to consider is how both phones attempt to achieve that all-screen look. We're basically faced with the OnePlus 6T's teardrop notch and the Honor View 20's hole-punch display cutout. In all honesty, there isn't as much of a disparity here – so we're content with their respective implementations. We'll gladly take either over the traditional notches we've been getting for the last year.
Display measurements and quality
Interface and functionality
Right away, there's a clear and defined philosophy with each of the two interfaces. On one hand, we absolutely adore the simplicity and cleanliness of OxygenOS with the OnePlus 6T. It's no wonder why so many people rave about OnePlus' interface, since it doesn't attempt to inundate or overwhelm users with an abundance of redundant features. Power users will still appreciate the experience here, seeing that the core Android features are at their disposal – like side-by-side multitasking.
The OnePlus 6T comes with the familiar OnePlus OxygenOS interface
Magic UI 2.0.1 on the Honor View20
On the flip side, the Honor View 20's Magic UI doesn't look as polished on the surface, but it certainly makes it up with its enhanced extended desktop experience. You can attach the phone to an external display, connect a mouse and keyboard, and convert it to a desktop PC of sorts with this mode. Not everyone may end up using this feature, but it's nonetheless useful and adds to the overall experience. At the core, though, we'll still give it to the OnePlus 6T for presenting us with the more favorable day-to-day experience.
Processor and Performance
Battling it out for supremacy, the OnePlus 6T is powered by the Qualcomm Snapdragon 845 chipset, while the Honor View 20 leverages the Kirin 980 chipset. Even though the synthetic benchmarks nearly have the two smartphones matching one another, the OnePlus 6T continues to exhibit the more fluid responses with navigation. We can easily notice how instantaneous it is with its actions, like scrolling, which we feel weighs more in the greater scheme of things than those traditional synthetic tests.
Neither phone offers expandable storage, but you can sleep knowing that they're offered with generous capacities. Starting off with 128GB of storage, there's also the option of having 256GB of storage as well if you're the kind to be liberal when it comes to snapping photos, downloading movies, and recording video in 4K resolution.
Performance benchmarks
Camera
Now this is where things really get juicy, given how these two cameras are highly respected. On the OnePlus 6T you have a dual camera on the back: a 16-megapixel main shooter with an f/1.7 lens, a 25mm focal distance and optical image stabilization (OIS), as well as a secondary, 20-megapixel camera used to acquire depth information for bokeh effects. The Honor View 20 features a 48MP 1/2-inch Sony IMX586 stacked CMOS image sensor, with a nearby 3D camera that emits infrared light to measure the distance from the phone to the subject – enabling it to deliver the same portrait and aperture effects found on other dual-camera phones. However, the View20 does not have optical image stabilization. Additionally, both phones are well equipped in the selfie camera department, seeing that the OnePlus 6T sizes up with a 16MP snapper, while the Honor View 20 ups it to a 25MP camera.
Image Quality
For this comparison, we captured samples using the 12MP stills option and AI camera mode set to on with the Honor View 20. As for the OnePlus 6T, the only option we enabled was Auto HDR mode. Under ideal lighting conditions, it's sometimes difficult to gauge who's delivering the better shots. At times, one seems to offer better dynamic range, but then in another scene, it's the other way around. Details capture, too, is for the most part identical between the two.
If you love taking selfies, you won't be disappointed by either phone because they capture a ton of fine details. We're talking about skin imperfections, like wrinkles, that are clearly defined with the two. However, we do notice that even with the Auto HDR more set to on with the OnePlus 6T, it tends to be more under exposed. It's not terrible and doesn't diminish the overall quality, but the Honor View 20 does a better job of evenly exposing the entire shot.
OnePlus 6T vs Honor View 20
Things become more interesting under low light, which tends to be the main differentiator with most phones. Under the automatic settings, they both do a pretty decent job of minimizing noise – with the slight edge going to the Honor View 20 because shadows are boosted a smidgen more to draw out details. Even though they both have their respective night modes, the Honor View 20 yet again shows its superiority in brightening up the scenery.
Video Quality
Recording video at 4K UHD resolution at 30 FPS, both handle ideal lighting conditions by delivering punchy colors and strong details. The only noticeable difference between the two is in how the OnePlus 6T's stabilization pales in comparison to the Honor View 20's EIS. Besides that, the two seem to offer tight exposure adjustment and auto-focus.
Neither are particularly great under extreme low-light situations, given how noisy looking their footages appear. It's quite distracting, especially when details become muddy. However, the Honor View 20 seems to have a very subtle advantage with exposure. It's just barely brighter than the OnePlus 6T, but that's the only defining quality we can pick up from comparing the two.
OnePlus 6T vs Honor View 20
Multimedia
Watching video is a treat on both smartphones, more so when there are no distracting notches to deal with. Their respective implementations allow video to be viewed without any major obstructions, so to that end, we're happy that clips can be enjoyed using the full real estate.
Adding to its multimedia package, we absolutely appreciate how the Honor View 20 features a standard 3.5mm headphone jack. The convenience of being able to plug in a pair of headphones is invaluable, whereas with the OnePlus 6T, it of course requires the aid of an adapter. Furthermore, the IR blaster of the Honor View 20 doubles the phone as a universal remote – allowing us to quickly control a myriad of home entertainment gadgets.
Call Quality
For the most part, conducting phone conversations won't be an issue with either smartphone. They're ideal for casual conversations, exhibiting clear voices and very little distortion in the process.
Battery life
It's a longevity battle between the OnePlus 6T and Honor Views 20, which respectively feature battery cells of 3700 mAh and 4000 mAh. In our experience, the Honor View 20 seems to have a little bit more juice in the tank by the day's end. Both are more than adequate in getting us through a full day's worth of normal usage, but like we said, there's just still more leftover charge with the Honor View 20.
Over on the recharging side, it's the OnePlus 6T that effortlessly beats the Honor View 20 with its speedy clocked time of 85 minutes – versus the longer 120 minutes required by the Honor View 20 to be completely full.
Battery recharge
Conclusion
Before we wrap things up, it's worth noting that the Honor View 20 isn't commercially available for purchase in the US – so the OnePlus 6T definitely has an advantage in this area by being readily accessible to US consumers. You also get proper 4G LTE support in the US thanks in part to LTE Advanced connectivity with a Category 16 LTE modem on the OnePlus 6T. All in all, it simply means that you won't have as much of a problem using the OnePlus 6T on your carrier here in the US.
Now comes the defining quality of both devices: the price. The edge still goes to the OnePlus 6T with its starting price of $550 in the US or 550 euro in Europe, but the price gap is next to negligible. Currently, the Honor View 20 can be had for about 570 euro in European markets where it's being sold. While our sentiments about the OnePlus 6T don't change at all, being one of the best bang for the buck smartphone deals around, there are still compelling reasons for the Honor View 20. You're paying only a bit more for the convenience of a 3.5mm headphone jack and an IR blaster, longer battery life, an extended desktop experience mode, slightly better performing cameras, and the more attractive design.
All of those things do add up in giving the
Honor View 20
an equally compelling package. The
OnePlus 6T
, on the other hand, is still the better pick if you prefer a cleaner, smoother software experience out of the box.