The Google Pixel 4 duo was not Google's best-kept secret. We saw pictures of the phone weeks before the event, and we even learned about Face unlock while Google teased the Motion Sense features ahead of its event. The Google Pixel 4 XL represents everything that Google has learned in the first four iterations of the Google Pixel, including a mid-cycle and mid-range Pixel 3a which was very well received.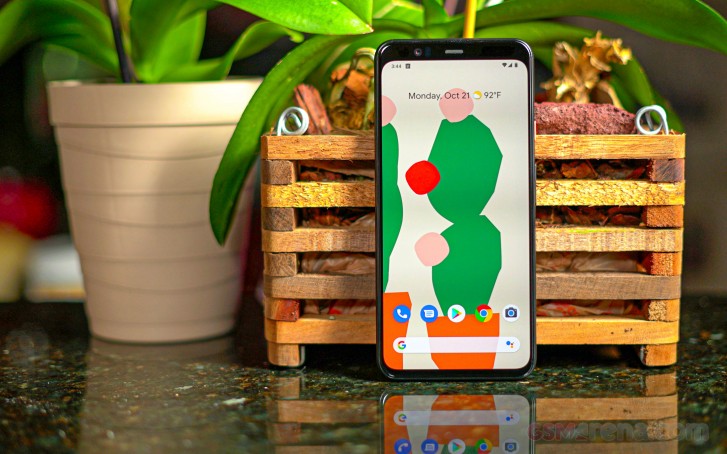 The Pixel 4 XL improves the camera even further, adding a new Astrophotography shooting mode and a viewfinder that will preview the HDR+ effect before you shoot the picture. There's also a new telephoto camera that, when combined with Super Res Zoom, can capture images from far away.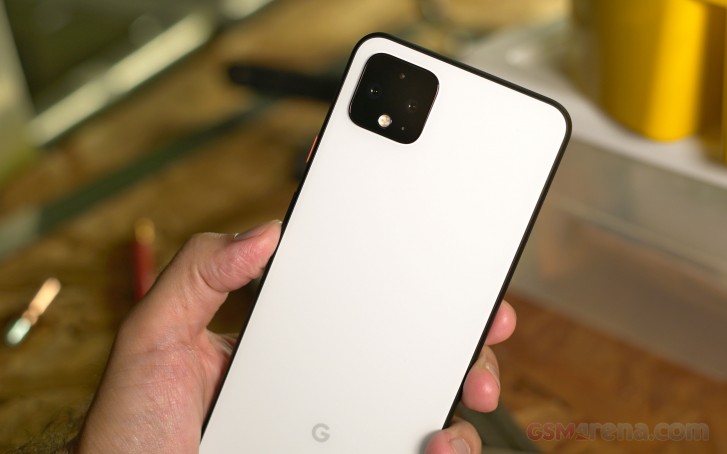 Google first introduced the fingerprint scanner on its final generation of Nexus devices, the 6P and 5X. With the Pixel 4 and 4 XL, Google is replacing its "Pixel Imprint" with Face unlock. It works similarly to Apple's Face unlock and is a whole new concept for Google-branded devices.
Google Pixel 4 XL Specs
Body: Texture-coated aluminum frame with very soft-touch Gorilla Glass 5 backside
Screen: 6.3″ P-OLED display, 90Hz variable refresh rate, 1440 x 3040 px (~537ppi), 19:9 ratio, Gorilla Glass 5
Chipset: Qualcomm Snapdragon 855, octa-core CPU (1×2.84 GHz Kryo 485 + 3×2.42 GHz Kryo 485 + 4×1.78 GHz Kryo 485); Adreno 640 GPU
Memory: 6GB RAM; 64/128GB storage, non-expandable
OS: Android 10
Cameras: Main – 12.2 MP, f/1.7 aperture, 1.4 µm pixel size, dual pixel PDAF, OIS, EIS; Telephoto – 16MP, f/2.4 aperture, 1.0 µm pixel size, PDAF, OIS, 2X optical zoom; LED flash; Nigh Sight; Live HDR viewfinder; Super Res Zoom; Video recording – 720p @ 240 fps, 1080p @ 120 fps, 2160p @ 30 fps.
Selfie cam: 8MP f/2.0 aperture + ToF 3D sensor
Battery: 3,700 mAh lithium polymer battery ; 18W USB-Power Delivery charging; 11W Qi wireless charging
Connectivity: Nano SIM + eSIM; Wi-Fi a/b/g/n/ac; Bluetooth 5.0 + LE; NFC; Wi-Fi direct; GPS, Galilleo, GLONASS
Misc: Face unlock; radar-based Motion Sense; dual stereo loudspeakers;
Google also added a unique radar-based motion-sensing technology aptly called 'Motion Sense.' It detects when the user makes wave gestures over the phone, and it can wake the display as the user reaches for it. It can also be used to switch songs with supported apps.
Then there's the design, which Google has slowly molded over the years. We're glad to see there's no longer a 'bathtub' notch (as it was once dubbed) from the Pixel 3 XL. Instead, there's a sizable forehead that houses all the Face unlock and Motion Sense hardware without breaking the display's continuity.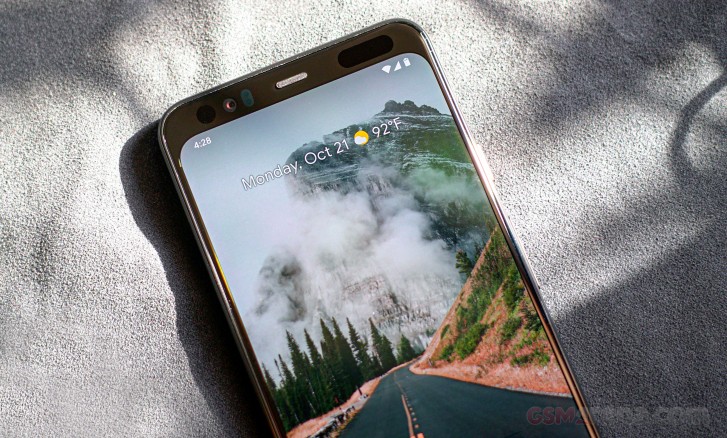 The dual-tone textured window is no longer a thing, as the softened glass texture now covers the whole backside of the phone. This soft-touch glass is on the 'Clearly White' and 'Oh So Orange' models and is both comfortable and tasteful. The Just Black is the only model that comes in regular shiny glass.
With Android 10, Google adds more granular control over Notifications and App access to permissions – in today's climate where privacy is constantly thrown in the spotlight, these are welcome features. We also get gesture controls done better, and Google Assistant is more responsive than ever.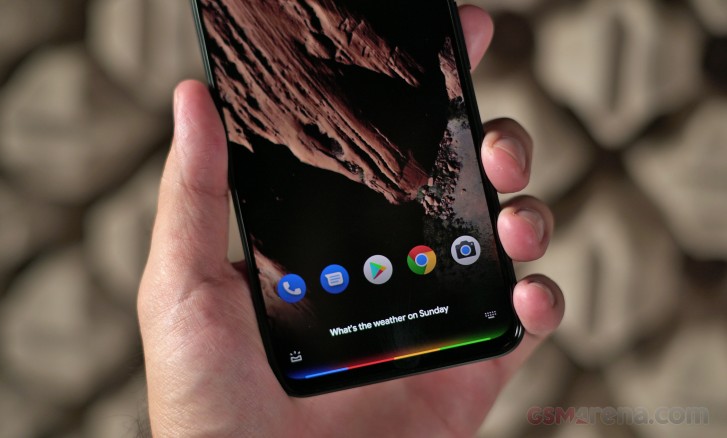 The Pixel 4 and 4 XL both have the same starting price and base storage as the Pixel 3 and 3 XL, has Google done enough to justify keeping the same retail pricing on the new Pixels? And the more important question: is it worth upgrading if you have an older Pixel? Let's unbox the phone and find out.
The new Pixel 4 XL comes in minimally labeled packaging. A colorfully designed "P4" adorns the front of the box. Although we received the Pixel 4 in the standard retail packaging, some of the first ones to pre-order the phone had them delivered in Google-fied cereal boxes.
After lifting the lid on the box, the phone is presented face down with its plastic wrapper. Under the phone is a pack of documents, which contained a round SIM tool. At the bottom of the box is a USB-C Power Delivery adapter (up to 18W), USB-C cable, and USB-C to USB-A adapter – useful for transferring data from an old device.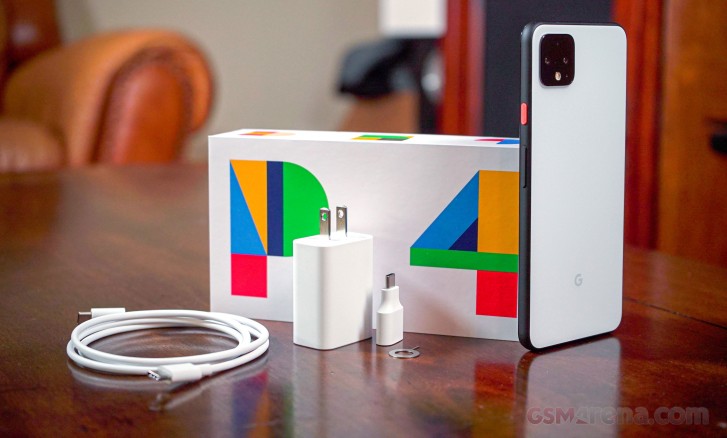 The Pixel 4 comes with neither earbuds nor a USB-C to 3.5mm headphone adapter. We wonder why Google decided to introduce bundled earbuds with the Pixel 3, only to scrap them this year. We'd maybe understand if Google did it so customers would buy the new Pixel Buds, but they aren't even coming until next year. Now we're led to believe Google stopped including these Pixel earbuds to save money.
Now that we've seen what's inside (and what's missing), let's take a closer look at the Pixel 4 XL's unique design.
Design
Throughout its lifetime, the Pixel hasn't exactly led design trends, but it did manage to put the world's largest notch on the Google Pixel 3 XL last year. Even with the 4 XL, Google isn't pushing any limits or trying to maximize the screen-to-body ratio. The Pixel 4 XL is probably what many wish the Pixel 3 XL looked like, without the fat notch.
Imagine if Google took the Pixel 3 XL's display and shifted it lower, then filled in the notch with more pixels. That's what the Pixel 4 XL feels like, and the resulting design is still asymmetrical and not as pleasing to look at as other competitors from Samsung and even OnePlus.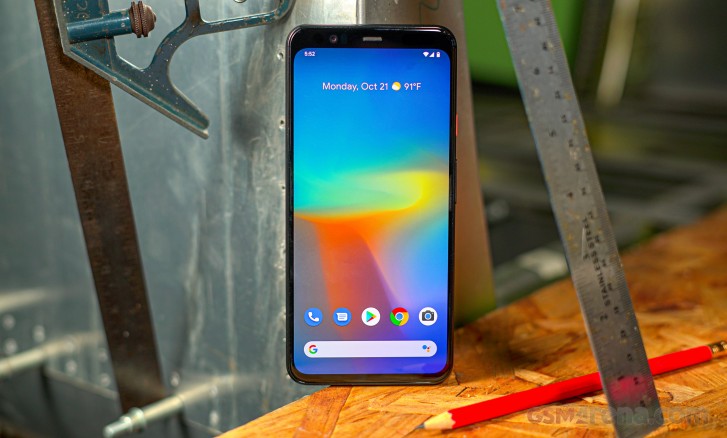 The Pixel 4 XL has a large upper bezel to accommodate for a bunch of new hardware, including new Radar-based motion sensors and 3d facial recognition hardware in addition to a selfie camera. More on that in the User Interface section. Otherwise, this is undoubtedly a large bezel for a 2019 flagship, so the Motion Sense tradeoff needs to be worth this asymmetrical design choice.
Google has also moved the lower front-facing speaker back to the bottom – in the same style as the original Pixel XL – and this resulted in a much smaller (but still there) lower bezel.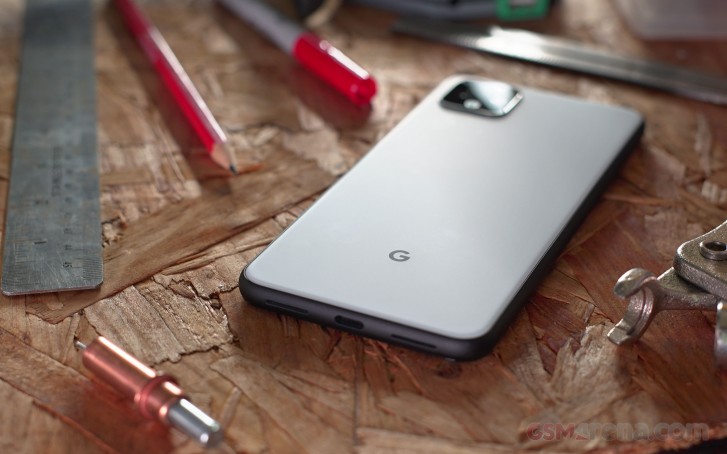 The frame that wraps around the 4 XL is coated in a fine-grit soft-touch texture. Our Clearly White review unit has a black frame and white rear Gorilla Glass 5 panel. The Oh So Orange gets the same powder glass and soft-touch frame, but the Just Black model has regular shiny glass on the back. Our unit has an orange accented power key.
The volume and power keys are on the right side of the handset while the SIM tray lives opposite the power key. There's a single mic hole at the top edge, and at the bottom is a USB-C port and dual audio ports. The left port is a microphone, and the right one is a loudspeaker. There is no headphone jack on either Pixel 4 model.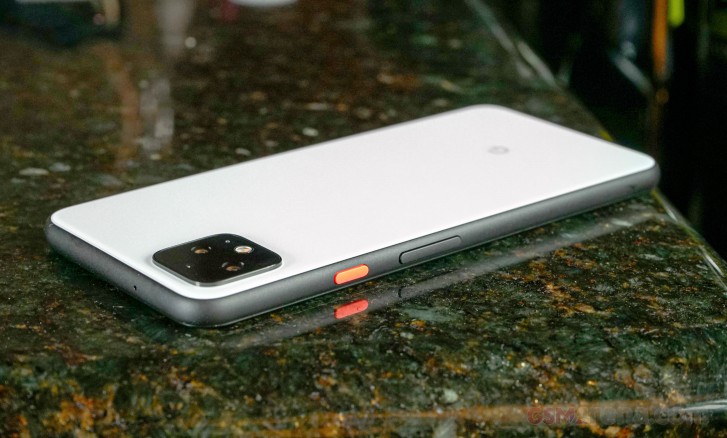 Although it doesn't feel like glass, the rear panel of the phone feels like a sheet of polished metal if you were to sprinkle some fine powder over it. The "G" logo at the bottom is the only thing left of the original appearance of the glass. The G was screened out of the glass-softening process, and the effect is almost three-dimensional.
Since the softened glass is porous, it's less prone to showing fingerprints and looking greasy, but fingerprints are still collecting on the glass. This surface makes it harder to see smudges. The same goes for the frame, but the camera square is still regular glass, so expect to wipe it down occasionally.
The Pixel 3 had a glass "window" that was kept from the original Pixel's design, but with the Pixel 4, Google went ahead and softened the entire glass panel. The Pixel design is evolving, but we'd say it still has some refining to do on the front.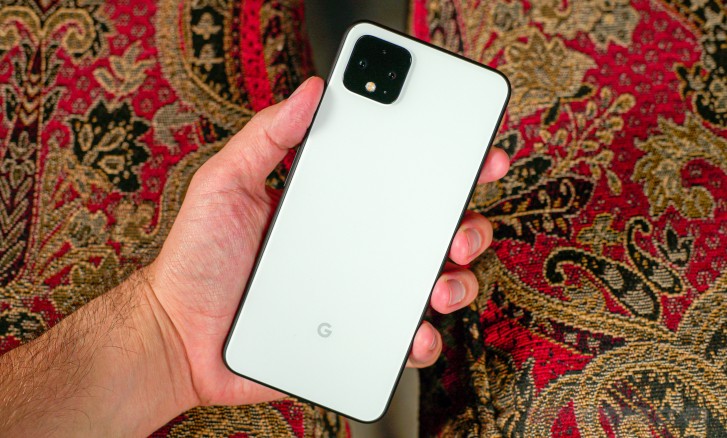 This is the first time that Google adds a second main camera to any Nexus or Pixel phone, and it chose to go with a square island to house them. Google once claimed it didn't need more than one camera to take portrait photos, and Super Res Zoom made up for the lack of a telephoto camera. Things have changed this year, and we'll let you know if the telephoto camera is indeed an improvement.
Many will compare the Pixel 4 XL's dual cameras to the iPhone's stove-top camera square, but the Pixel's is blacked out. Its placement is coincidentally too similar. The square does protrude a bit from the body, but its location won't rock the phone on a table very much.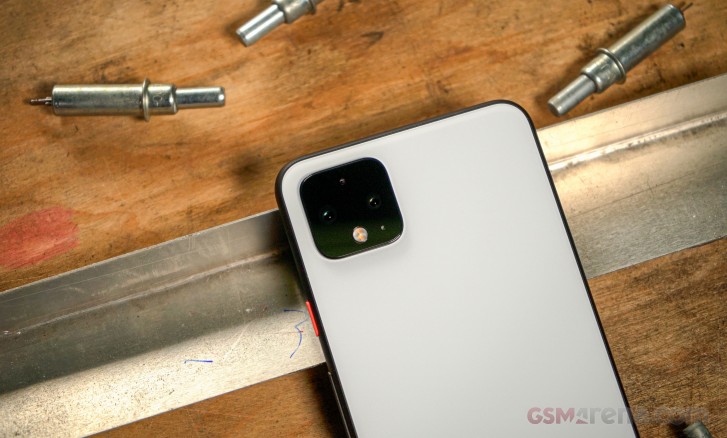 The Pixel 4 XL measures 160.4 x 75.1 x 8.2 mm and weighs 193g. This makes the phone only barely taller and heavier than its predecessor. The new display is also slightly taller due to the 19:9 aspect ratio (the 3 XL has 18.5:9). Otherwise, the 4 XL maintains the same IP68 water resistance rating as the 3 XL.
Display
While other manufacturers keep pushing screen sizes bigger and bigger, Google kept the larger Pixel 4 XL at 6.3-inches. This is the same size as the 3 XL, only the 4 XL's slightly taller 19:9 aspect ratio makes it a teeny bit narrower. With more competitors using higher-refresh-rate displays, Google decided to join in and go with 90Hz displays on both sizes of the Pixel 4.
The 90Hz Smooth Display isn't at all necessary, but it improves the fluidness and amplifies the fluidness of the phone's operation when scrolling or swiping through feeds. The animations are also displayed at higher frame rates. Otherwise, supported games will be able to push past 60fps for a more immersive experience.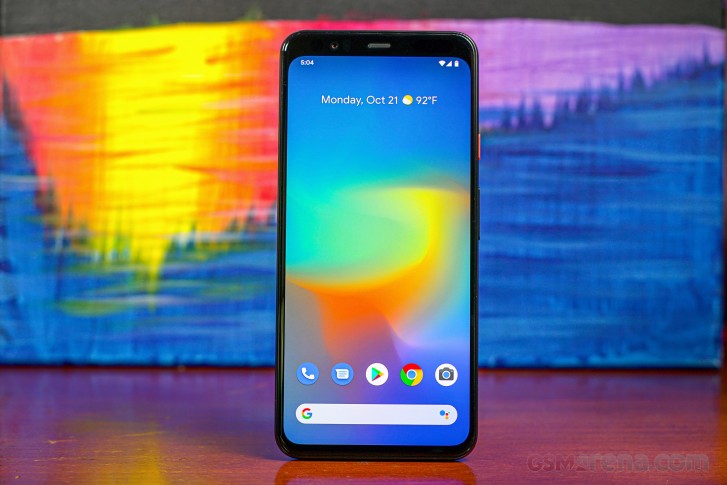 The Pixel 4 XL has a 6.3-inch OLED display, and we're happy that the notch is gone, keeping continuity with the screen's content and simplifying the UI. If you want the sharpest image, the 4 XL gets about 537ppi with its QHD+ 1440 x 3040 px resolution. A layer of Gorilla Glass 5 protects the screen and like the Pixel 3 XL, the 4 XL is rated for HDR playback of 1440p video @ 60fps.
New to the Pixel 4 is a new "Ambient EQ" feature that tunes the display's colors to your surroundings. The display will adjust its color balance a touch warmer if you're hanging out around a warmly lit restaurant, for example. It's intended to tune images to look more natural based on the surrounding light, and a good idea considering the Pixel's camera always leaned towards cooler tones.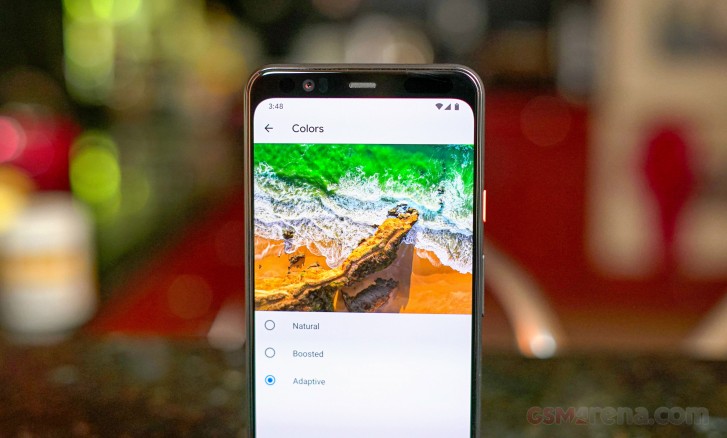 The feature is enabled by default, and it's one of those comfort features that you don't have to think about. This isn't entirely new to the smartphone space, though. Apple has used True Tone on its phones since the iPhone 8.
In our brightness tests, the 4 XL peaked at 436 nits with no additional brightness boost. Those raw numbers aren't exactly class-leading, but the phone is still easily visible in direct sunlight. It isn't too much brighter than the Pixel 3 XL and barely reached the Pixel 3a XL's 451 nits. You can see that other flagships from Samsung and Apple are reaching past 700 nits.
Display test
100% brightness
Black, cd/m2
White, cd/m2
Contrast ratio
Apple iPhone 11 Pro Max
0
820
∞
Samsung Galaxy S10e (Max Auto)
0
803
∞
Samsung Galaxy Note10+ (Max Auto)
0
794
∞
Samsung Galaxy S10+ (Max Auto)
0
793
∞
Huawei Mate 30 Pro (Max Auto)
0.028
683
24393
Apple iPhone 11
0.428
644
1505
Asus ROG Phone II (Max Auto)
0
626
∞
OnePlus 7T Pro (Max Auto)
0
596
∞
Asus ROG Phone II
0
479
∞
Huawei Mate 30 Pro
0
464
∞
Google Pixel 3a XL
0
451
∞
Google Pixel 4 XL
0
436
∞
OnePlus 7T Pro
0
429
∞
Google Pixel 3
0
426
∞
Samsung Galaxy S10e
0
389
∞
Samsung Galaxy S10+
0
385
∞
Samsung Galaxy Note10+
0
381
∞
The Adaptive profile is set as the default, and it isn't overbearingly saturated. Colors are pleasant and vibrant, but not too punchy. In this profile, we saw an average deltaE of 3.5 with a maximum of 7 for greens. Whites are well within 2 deltaE, so they are indistinguishable to the naked eye.
Natural is the most color-accurate profile with an average deltaE of 1.9 and a maximum of 3.1. Meanwhile, the Boosted profile falls somewhere between the Natural and Adaptive profiles and has an average deltaE of 2.8. Whites are consistent across all color profiles with only the colors changing in tones and intensity.
Unlike other OEMs, Google keeps color options very simple. There is no individual color tuning or possibility for customized color calibration.
The 90Hz Smooth Display feature is a variable setting. This means that the software will switch 90Hz off wherever it doesn't need it. Currently, it reverts from 90Hz when the phone is in battery saver mode or when watching a video.
Shortly after the phone's release date, it was discovered that the 90Hz refresh rate only ever kicked in when the phone's display was above 75%. Following these reports, Google stated it would update the Pixel 4 "in the coming weeks that include enabling 90Hz in more brightness conditions".
The reason for doing this, as discovered via source code notes, is to prevent users from seeing flicker that can occur at lower brightness when the display is switching to and from its 90Hz mode. The flicker is attributed to a slight difference in color calibrations between refresh rates since the Pixel's display doesn't support a true dynamic refresh rate.
Google intended to fix this via a software update, but it's really something they should have refined before launching the darn thing.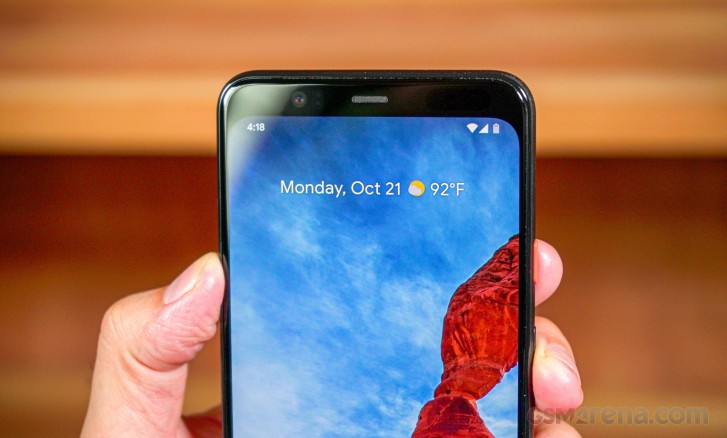 Luckily, there's an option to force the display to run at 90Hz at all times, but its buried in the lengthy list of developer options. The setting does warn that battery life may decrease when forcing 90Hz so expect to need a charger an hour or two earlier than you normally would.
Finally, Google added a "Screen attention" option to on stock Android for the first time. This isn't a new concept – Samsung has had this kind of feature since the Galaxy S4 and other manufacturers have it on their phoens too but it's good that it's now part of Android.
Battery life
Flagship devices have been getting much better at battery consumption in the most recent years. For some reason, Google tends to take a more conservative approach with its own line of smartphones. The Pixel 4 XL comes with a 3,700 mAh battery, which is admittedly a bump in battery size from 3,450 on the Pixel 3 XL but the 4 XL has the same size battery as the much cheaper Pixel 3a XL.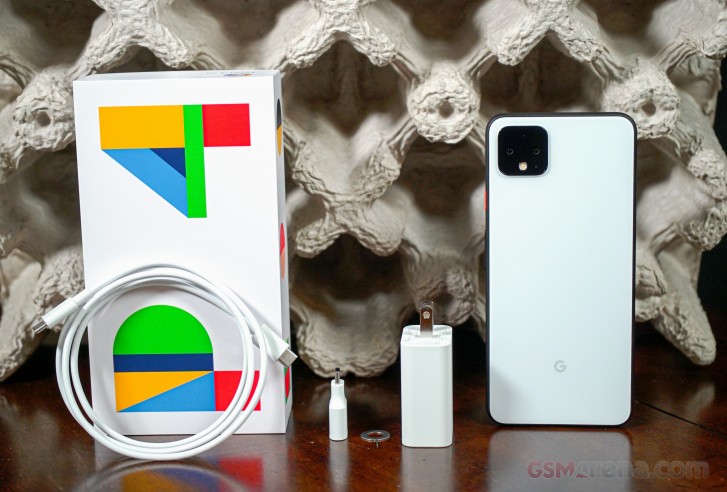 As far as battery endurance goes, the phone didn't perform as well as we'd hoped. The Pixel 4 XL managed a score of 73h of endurance which quite meh!, especially coming in a year where most manufacturers are focusing a lot on providing longer battery life.
The phone yielded a call endurance of 23:32h, which is about the same as the 3a XL did with the same size battery. Meanwhile, the browsing and video playback scores were 10:49h and 11:29h, respectively.
The score below shows the Pixel 4 XL's score with the 90Hz Smooth display enabled. When we disabled the 90Hz feature, we saw the Pixel 4 XL score a couple of hours higher on the web browsing test, but it may not translate to a significant difference in battery life.
Although disabling both the 90Hz Smooth display and Motion sense may let you squeeze a little more juice out of the Pixel 4 XL, it defeats the purpose of having the technology in the first place. With how far we've come in optimization and battery technology, Google knew exactly what it was doing by using a 3,700 mAh battery here – and that's why we're a little salty.
If its any consolation, there's more than one way to recharge the battery. With the included 18W USB-C Power Delivery adapter, the Pixel 4 XL recharged to 44% in 30 minutes, reaching 77% after an hour and it finally reached a full charge at about an hour and 20 minutes. Although competitors can achieve much better charging speeds, they require proprietary chargers to work.
The Pixel 4 XL supports Qi Wireless charging, but Google quietly updated its capacity to 11W. With the Pixel 3 and 3 XL, 10W charging was only achievable with Google's own $80 Pixel Stand charger, and defaulted to 5W when used with a regular Qi charger.
Loudspeaker
Stereo speakers are the standard with the Google Pixel. With Pixel 4, the loudspeaker hardware has shifted around a bit. Where the Pixel 2 and 3 both had dual front-facing loudspeakers, the Pixel 4 has traded them in for a setup like the Pixel 3a's. The lower front-facing speaker has been replaced with a downward-firing speaker.
| | | | | |
| --- | --- | --- | --- | --- |
| Speakerphone test | Voice, dB | Pink noise/ Music, dB | Ringing phone, dB | Overall score |
| vivo NEX 3 5G | 70.3 | 73.5 | 72.6 | Good |
| Apple iPhone 11 | 70.8 | 72.3 | 76.0 | Very Good |
| Apple iPhone 11 Pro | 71.2 | 73.8 | 80.7 | Very Good |
| Samsung Galaxy Note10+ | 68.4 | 73.7 | 86.3 | Excellent |
| Samsung Galaxy Note10 | 70.1 | 72.8 | 85.7 | Excellent |
| Google Pixel 3 | 77.5 | 71.7 | 81.1 | Excellent |
| Samsung Galaxy S10+ | 74.4 | 74.2 | 83.6 | Excellent |
| Huawei Mate 30 Pro | 78.4 | 74.4 | 79.9 | Excellent |
| Asus Zenfone 6 | 77.0 | 75.9 | 81.2 | Excellent |
| Samsung Galaxy S10 | 82.2 | 74.9 | 85.5 | Excellent |
| Google Pixel 4 XL | 80.1 | 78.1 | 88.1 | Excellent |
| Google Pixel 3a XL | 79.3 | 77.1 | 91.1 | Excellent |
| OnePlus 7T Pro | 90.4 | 75.3 | 82.4 | Excellent |
| OnePlus 7T | 79.8 | 77.4 | 91.6 | Excellent |
The speakers are quite loud and yielded excellent loudness across the board. In fullness, however, we preferred the sound of the OnePlus 7T's dual speakers. The Pixel 4 XL can sound tinny by comparison, after all, both the upper and lower speakers have smaller ports than previous generations.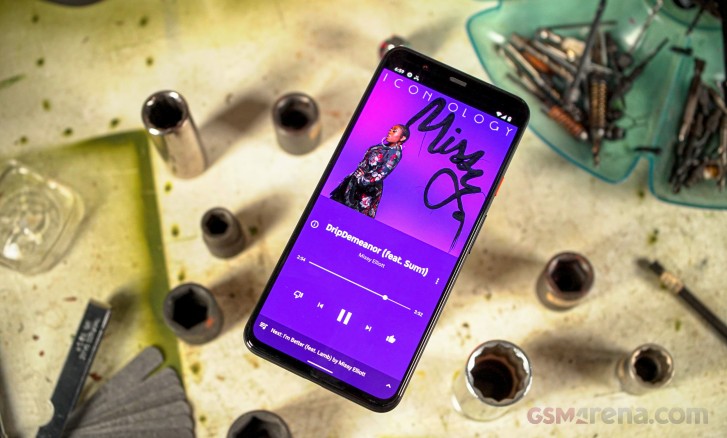 Audio quality
The Google Pixel 4 XL did excellently in the active external amplifier part of our test. It delivered the expected perfect accuracy at very high volume levels.
Headphones did cause a rather big spike in stereo crosstalk and caused a tiny amount of intermodulation distortion. The other readings were barely affected though and loudness remained high, so it's a solid performance overall. Particularly, if you compare it to the Pixel 3, which was one of the poorest phones we've tested.
| | | | | | | |
| --- | --- | --- | --- | --- | --- | --- |
| Test | Frequency response | Noise level | Dynamic range | THD | IMD + Noise | Stereo crosstalk |
| Google Pixel 4 XL | +0.02, -0.19 | -93.9 | 93.9 | 0.0018 | 0.0084 | -94.1 |
| Google Pixel 4 XL (headphones) | +0.17, -0.12 | -94.0 | 94.0 | 0.0042 | 0.104 | -53.1 |
| Google Pixel 3 | +0.02, -0.12 | -71.7 | 83.2 | 0.0031 | 0.032 | -70.1 |
| Google Pixel 3 (headphones) | +0.15, -0.15 | -68.4 | 80.2 | 0.0066 | 0.193 | -61.1 |
| OnePlus 7T Pro | +0.03, -0.01 | -93.7 | 93.6 | 0.0010 | 0.0073 | -91.0 |
| OnePlus 7T Pro (headphones) | +0.13, -0.03 | -93.1 | 92.9 | 0.0018 | 0.087 | -75.9 |
| Apple iPhone 11 Pro Max | +0.05, -0.16 | -94.3 | 93.9 | 0.0016 | 0.016 | -81.5 |
| Apple iPhone 11 Pro Max (headphones) | +0.14, -0.04 | -94.4 | 94.0 | 0.0010 | 0.018 | -76.8 |
| Samsung Galaxy Note10+ | +0.03, -0.06 | -94.0 | 94.0 | 0.0011 | 0.012 | -95.1 |
| Samsung Galaxy Note10+ (headphones) | +0.03, -0.06 | -93.9 | 93.9 | 0.0027 | 0.023 | -69.9 |
| Sony Xperia 1 | +0.02, -0.01 | -93.6 | 93.5 | 0.0010 | 0.007 | -85.2 |
| Sony Xperia 1 (headphones) | +0.31, -0.26 | -92.1 | 91.9 | 0.0060 | 0.302 | -55.1 |
Android 10 by the book
We have already reviewed a handful of Android smartphones that came with Android 10 out of the box. With the Pixel 4 XL, we're now able to see how Google envisions the presentation and execution of its own operating system.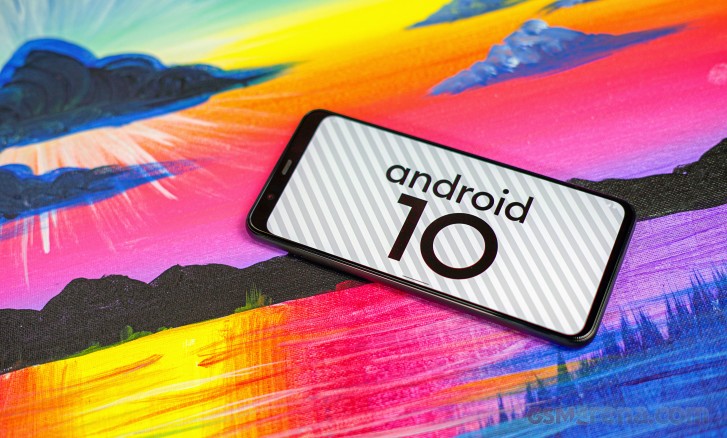 Major changes to the interface include a new Face unlock system, overhauled gesture navigation, and a new appearance for Google Assistant. At the event, Google also demonstrated that it could process vocal queries much quicker as it can store voice-to-speech transcription locally on the device in a much smaller database.
When first starting it up, you are prompted to register your face for security. At this point, you might realize there is no longer a fingerprint scanner, and this is because Google replaced Pixel Imprint in favor of the more generically named" Face unlock."
This was a significant change back when Apple dumped Touch ID for Face ID, and it's a significant change for Google now. Both use IR dot projectors and an IR camera to create and detect a depth map of the user's face.
In practice, Face unlocking works accurately and quickly. With the Motion Sense feature, it wakes the phone and triggers face detection while reaching for your phone so you can get in quickly. Just like any other phone with face unlock, it's more difficult to unlock while it's laying on a table. On the upside, Face unlock works from any angle, even upside down.
Soon after setting up and using Face unlock on the Pixel 4 XL, we noticed it would authenticate and unlock even with our eyes closed. This is a security gap that Google must have expected as its own support page suggested using a passcode would be more secure. Google has since confirmed it will patch this bug "in the coming weeks," but that doesn't seem soon enough.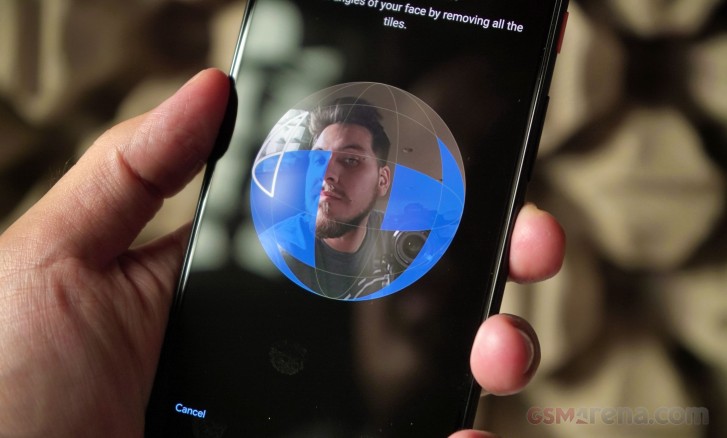 Another hurdle with Face unlock is support from banking institutions. It took years before fingerprint authentication could be used with baking and payment apps, among others. Currently, Google Pay works with Face authentication, but banking apps that once supported fingerprint to log in need to be updated to support Face unlock. Right now, only a handful of apps support Face unlock, but they are mostly password management apps.
After setting up Face unlock, the setup will quickly teach you how to use Android 10's new gesture controls. Google's 2-button nav gestures are gone (and we're glad), and the nav bar has been replaced with a slimmer home bar, much like a new iPhone. You can summon Google Assistant by giving the Pixel a squeeze.
Swiping up will go Home, swiping in from the edge will go Back, and swiping up from either corner will open Google Assistant. Multitasking is done by swiping up and holding, but you can easily switch between apps by swiping horizontally on the home bar.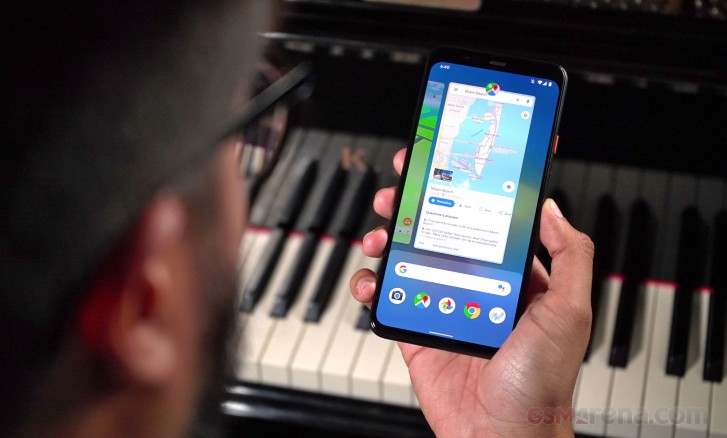 Since there's no longer a fingerprint scanner to pull down the notification shade, you can now swipe down from any part of any home screen will pull the notification shade down, so there's no longer a need to reach up to the top edge.
The homescreens are what we've come to expect from a Pixel. Swiping up gets you to the app drawer with the top-most row dedicated to the five frequently used apps.
Apart from wallpapers, the Pixel launcher now allows for more customization in the settings. The Style tab in the wallpapers menu lets you change the shape and color scheme of both app and quick setting icons. You can also set a system-wide accent color and font.
There is a new category of live wallpapers labeled "Come Alive," and they all subtly respond to hand gestures over the Motion Sense detector. There's even a Pokemon wallpaper designed to promote Nintendo's Pokemon Sword and Shield game titles.
When Project Soli was first announced back in 2015, it was presented as a breakthrough in motion-sensing technology with the ability to detect and interpret precise hand motions like sliding a finger and thumb to scroll through settings and then tapping the fingers together to select.
Motion Sense is Google's first implementation of Project Soli in a major consumer product and the result feels both half-baked and gimmicky.
There are only a handful of useful things you can do with Motion Sense. Several music apps are supported to skip back and forward between tracks, even when music is playing in the background or if the display is turned off. You can also snooze alarms or silence timers and incoming calls by waving over the screen. That's about it for useful features and nothing like the initial promo video for Project Soli.
Motion sense can detect when you're reaching for the phone and fire up the Face unlock hardware to swiftly detect the user's face and unlock the phone. We noticed it often triggers when its placed on a computer desk, in proximity to someone actively working with a mouse and keyboard. If you decide to turn this feature off (you might save some battery by doing so), you can still double-tap the display to quickly glance at the time and notifications, and you can still 'lift to wake' it.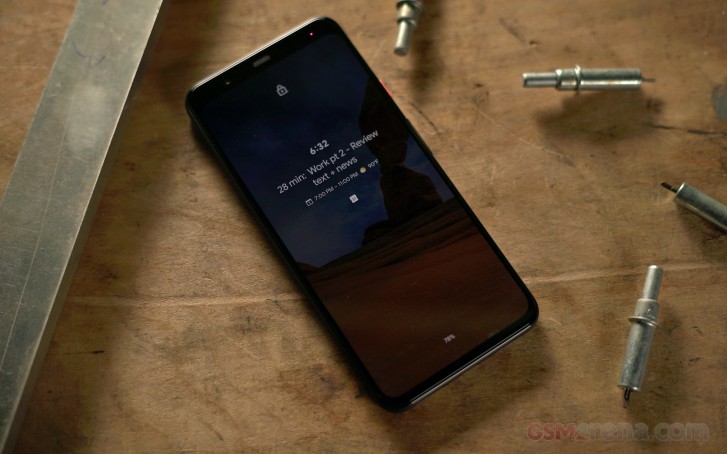 By default, you'll skip seeing the lockscreen entirely if you enable Face unlock, but there is an option to disable that so you can glance at your notifications and manually swipe in.
The Always On Display feature is enabled by default. This screen will display icons for missed notifications, a small weather widget, the time, battery percentage left, and a couple of lines are dedicated to contextual information such as anticipated traffic or upcoming calendar events.
With Android 10, both permissions and notifications offer finer and more transparent control. Starting with Notifications, the pull-down shade's order is priority-based. For example, if you receive notifications from a messaging app, they are a high priority, and a little bell icon appears. Otherwise, when you get notifications from less important apps like games or persistent app notifications, they'll show up as "Silent notifications" and take up less space.
Android 10 now shows you an average of the daily and weekly number of times an app triggers notifications in a dedicated Notifications menu. This gives users the information needed to decide which apps are inundating them with useless pings and prioritize more important notifications.
Android 10 brings the much-hyped "Dark theme," and it can be accessed from the Display settings. It darkens all menus, pop-up windows, Google Assistant, and even the Google Search Bar. Some apps will also automatically switch to their respective dark scheme, as long as the app is supports following the system-wide setting.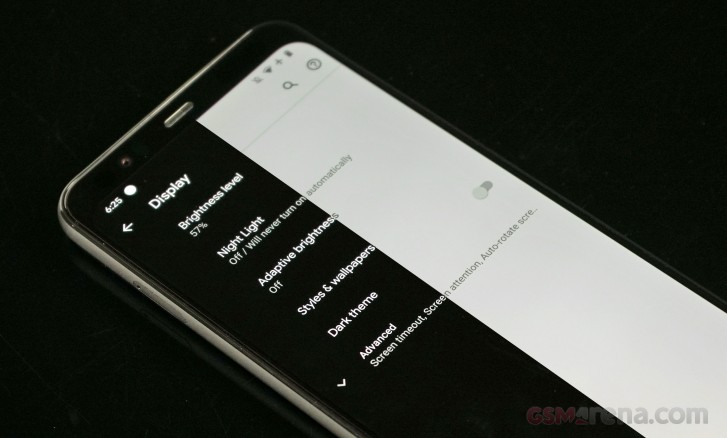 There are two new applications debuting on the Pixel 4 XL. The first one is a new application that organizes the emergency features of the new Pixels. The app lets you organize and fill out your medical information and assign emergency contacts in an emergency.
Finally, thanks to Google's new transcription app, it enabled a new voice recorder app from Google that can transcribe voice notes in real-time, and it doesn't require an internet connection. This app debuts on the Pixel 4 and 4 XL, and it enables a new way to keep track of voice recordings.
The app can transcribe your voice notes as you record them, making it much easier to search through recorded meetings or lectures.
Synthetic Benchmarks
Google isn't technically on the cutting edge of technology with the Pixel 4 duo. Both the Pixel 4 and 4 XL are running the Qualcomm Snapdragon 855 chipset, and they only come with 6GB of RAM. Google missed out on integrating the latest Snapdragon 855+ chipset – which is technically the same silicon, but with slightly overclocked CPU and GPU. This is a similar situation to Google's decision to use an underclocked Snapdragon 845 on Pixel 3. If OnePlus can develop and launch a refreshed 7T with the 855+ at a super competitive price point, why can't Google?
The Snapdragon 855 used in the Pixel 4's is built on the 7nm process and features an octa-core CPU. One quad-core low-power Kryo 485 cluster is clocked at 1.78 GHz. The second cluster has three Kryo cores clocked at 2.42 GHz and one high-power one at 2.84 GHz.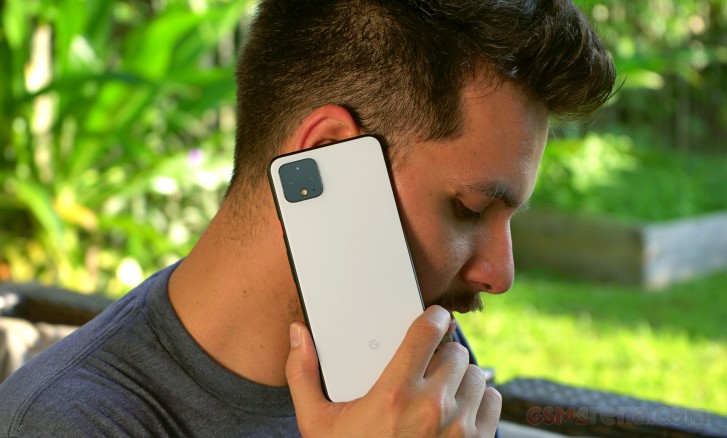 Even if not the latest and greatest, the 855 is no slouch. It's difficult to notice a difference between the Snapdragon 855 and 855+.
On the upside, Google has finally updated the amount of RAM to 6GB. One complaint we had with the Pixel 3 was that apps were getting knocked out of the system memory too early. It's nice to finally get some extra RAM, but 6GB isn't even competitive anymore with higher-end Chinese phones coming with 8GB by standard and upwards of 12GB when maxed out.
Anyway, let's get into these numbers.
Single core performance is shy of other devices running the same processor. It finds itself in its own level below the other Snapdragon 855 and 855+ devices while the Kirin 990, Exynos 9825, and Apple A13 all exceed in single-core scores.
Although the Snapdragon 855 has already been succeeded by the 855+, the performance difference between the two is almost negligible. The 855 on the Pixel 4 XL, however, is not the best performer among other OEMs. We've witnessed the same thing last year with the Pixel 3 and the same with Pixel 2 before that. It seems that Google is purposefully limiting the max performance of the CPUs they use.
As a result, if you're looking for the very best device to play lots of games on, the Pixel 4 XL may not be for you. There are plenty of other devices (mostly made by Chinese OEMs) that offer a bunch of game-specific features like a gaming mode or software optimizer for getting the very best performance out of games. The Pixel 4XL is also limited to a single configuration of 6 GB RAM, so you're better off with the much cheaper OnePlus for gaming.
One positive is the phone doesn't warm up under moderate use. Even when playing games, the Pixel 4 XL only may get comfortably warm under high usage.
Double the HDR+
The Pixel was one of the only smartphone brands that continued to equip its phones with a single camera and Google claimed it only needed one camera to take great photos and portraits. The passing of time always tends to make things change, especially in the tech industry, because this year, Google added a second camera to the mix.
Alongside an optically stabilized 12.2MP main camera with large 1.4-micron pixels and f/1.7 aperture is a 16MP telephoto camera (also stabilized) with 1.0-micron pixels and an f/2.4 aperture lens, which allows the Pixel 4 XL to shoot 2X zoom photos. Google's Super Res Zoom allows it to go comfortably beyond that zoom level too. Also both cameras benefit from Google's HDR+ algorithms for improving image quality.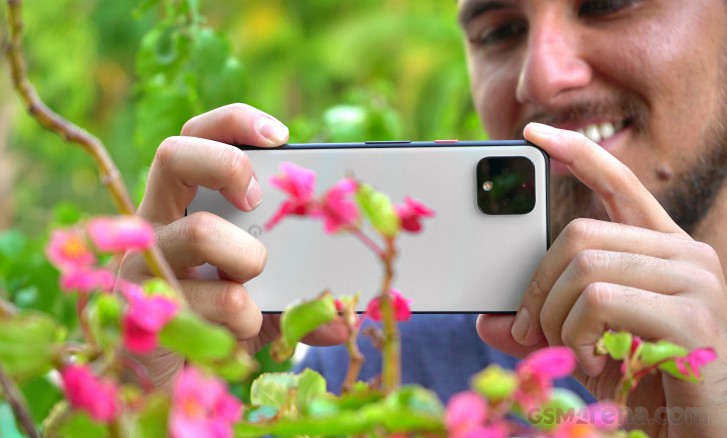 The industry has already moved past dual cameras and are already established with triple cameras, including the latest iPhone 11 Pro. So Google's decision to go with a telephoto camera instead of an ultra-wide – which many OEMs have been adding to the mix – raised many eyebrows. This depends on personal preference and the kinds of environments people tend to shoot, but Google believes that the average consumer is more likely to take zoomed photos over ultra-widened snapshots. We are not going to take a side here in favor of one type of camera or the other, but we'd just say that many manufacturers are happy to provide all three without the need for compromise.
Google has introduced a few new features on the Pixel's camera. The first is Live HDR+, which should show you what your final image was going to look like in the viewfinder after it processes it. Before that, especially in more demanding situations, the live viewfinder was only really used to compose your shots, then you'd only see the resulting HDR+ photo in the camera roll. We're glad to see this change implemented as it makes a huge difference in the picture taking process.
Another new feature is dual exposure controls – baked right into the camera UI.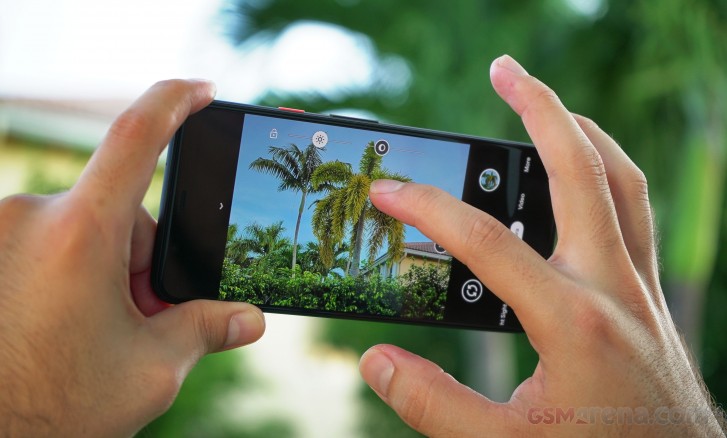 What's more, now you can manually adjust the shadows and highlights as you are composing a shot, useful if you want to get a more artistic photo like the silhouette of a person against a bright background. Since Google doesn't offer fully manual controls on the Pixel, this is a welcome feature. The feature combines well with Live HDR+ so you see the photo's exposure before you hit capture.
Apart from improvements in Night Sight and portrait mode – thanks to the second camera, "learning-based automatic white balance" is available in all shooting modes where it was previously only used in Night Sight.
The camera interface is mostly unchanged from the Pixel 3. You can swipe between shooting modes and the most important ones are easily accessible: Night Sight, Portrait, Camera, Video, and a More tab containing Panorama, Photo Sphere, Slow Motion, Time Lapse, Playground, and Lens.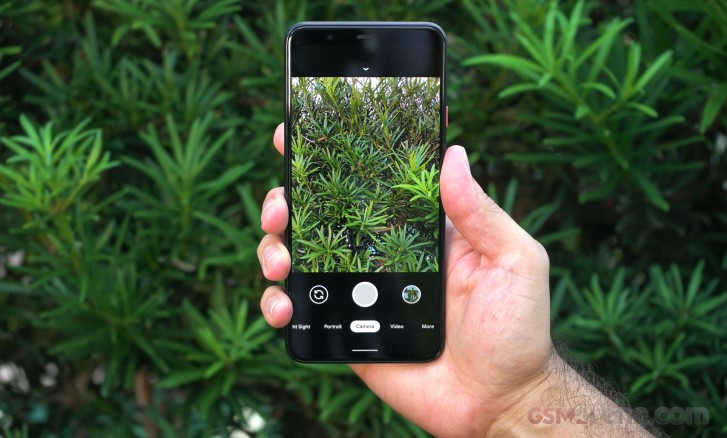 To make the viewfinder less cluttered, Google put the flash, timer, and Motion settings in a drawer, opposite the shutter button. It's an extra step to reach the Flash settings, but Google did mention at its presentation that it hopes you never need to use the Flash. Still, the drawer makes it easier to focus on the viewfinder.
Even with the drawer open, you can still hit the shutter key, so you don't miss the shot. Hitting the shutter does hide the drawer so you can keep snapping away.
Image quality
Image quality on the Pixel 4 is slightly improved over the Pixel 3. Google has cleaned up the noisy remnants we used to often see on the Pixel 3. Exposure is excellent and well-balanced thanks to HDR+. Colors are almost always true-to-life and white balance leans to cool – which gives the photos their signature Google Pixel look.
Where colors aren't true to life is mostly when the camera is trying to compensate for strong highlights. For instance, the photo of the tree barrier in front of the rope fence is a perfect example. This was a very demanding shot, as the sun was just peeking behind the hotel building and during golden hour. The photo was exposed well, but colors were washed out as a result. You can also see lots of noise where there was an attempt to capture more details.
Capturing details in the high-contrast areas of a scene is where the Pixel excels, but if you take away the high-contrast, like if you try to shoot photos in the shade, you'll start to see some noise.
Comparing some of the shots to the OnePlus 7T, we surprisingly preferred some of the shots it took over the Pixel. Although the Pixel managed to grab more details, OnePlus did a really good job with HDR mode (which kicks in automatically on the 7T) and here, we thought the Pixel's colors were a little dull by comparison. This is shaping up to be a very interesting comparison.
2X telephoto
Next up is the telephoto camera, which is new on the Pixel 4 XL. We expected samples to look a little different since the cameras' apertures don't match. Although the telephoto camera has a 16MP sensor, it outputs images in 12.2MP, just like the main camera.
The truth is, photos shot with the telephoto are indistinguishable from the main camera, at least at first glance. Pixel peeping will reveal slightly more noise and, naturally, a slight loss of detail. The only time you might notice a more significant difference is in lower light conditions. After all, it does have a dimmer aperture.
The telephoto's camera performance is strong, and especially so when comparing it back to the OnePlus 7T.
In stark contrast to the shots from the main camera, the OnePlus 7T's telephoto shots are nowhere near as nice in detail and colors. Fine details are mostly, if not completely, lost when switching to the telephoto camera.
Super Res Zoom was Google's solution to the Pixel 3's lack of a second telephoto camera, so its nice that Google included the feature on the telephoto camera as well so you can shoot photos from even further away.
Once you get past 2X zoom on the telephoto, 4X images are decent and there isn't even too much noise. There is however, a good amount of pixelation happening as a result of the moving waters of the Atlantic. Even from the distance, we can still make out the container ship that's anchored further out.
We've seen some incredible zoom shots from Chinese makers like Huawei with the P30 Pro and Oppo with the Reno 10X Zoom, so if you're someone who wants to shoot birds or subjects from afar, we'd nudge you away from the Pixel.
Portrait
Moving on, let's look at some portrait photos. Thanks to the second telephoto camera, Google can capture more depth information to synthesize a bokeh effect that more closely resembles that of a DSLR.
Portrait photos are among the best we've seen from a smartphone. The subject line is near-perfect and the resulting bokeh, especially in the second shot in front of the green hedges, is exactly how we'd expect a DSLR camera to blur an image. Whatever Google did, we're really impressed with the result.
Night Sight
Night Sight was first introduced last year with the Google Pixel 3 and 3 XL. Before that, the Pixel was regarded as one of the best cameras in low light, but in the span of the last two or three years, most OEMs now have some form of a long-exposure shooting mode that stacks images without needing a tripod.
We tested Night Sight in very demanding lighting situations. Let's see how the Pixel 4 does with low light images and then compare them to the same scene with the Night Sight mode enabled.
Naturally, low-lit photos are noisy and lack details while some can't even focus properly. The photos look just fine overall but quality really sinks when you zoom into the pictures.
With Night Sight, images are instantly better and more usable. They have more detail, albeit still with a bit of noise due to the processing. Although Google mentioned that learning-based AWB (automatic white balance) is present in all shooting modes, we didn't find white balance to be consistent between the regular shooting mode and Night Sight.
Of course, some of these images are extreme lighting situations like the beach, which was solely lit by the dim lights of the boardwalk and nearby buildings. Let's compare these night photos to the Nightscape ones shot with the OnePlus 7T.
Both the 7T and Pixel 4 XL were able to improve the night scene by using their respective dedicated low-light modes. Both had similar tonal reproduction and were quite similar in the boosting of shadows and highlights. However, we found the OnePlus 7T to produce sharper images.
We prefer the 7T's Nightscape shot of the purply lit hotel with the swimming pool. Details are better preserved on the 7T and the image has applied better sharpening. Of course, too much sharpening can sometimes be a bad thing – you'll notice excess noise if you pixel peep at the top areas of the hotel building in the 7T's Nightscape shot.
Resulting photos aren't very good, and that's likely due to the f/2.4 aperture. Although we expected the camera wouldn't take as good of Night Sight photos, at least the Pixel 4 XL gives you the option, Nightscape photos with the 7T's telephoto camera is not possible, and it's probably for the best.
Astrophotography mode
A new feature is an Astrophotography mode. Since there is no fully manual operation of the camera, it was previously not possible to capture long-exposure shots with 20-second exposure. Now, thanks to the magic of image stacking and software, Astrophotography can capture starry skyscapes.
To enter the mode, all you need to do is open Night Sight and then stabilize the Pixel 4 XL against something or put it on a tripod. Once stable, you'll see an Astrophotography label on the viewfinder, and then all you need to do is hit the shutter key. Then the camera decides how long it should capture on its own, based on the amount of light available. It takes anywhere between one to four minutes to capture something.
We do admit the images are impressive, and the mere fact that a smartphone captured them is awesome. These images are mostly processed by Google's algorithms, so you may see some light noise as a result, but nothing that distracts at all.
Whatever you manage to capture in the scene also has a lot of detail if its exposed enough. If you inspec the last shot closely, you can see the texture of the paint on the pillar of the balcony. Of course, this one did take almost four minutes to capture.
While this is a cool feature, not everyone will be able to use it. You'll have to travel outside of brightly lit cities and find a dark sky to shoot. While its not a mode that people will use frequently, it's certainly a cool niche feature.
8MP Selfie camera
The front-facing camera no longer has the same dual-setup like on the Pixel 3 and 3 XL, but the 8MP selfie camera is paired with a 3D ToF sensor to keep up with portrait depth with the front camera.
To switch between the front and rear cameras on the Pixel, you can make a double-twist gesture right from the viewfinder.
Although the second selfie camera is gone, the Pixel 4 XL has a wide field-of-view than some other flagships. At a 35mm equivalent length of 22mm (90° field of view), which sits somewhere between the 19mm ultra-wide and 28mm lenses on each of the Pixel 3's dual selfie cameras.
Selfies have well-balanced exposures both in the foreground and way in the background. Skin tones are well reproduced, and you can spot details in the shadows. Let's look at portrait selfies now.
We're not as content with these selfie portraits. In the first image, there's a strange halo around the subject line, although we can give it a pass since the sun is directly behind our reviewer Ricky. Otherwise, the synthesized bokeh line is not as well refined as the main camera's was.
There's a significant difference in the amount of details and softness from the 7T. Pixels have always been more about capturing details (sometimes too many details) in the face while most other OEMs would prefer to soften features – this makes for a more flattering image. Between these samples, we prefer the selfie portraits from the 7T.
Most selfie cameras don't play well in lower light, but the Pixel 4 XL's is surprisingly good at capturing selfies and exposing everything else properly. Though the background (and sometimes foreground) can appear noisy at times, its nothing compared to taking a selfie that you can't use because its too dark to see anything.
Video
Although much attention was given to the fact that the Pixel 4 XL cannot record in 4K @ 60fps, we can't say many of us at the office record 60fps video at all, much less 60fps in 4K. With that out of the way, the Pixel 4 XL can still record 4K video at 30fps, and 1080p video in both 30 fps and 60 fps. You can also capture any of the modes mentioned with the telephoto camera.
1080p videos pack great detail and minimal noise. Exposures and colors are spot on. You may notice some fuzziness in the foliage, but that's because these samples were all shot handheld. On that note, the Pixel 4 XL's stabilization is quite good.
Details in 60 fps video are about as good at their 30fps counterparts. In the areas of foliage, you can see a bit more noise because of the faster frame rate. Otherwise, colors, dynamic range, and exposure are consistent with standard 30fps video.
We've seen many smartphone cameras have issues with exposure metering when shooting in 60 fps, but there was no such hiccup with the Pixel 4 XL.
4K video packs pleasant details and colors. Although the scene is lit by a setting sun, we are happy with the way the scene was exposed. We can still see what's in the shadows of the scene while we also get the warmth of the sun shining on the palm trees. You can see slight fluctuation of noise in the grass, but again, that's due to the handheld nature of the video.
The competition
The Pixel 4 XL starts at $899 in the US. At this level, it is $100 below the iPhone 11 Pro and $200 more than the entry-level iPhone 11. All these phones start at 64GB of base storage and are non-expandable. This year, we have seen killer camera performance from the new iPhones. Both cameras are great and each one performs better than the other in key areas.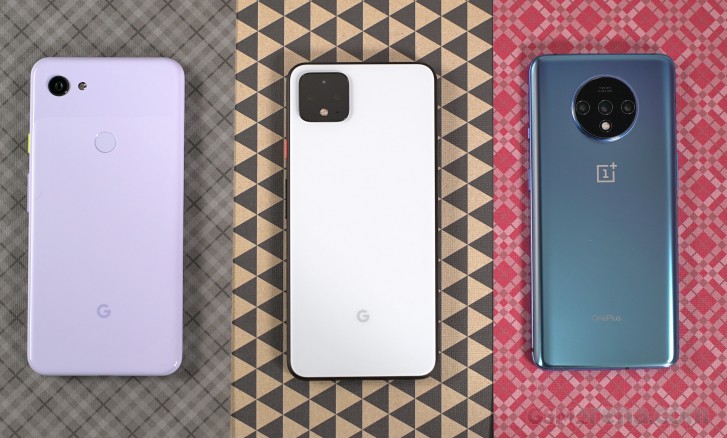 This year, all iPhones have excellent battery life, but we can't say the same about the new Pixels. While Google was busy adding a telephoto camera to its lineup, Apple added an ultra-wide-angle camera to each new iPhone this year. If you're looking for a polished software experience with an excellently balanced camera setup, great battery, and software, look no further than this year's iPhones.
Earlier this year, Google received much praise for the Pixel 3a duo. It offered a smooth software experience along with power-efficient hardware and excellent battery endurance. If you're after a Pixel that can keep up with you all day and you are not necessarily in need of extra horsepower for games, and an exceptionally great camera for the price, the Pixel 3a XL is the perfect budget alternative.
If you're looking something with many more features and customization, take a look at the Samsung Galaxy Note10 and Note10+. Samsung's flagship duo is packed with camera features, new shooting modes, an S Pen, and attractive-looking hardware. The Google Pixel can seem overpriced by comparison.
If you're looking for better value, perhaps a Samsung Galaxy S10+ could be of interest. It has the same size display, but Samsung's displays are second to none with excellent image, comfortable visibility in direct sunlight, and longer battery life.
Given the 90Hz display feature on the Google Pixel, it will inevitably be compared to the OnePlus 7T and 7T Pro. All phones have 90Hz screens, but the smoothness in display and hardware is seemingly more apparent on OnePlus devices. It's a little ironic that an OEM can create a better UI for Android than Google itself.
OnePlus' cameras have come a long way, and they have shown great potential and can probably match the Pixel in daylight photography. Otherwise, Google's cameras are well-executed with an excellent image quality, but what's missing is a well-executed 90Hz display.
The verdict
The Pixel 4 duo is off to a rocky start. Reports of the company's shortcomings have been making headlines in tech news. The 90Hz display doesn't always render at 90fps while Google's new Face unlock works with the user's eyes closed when it shouldn't. These features have one thing in common – they are going to be addressed in a future update.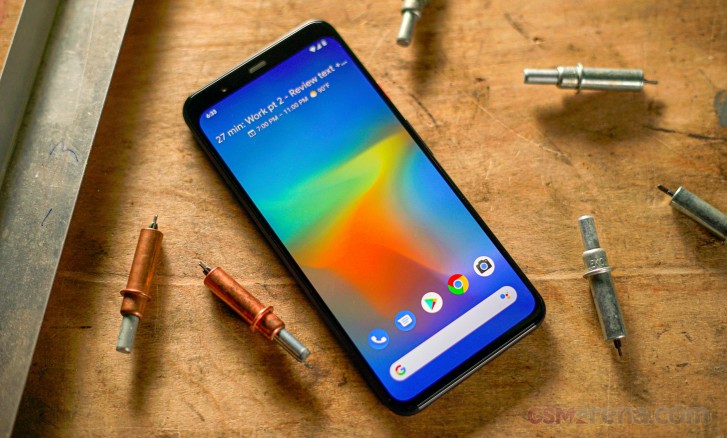 However, these are things that should have been addressed before launching the phone in the first place. Motion Sense is also a dud, it feels unfinished, and it's a shame that Google believed that this would be worth hyping up in its current state. As much as Google upsold the Motion Sense feature for "getting stuff done", we don't believe they add up to the value of the phone.
Face unlocking, although quick, reliable, and arguably more convenient than a rear-mounted fingerprint scanner, is no longer supported by the same apps that supported Pixel Imprint. We don't believe a new technology is worth temporarily inconveniencing the customer for the sake of having said technology.
The Google Pixel is supposed to be Google's own interpretation of Android. Given the state of incohesive features, poor battery life, and half-baked Motion Sense, perhaps this is how Google feels about its own platform: It needs other OEMs to make its own platform better.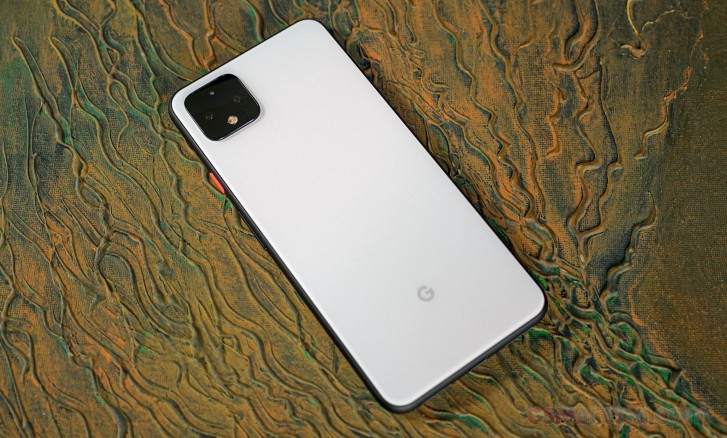 Google has been taking note of what others have been doing. With Pixel 4, it has added more layers to the software like more advanced customization of icons and colors, as well as well-improved gesture control, and Google Assistant's voice commands feel near-instantaneous. The instant-transcription voice recording app was a nice addition, but we were left wanting more.
The Google Pixel really excels in the camera department, but Google doesn't seem too worried about the competition when it should be. It feels like Google is relying solely on its camera prowess to push sales of the Pixel 4 and 4 XL while merely getting by in other aspects like display technology (we want a brighter AMOLED display) but more specifically, battery life.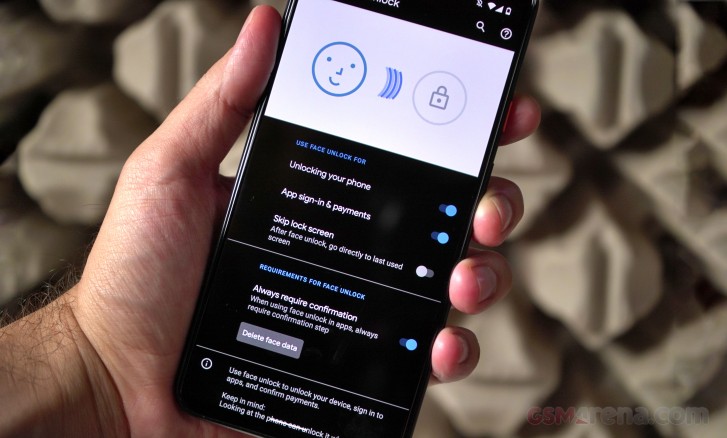 The Pixel 4 XL is the best that Google has to offer and if you don't mind paying a premium price and overlooking a couple of shortcomings at launch, then you'll be a happy camper with Google's new phone. If you'd rather get the most out of your $899, you might want to consider getting something else or wait until the phone is discounted (which usually happens around Black Friday).
To avoid ending this review on a low note, we will say that we really like the new design of the phone. The soft-touch glass feels amazing, the textured metal frame is great, and the Pixel's display is better than ever. The Google Pixel's camera is amazing and its tendency to capture every range of exposure with detail makes it a joy to shoot with.
Pros
Gorgeous, color-accurate display.
Unique textured design.
Quick and reliable Face unlock.
Great camera performance.
Cons
Wonky 90Hz display execution at launch.
Half-baked Motion Sense features.
Below average battery endurance.
We're missing the ultra-wide camera.
No fingerprint reader while the competition has already gone through a few generations of under-display readers.
Face unlock can be triggered with eyes closed and it's not yet supported by banking apps.
No bundled cable earbuds or an adapter.
Limited market availability (even more so due to the Motion Sense radar).