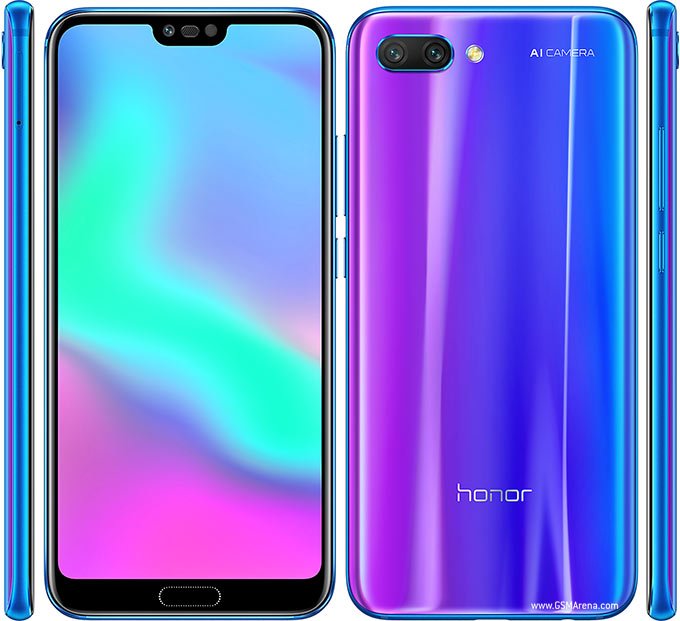 Huawei and Honor may be described as two sides of the same coin. Honor, being a Huawei sub-brand, has the benefit of having full access to its parent company technology and R&D. But when it comes to marketing strategy, the two companies couldn't possibly be looking in more different directions than they are. Honor is dead set on offering affordable high-quality smartphones so, in most markets, sales go through online channels only. At other places, the two brands even use different supply chains and their respective marketing campaigns are independent. And that's why we find ourselves in the odd position of reviewing the Honor 10 – a device which is substantially cheaper than the Huawei P20, and yet, it's surprisingly identical to the flagship device in so many ways.
The specs for Honor's flagships have been quite easy to guess lately – take the most current Huawei P smartphone, leave the Leica branding out of the specs sheet and there you have it. The same applies for the Honor 10 – it's a P20 sans the fancy branding. But priced at just €399, the flagship costs equal, if not less, to an average mid-ranger and this is where things get interesting.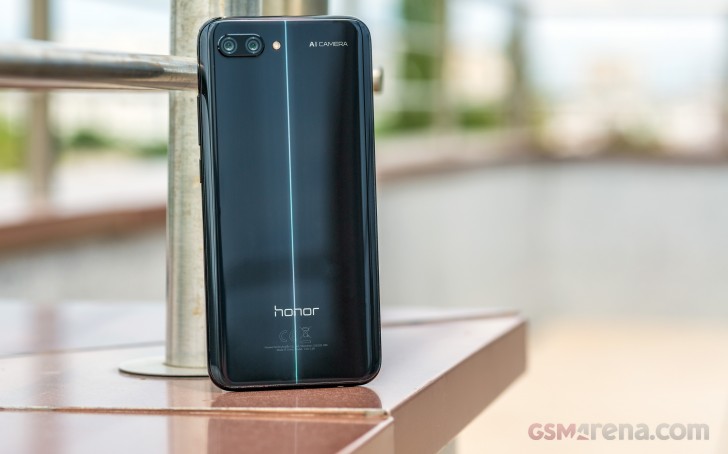 The Honor 10 has the glass body of the P20, the unique paintjobs included. On paper, the two also share the same screen, same processor, same battery with the same SuperCharge support, same software, and rather similar cameras. And yet, the 10 is impressively cheaper.
Once intended for markets outside of Huawei's reach, now both brands are broadening their reach independently, so it appears the old strategy was abandoned. And that's a good thing. Huawei is widely advertising the P20 Lite and P20 Pro, while leaving the regular P20 outside of the conversation. And the Honor 10 is making the run for its spot.
Honor 10 specs
Body: Aluminum frame, glass back, 149.6 x 71.2 x 7.7 mm, 153g
Screen: 5.84″ 2280x1080px (19:9) IPS LCD, 432ppi, notched
Chipset: HiSilicon Kirin 970, Octa-core (4×2.4 GHz Cortex-A73 & 4×1.8 GHz Cortex-A53), Mali-G72 MP12 GPU
Memory: 4GB RAM, 128GB of storage (these may vary by market though), no microSD slot
Camera: Dual: 16MP RGB (f/1.8) + 24 MP B/W, phase detection autofocus, 2160p @ 30fps video
Selfie cam: 24MP (f/2.0), 1080p video
OS: Android 8.1 Oreo with Huawei EMUI 8.1 + AI features
Battery: 3,400 mAh non-removable, Huawei Super Charger (5V@4.5A)
Connectivity: Dual Nano-SIM; USB-C (USB 2.0), NFC, Bluetooth 4.2, GPS, GLONASS
Misc: IR Blaster, front-mounted fingerprint sensor with gesture navigation, single bottom-firing loudspeaker
The dual-camera setup on the back uses the same RGB+B&W combo but relies on different camera sensors. We are yet to see if the image quality would be comparable to P20, but we are quite optimistic based on our experience with previous Honor flagships.
But enough teasing, let's pop this thing out of the box and get this review started.
Honor 10 unboxing
The Honor 10 is cheaper than the Huawei P20, so we can't be picky about the retail package. Indeed, there are no headphones inside, but everything else has been carried over. The Huawei Super Charger is here along with the enhanced USB Type-C cable. You need both for the fast charging to work – anything else won't do it.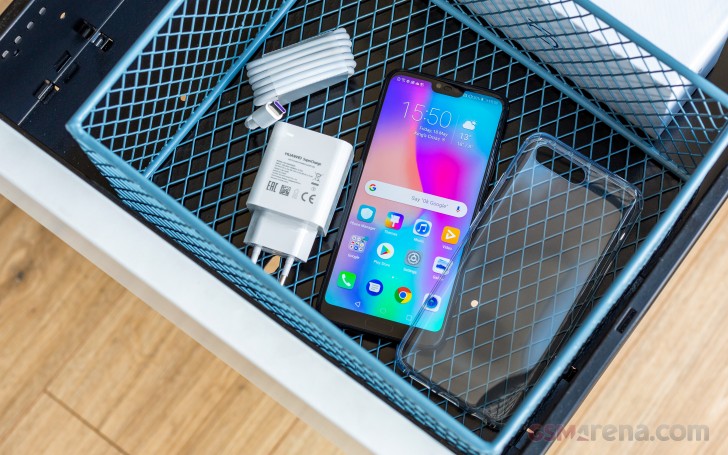 There is also a transparent silicone case to keep that glossy curvy back safe from scratches.
Design
Looks-wise, the Honor 10 is as trendy as it gets – a glass phone with a screen with minimum bezels. Unfortunately, this also means there is a notch on top of the screen. And while the jury is still out on the appeal of this particular design feature, the makers' confidence with it seems to be growing stronger.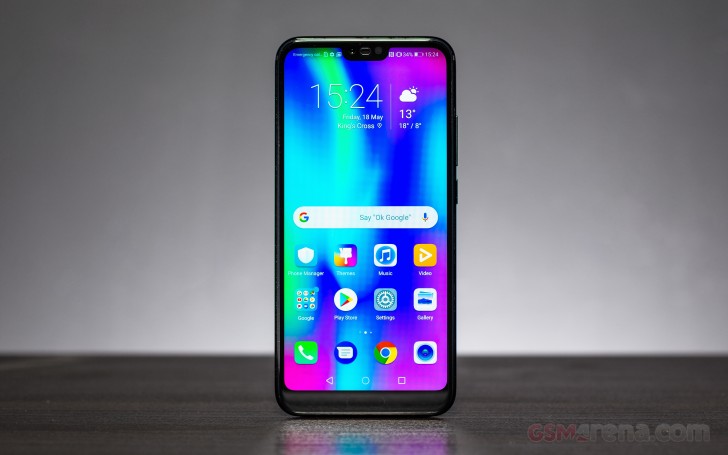 The Honor 10 is an all-glass smartphone by the book – two such panels sandwich a polished metal frame. Apply curves wherever possible, trim the screen bezels, carve out a notch, and there, welcome to 2018.
The Honor 10's footprint and weight are the same as the Honor 9's, yet it packs a larger screen and battery, better camera and chipset. Keeping the same footprint was easy because of the notched panels expansion. And while we are comparing phones, the Honor 10 also shares the same measurements with the P20 but the weight – the Honor is 12g lighter at 153g.
The front side is the most interesting part of the Honor 10. The 5.84″ notched screen is the first thing to notice. It's becoming the popular choice lately. The screen is slightly larger than the one on the P20 and taller in resolution. But more on that later.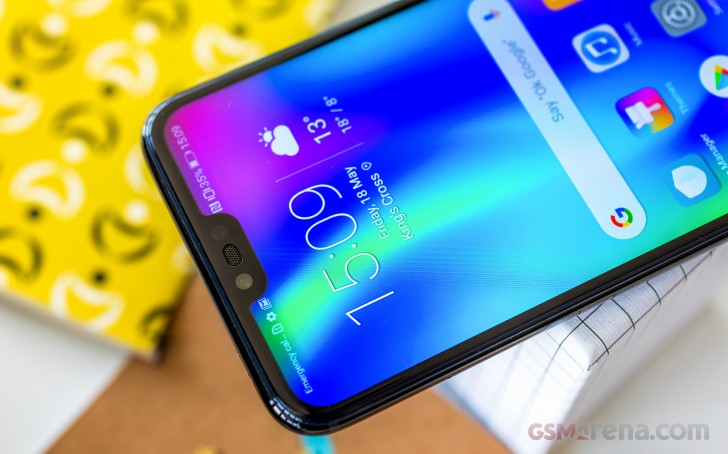 The notch houses the same 24MP selfie snapper as seen on the P20 and P20 Pro. Next to it is the earpiece and a couple of sensors. A super tiny notification LED is also around.
Below the screen is probably one of the more exciting bits of the Honor 10 – the ultrasonic fingerprint reader, which sits entirely under the glass. Since there is no cutout for this sensor, Honor decided to mark the spot with tiny white dots. Those are visible only upon a closer look, but they are a bit of design spoilers to us.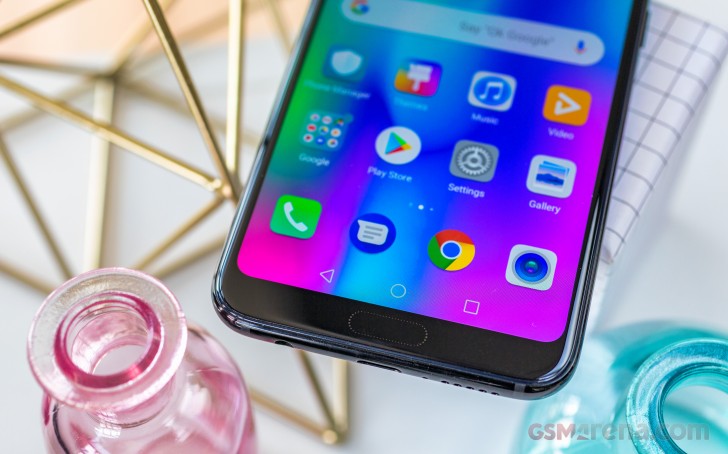 The sensor reading is slower than what we're used to experience with Huawei's solutions. It should have the same accuracy and is always-on, but sometimes you just need to press harder for it to register your finger. Well, the looks always have a price, we guess. And if you enable Face Unlock as we did, you'll rarely resort to fingerprints.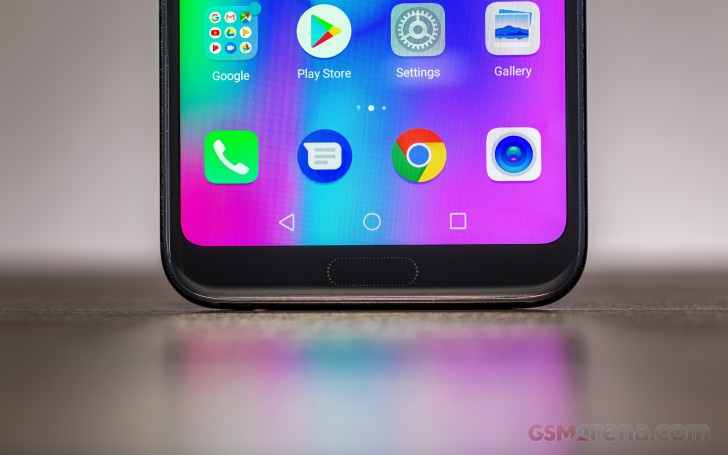 But since this fingerprint reader also doubles as a trackpad for navigating the UI, its sluggish performance takes a toll on the OS gestures, too. Don't worry; it's nothing that bad – the taps are always recognized, but sometimes we had to press for the swipe gestures (Task Switcher). No big deal, but the overall operation is not as smooth as on the P20s.
Huawei was among the first makers to embrace the gradient paint jobs and Honor continues to evolve those. While we have the rather mainstream Midnight Black in for review, there are two stunning color-shifting Phantom options available – Blue or Green. Those are equally as spectacular as the ones on the P20, and we'd have some hard time if we need to justify getting the Boring Glacier Grey or Incognito Midnight Black versions (ours being the latter). The options are there, though, if you're that person.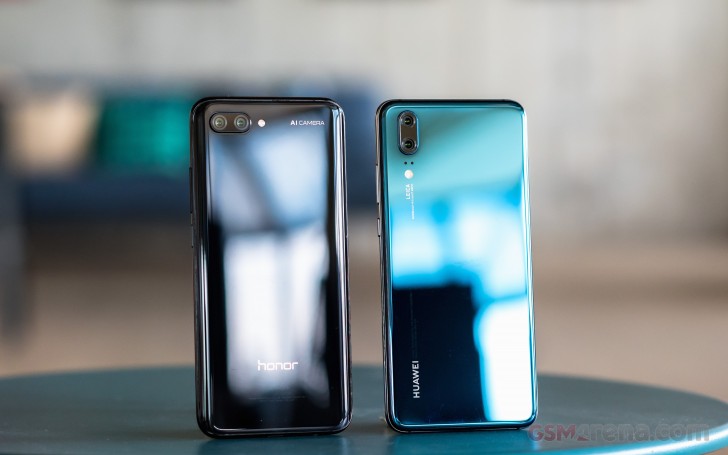 Honor 10 and Huawei P20
While the screen has no fancy curves, unless we count the so-called 2.5D edge, the back is noticeably bent towards the aluminum frame. Those curves make the Honor 10 look and feel thinner than it actually is.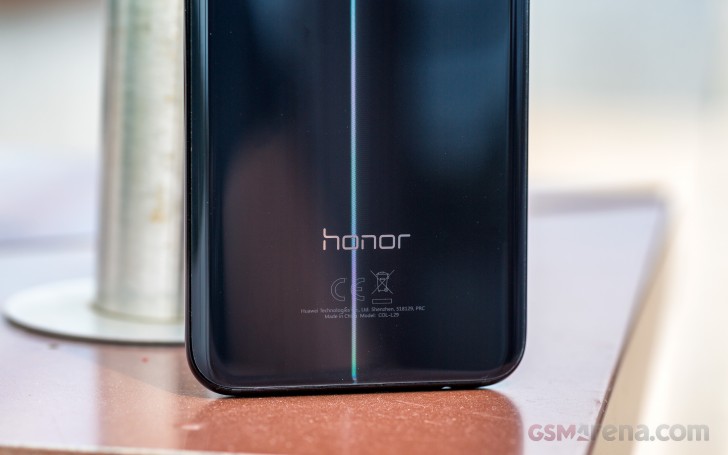 Another attention grabber at the back is the dual-camera setup with the AI CAMERA lettering on the back. 'Beauty in AI' is the Honor 10's tagline, and yes, AI has a been a mandatory buzzword this past year. And that's fine, but we'd rather keep those promos for the ads instead of inscribing them on the devices themselves.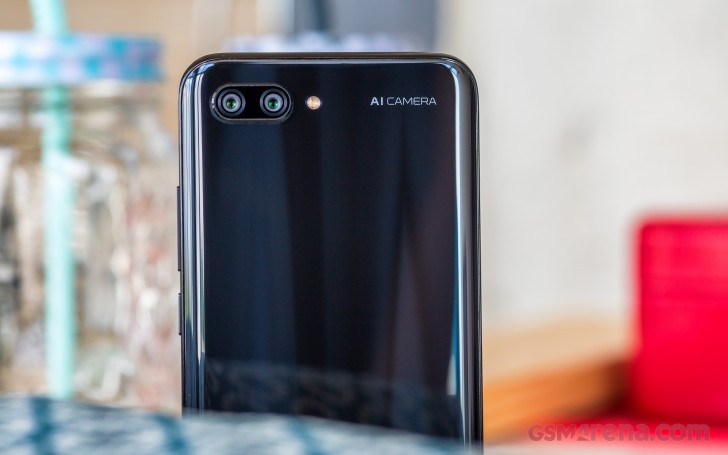 Finally, the metal frame is all glossy and curvy, and while this is a looks booster, it's also a grip killer. The Honor 10 is a beauty, that's for sure, but it's comes at the expense of poor grip. Keeping it in a case certainly helps in this regard but as usual, it takes away from the overall looks.
Display
The Honor 10 seems to be sharing the same notched display with the Huawei P20, but looks are often deceiving. Brace yourselves for the technicalities!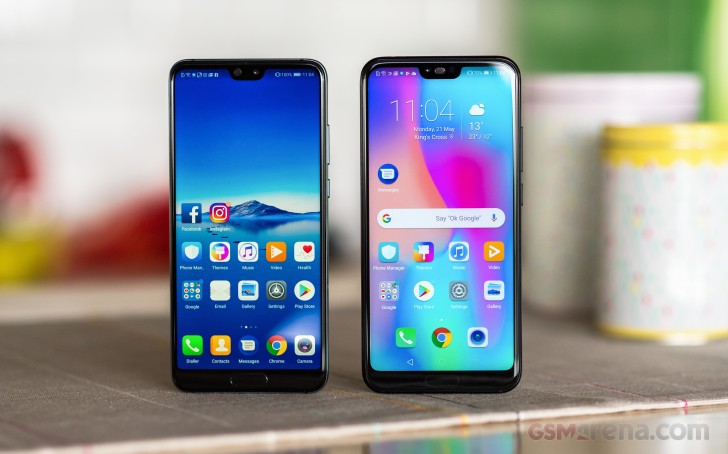 Huawei P20 and Honor 10
The unit on the Honor 10 is a 5.84″ IPS LCD of 2,280 x 1,080 pixels – this means 19:9 aspect and 432 ppi. The P20 has a 5.8″ LTPS IPS LCD screen of 2,240 x 1,080 pixels with 18.7:9 aspect and 429 ppi. See? There is a minor difference – the Honor 10 has 40 additional rows of pixels probably accounting for that 0.04″ growth in size.
The Honor 10 has three different color temperature presets for its display – Default, Warm, and Color. Each of those has Normal for accurate and Vivid option for punchy colors. By default the Honor 10 is set at Default + Vivid. This is also where the screen achieves the maximum brightness of 500 nits. Elsewhere the Honor 10 won't light up north of 450 nits.
The black levels are quite deep no matter the color mode, and thus the contrast is always excellent.
Display test
100% brightness
Black, cd/m2
White, cd/m2
Contrast ratio
Honor 10 (Normal)
0.32
449
1403
Honor 10 (Vivid)
0.326
508
1558
Honor 9
0.353
522
1479
Honor 8
0.37
460
1243
Honor 8 Pro
0.399
560
1404
Huawei Honor View 10
0.278
453
1629
Huawei Honor View 10 (Max Auto)
0.311
507
1629
Huawei P20
0.328
477
1454
Huawei P20 (Max Auto)
0.481
695
1445
Huawei P10
0.416
592
1423
Oppo R15 Pro
0
410
∞
Oppo F7
0.228
446
1956
Sony Xperia XA2
0.401
532
1327
Samsung Galaxy A8 (2018)
0
390
∞
Samsung Galaxy A8 (2018) (Max Auto)
0
590
∞
Nokia 7 plus
0.254
432
1701
The Honor 10 doesn't offer maximum brightness boost for better sunlight legibility, and we got a rather mediocre average score for sunlight contrast. You would need the maximum the screen can offer to see what's happening on it.
Now let's talk about color accuracy. Having so many different screen modes is probably confusing, so we'd try to keep it short.
Honor sells you the 10 set at Default + Vivid. We measured an average deltaE of 7.1 and maximum deviation of 11.6 at point white, which is more like blue. There is noticeable blue tint on the screen no matter what you are looking at.
Opting for Default + Normal works much better for average deltaE of 3.5 and maximum deviation of 8.3 also at point white. The blue tint is gone, but the whites are still kind of bluish.
Finally, if you are all about color accuracy – then just pick Warm + Normal. With an average deltaE of 0.8 and maximum deviation of 1.8 – the Honor 10 easily became the phone with the best calibrated display in our database, sharing the first place with Galaxy S7 edge. The colors will probably look a bit dull if you are coming from a punchy screen, but it's better to have that option rather than not, so good job!
Battery life
The Honor 10 has the same sealed 3,400 mAh battery used for the Huawei P20. It offers Huawei's custom solution SuperCharge that requires using a compatible charger and special cable combo, which is kind of a bummer in 2018. Those two pieces come bundled with the Honor 10, so at least you don't have to go shopping.
The 4.5V/5A SuperCharge adapter can bring the Honor 10 from 0% to about 65% in around 30 minutes without making the battery hot and thus prolonging its life. And that's why we can live with the proprietary solution just fine.
The Honor 10 posted a good battery score of 74 hours in our standardized test – in line with the Huawei P20's 75h achievement (same chipset, same battery, similar screen). The standby endurance is just average, just as it was on the P20.
Loudspeaker
There is one speaker on the Honor 10, and it's at the bottom. It scored an Excellent mark in our loudness test. The sound quality is very good, too, almost the same as on the P20 models.
| | | | | |
| --- | --- | --- | --- | --- |
| Speakerphone test | Voice, dB | Pink noise/ Music, dB | Ringing phone, dB | Overall score |
| Huawei P8 | 66.7 | 66.0 | 68.5 | Average |
| Huawei P9 | 72.1 | 66.6 | 75.6 | Good |
| Honor 8 | 67.1 | 66.2 | 82.6 | Good |
| Xiaomi Redmi 5 | 66.1 | 68.4 | 82.1 | Good |
| Sony Xperia XA2 | 68.7 | 72.7 | 78.3 | Very Good |
| Oppo R15 Pro | 69.7 | 73.5 | 76.6 | Very Good |
| Honor 9 | 68.5 | 71.7 | 80.3 | Very Good |
| Huawei P10 | 67.7 | 70.0 | 83.6 | Very Good |
| Huawei P20 | 66.6 | 69.8 | 90.0 | Very Good |
| Oppo F7 | 68.0 | 73.8 | 84.8 | Very Good |
| Honor 10 | 69.3 | 72.6 | 87.3 | Excellent |
| Xiaomi Redmi 5 Plus | 71.1 | 72.7 | 87.7 | Excellent |
| Huawei P20 Pro | 71.8 | 69.2 | 91.0 | Excellent |
Audio quality
The Honor 10 delivered flawless accuracy when hooked to an active external amplifier. Its loudness was rather disappointing so we won't be giving full marks, but you can rest assured that all tracks will sound exactly the way they were meant to.
Volume was equally disappointing with headphones, but we also observed very little quality degradation so it's mostly good news. Stereo crosstalk was pretty solid for the case and while a tiny bit of intermodulation distortion crept in, that's impossible to detect outside a lab. A great performance all in all, but lacking in power.
| | | | | | | |
| --- | --- | --- | --- | --- | --- | --- |
| Test | Frequency response | Noise level | Dynamic range | THD | IMD + Noise | Stereo crosstalk |
| Huawei Honor 10 | +0.01, -0.04 | -95.6 | 96.2 | 0.0040 | 0.054 | -94.6 |
| Huawei Honor 10 (headphones) | +0.01, -0.08 | -94.6 | 95.5 | 0.118 | 0.138 | -74.1 |
| Huawei P20 lite | +0.03, -0.03 | -87.9 | 87.8 | 0.011 | 0.022 | -82.1 |
| Huawei P20 lite (headphones) | +0.16, -0.03 | -87.6 | 87.6 | 0.020 | 0.102 | -77.5 |
| Motorola Moto G6 Plus | +0.00, -0.03 | -93.6 | 93.5 | 0.0050 | 0.011 | -94.6 |
| Motorola Moto G6 Plus (headphones) | +0.02, -0.02 | -93.5 | 93.4 | 0.0067 | 0.033 | -81.0 |
| Oppo F7 | +0.01, -0.10 | -92.5 | 92.7 | 0.0019 | 0.0077 | -91.2 |
| Oppo F7 (headphones) | +0.50, -0.20 | -91.4 | 91.8 | 0.0079 | 0.402 | -51.5 |
| Nokia 6.1 | +0.10, -0.20 | -37.5 | 80.4 | 0.0018 | 4.735 | -93.3 |
| Nokia 6.1 (headphones) | +0.05, -0.03 | -94.3 | 90.2 | 0.0027 | 0.019 | -58.6 |
| Nokia 7 Plus | +0.02, -0.31 | -38.8 | 81.7 | 0.0013 | 4.690 | -95.9 |
| Nokia 7 Plus (headphones) | +0.25, -0.23 | -93.3 | 90.4 | 0.0045 | 0.227 | -53.9 |
| Honor View 10 | +0.02, -0.01 | -92.6 | 92.6 | 0.0021 | 0.012 | -94.4 |
| Honor View 10 (headphones) | +0.17, -0.03 | -92.0 | 92.1 | 0.0023 | 0.092 | -52.8 |
Android 8.1 with EMUI 8
Honor 10 runs on the same Android 8.1 with EMUI 8.1 combo found on the Huawei P20. Huawei synchronized the version number of its OS overlay with the release of the Mate 10, and now on the P20 and Honor 10, it's Android 8.1 Oreo and EMUI 8.1. Not that it's radically different or anything, but there are some fresh bits.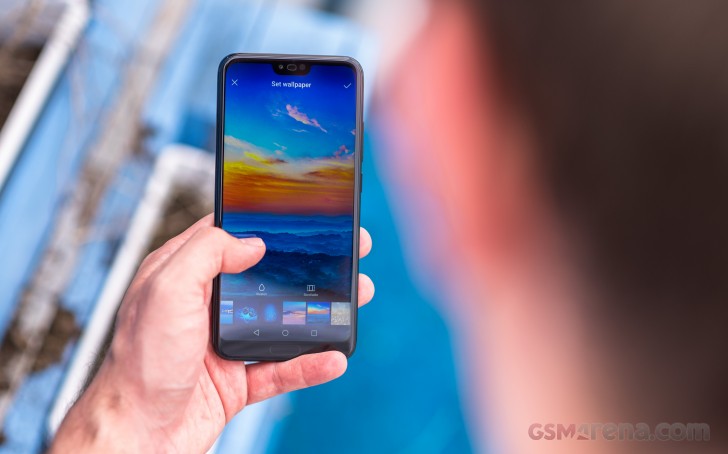 Let's start with the elephant in the room. You can embrace the notch, or you can opt to mask it with a black status bar that extends all the way down to the bottom edge of the notch. You should know, however, that hiding it doesn't really work as well with an LCD panel as with it does with an AMOLED.
Nevertheless, if you opt for this, the corners of the active display area will be rounded too, to match the actual corners on the bottom of the display. The size of this software bezel on the top ends up being symmetrical to the physical bottom bezel all while showing your status information white on black. This reminds us of what the LG V10 and V20 did with their extra displays, but this implementation is quite different, of course.
Out of the box, there is no app drawer on the EMUI 8 – it's a single tier interface like on the iPhone. However, if you miss the Android's usual layout, you can enable it back in the Display settings. There is also a handy search feature, which can be accessed by flicking down on any empty area of the home screen.
EMUI has something called Magazine lock screen, which rotates through a bunch of wallpapers, so you see a different one every time you fire up the display.
Just like the most recent Huawei smartphones, the Honor 10 has the so-called off-screen navigation set by default. It uses the surface of the fingerprint sensor for everything – tap to go back, tap and hold for Home, and swipe in either direction for Recents. But you can opt for the regular onscreen navigation key, among other options.
EMUI offers plenty of customization and features like face unlock, smart rotation, and lift to wake. Themes are supported, too, and there is a lot to choose from. There are a few themes to choose from with the option to change the icons, the skin, and wallpaper.
From the Phone Manager app, you can access shortcuts to storage cleanup, battery settings, blocked numbers, Virus scan powered by Avast, and mobile data usage.
The notification shade is pretty much a standard affair. There's a brightness bar with an Auto toggle – pull down again for more toggles.
Multitasking is pretty standard as well. Tap-holding the Recents key will let you activate split screen.
Huawei's own Music app is here and offers a way to listen to stored MP3s. Huawei's Health app is also pre-installed. It offers Google Fit syncing and step counting. There's a file manager app and a note-taking app. There is an abundance of replacements for these in the Play Store, however.
Finally, there is a proprietary app called Smart Controller, which will allow you to use the IR blaster as universal remote for your compatible appliances.
Performance and benchmarks
The Honor 10 is powered by Huawei's own Kirin 970 chipset, one we're very familiar with from the P20 and Mate 10 series. It's packing 4 Cortex-A73 cores clocked at up to 2.4GHz and another 4 Cortex-A53 cores capped at 1.8GHz. The GPU is a twelve-core Mali-G72 MP12. There's either 4 or 6 GB of RAM depending on the model you get.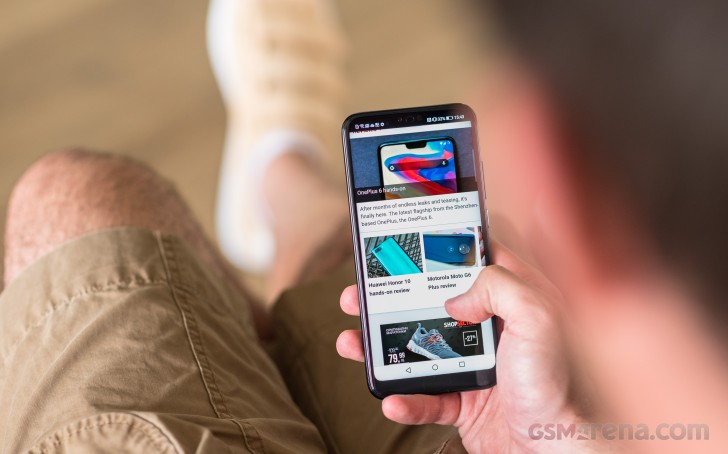 Unsurprisingly, the Honor 10 scores on par with Huawei P20 in benchmarks. Single-core performance in Geekbench is right there with the Snapdragon 835 (OnePlus 5T), but the latest Qualcomm chip is superior (OnePlus 6). All of the above applies equally well to the Honor 10's multi-core CPU performance.
The Honor 10 may not be the fastest smartphone on the planet, but nobody really hoped for that. We had to manage our expectations for the Huawei P20 and P20 Pro, which cost €650+, but that's not the case with the €390 Honor 10. It's bested only by the latest Snapdragon chip but is still among the best performers on the market – both CPU and GPU-wise.
In a surprising turn of events the Honor 10 turned out better at heat dispersion than the worrisome Huawei P20. Sure, it does build some heat once we start running the benchmarks, even some throttling eventually occurs, but it takes a lot more time to get to the P20's hot and throttled situation and that's commendable.
A familiar, yet different dual-camera setup
The Honor 10 has a dual-camera setup similar to what we saw on the Huawei P20. Or that's what we thought at first. It turned out Honor opted for completely different camera sensors even if they remind the setup on the Huawei – there is a regular RGB camera alongside a high-res monochrome camera. So, for the Honor 10, we're looking at a 16MP color and a 24MP monochrome imager, both sitting behind f/1.8 lenses each.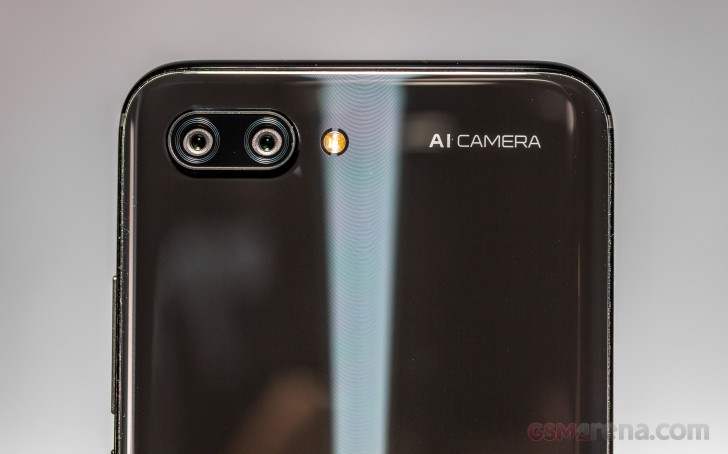 Unlike the Huawei P20, the Honor 10 doesn't come with OIS. There is no EIS for the videos either. The Honor 10 doesn't make use of the 4-way autofocus available on the Huawei P20 series, phase-detection is the only option for the Honor. There is no dual-LED flash either; just a single LED to light up the dark scenes.
Huawei's 2x hybrid zoom is available on the Honor 10, but that's as far as you can go.
Of course, it's all about the AI with this new handset and promo materials state that its camera recognizes in real time 22 different categories of subjects and shooting scenarios and adjusts shooting parameters accordingly. If the Master AI in the P20 and P20 Pro wasn't all that great, we wonder just how good this 'apprentice' AI is going to be. And you bet we'll explore that in detail.
The camera interface has been reworked since the Mate 10, but we wouldn't go as far as calling it more intuitive. First off, you have a mode selector on the bottom that you swipe left and right to change modes, but you can't swipe on the viewfinder, just on the selector itself.
Swiping up and down doesn't switch between front and rear camera either, you have a button for that (admittedly, on the bottom within easy reach). Basically, you're wasting the viewfinder by not having gestures enabled on it, except for pinch to zoom.
Hidden as usual is the access to the monochrome camera. You now need to swipe the mode selector all the way to the 'More' position, where the extra modes are: Monochrome, Panorama, and HDR, among others. And while we're at it, it's really odd to have a manual HDR mode separately when the Master AI takes care of that – it's like a dynamic range enhancement is On all the time.
The Monochrome mode has its own modes right there on its viewfinder – Normal, Aperture, and Portrait. That's something we liked even though this extra menu moves the viewfinder to the left. There is no Pro mode available for the Monochrome camera on the Honor 10 though.
You get manual (Pro) mode only for the color camera. There you can adjust parameters yourself – ISO (50 to 6400), shutter speed (1/4000s to 30s), exposure compensation (-4 to +4EV in 1/3 stop increments), and white balance (presets and light temperature). You can also choose the metering mode (matrix, center-weighted and spot), and the focus mode (single, continuous and manual). If the phone thinks you messed up the exposure, an icon will pop up to warn you.
Since artificially defocused backgrounds became all the rage, Huawei and Honor phones have had both a Portrait mode and an Aperture mode. In Aperture, you can choose the simulated aperture in the range from f/0.95 to f/16. Post shot, you can change the aperture and the focus point within the Gallery.
In Portrait mode you can enable and disable the background blur (why disable it, though), you can change the simulated lighting, and you can also add some beautification on a scale from 0 to 10.
Daylight image quality
Honor's implementation of the Master AI is enabled by default. The AI toggle is now accessible from the viewfinder, while the P20 phones have it hidden in settings. But we have even more good news – the Honor's AI is not as aggressive as Huawei's was even though it pretty much works the same way and operates under the same scene presumptions. The camera recognizes the scene properly and turns on the right mode accordingly, its defaults for each scene do saturate the colors more than usual, but not as excessive as it was on the P20 and P20 Pro.
So, the AI pictures have more than enough detail, obviously saturated, yet very pleasant colors, very low noise levels, and superb contrast. Multi-frame stacking is often used with the AI scenes, so if HDR was required, it's applied in real time, and you will always get the most from both shadows and lights.
There is obvious over-sharpening on most of the images, but not that extreme to ruin the pictures.
One thing we noticed is that the AI often tries to use Portrait mode for pets, and that's just not the right option for this occasion more often than not.
The regular samples without AI are quite good, too. They have plenty of detail, very accurate colors, high contrast and almost non-existent noise. The dynamic range isn't as impressive as on the AI samples, as the phone won't do auto HDR when needed – not that we expected it to do so.
Over-sharpening is noticeable on the regular samples, too, but once again – not so extreme that it gets in the way. Pixel-peepers like us might not be fans of that, though.
If you are viewing this page on a computer, you can easily compare the AI and the regular samples by using the compare icon on any of the sample segments.
The Honor 10 can do the 2x hybrid zoom, but it's not lossless and nowhere near the P20 2x options. Sure, it's better than any regular 2x digital zoom, but you'll have to lower your expectations. We tried some shots, and those indeed turned out, well, zoomed. While the images have more detail than a digital zoom could deliver, it's still easy to tell they've been zoomed in artificially.
The monochrome images have wider dynamic range than the regular daylight samples, but as usual, taking black&white photos is more of an artistic endeavor rather than a mainstream thing. The monochrome 24MP images came out with a great amount of resolved detail – we noticed much better-defined foliage and other high-intricacy detail when compared to the color images. The noise is kept low, while the contrast is simply amazing.
The B&W shots are not over-sharpened, exactly the opposite – they lack any kind of sharpening and sometimes are softer than we would expect. Then again, we'd probably prefer them this way than over-sharpened – if we had to choose, that is.
Low-light image quality
The low-light images are nothing special on the Honor 10. They are often quite soft, sometimes noisy, while other times the noise reduction smears the fine detail. The colors are true to reality, but the contrast is rather low. But the occasional low-light snaps will do fine for the social networks. And frankly – we've seen a lot worse, especially lacking in detail, blurry and unusable. So, the regular snaps are nothing special, as we said, just alright.
The AI works for some magic on the low-light shots to improve the contrast and colors, but that's about it. It's not as smart and as capable as on the P20 and there is no tripod-free Night Mode available for the Honor 10. The samples are a little bit noisier, but with brighter exposure and warmer colors, which worked for improved contrast and overall better look. The images are still quite soft.
We also snapped a few monochrome samples at night. Those turned out better than the color ones for sure, sharper, with slightly more detail and less noise. Yet, we experienced the same issue with the autofocus with the monochrome camera that we saw on the P20 and Mate 10 – its operation is quite hit and miss. So, if you want to use the monochrome camera – just be sure to tap on the subject – better safe than sorry, right?
There is a Night mode on the Honor 10 – this shot requires a tripod and up to 20s of waiting. At first we thought it will take a couple of shots and combine them. But this mode is actually closer to what the Light Trails does – basically, it takes one very low exposure photo and then begins to add lights. The phone almost succeeds into cutting out the light trails themselves, and the result is a photo with excellent exposure and contrast, detailed at that. The picture lack sharpness, but that's alright.
When using the manual mode, you can select a shutter speed up to 32s with ISO up to 6400. The viewfinder image will change as the exposure develops, so if you figure you've gathered enough light you can stop at any time.
And with this freedom, you just need a small tripod to get wonderful images. If you lock the ISO to 50 and use the longer shutter speeds, you can get some stunning long exposure shots come night-time.
Then there's the Light painting mode, which includes four sub-modes: Car light trails, Light graffiti, Silky Water and Star track. You'd need to have the phone perched on stable support for shooting in these modes (a tripod or a beanbag) as these extremely long exposures can't be done handheld without camera shake. These are nothing new so that we won't go into too much detail.
Picture Compare Tool
You can head over to our Photo compare tool to see how the Honor 10 handles the controlled environment of our studio. We've pre-selected the Oppo R15 Pro and Galaxy A8 (2018), but you can replace those with any other two phones you feel like. You can also compare the monochrome snappers via this tool.
Portraits and Variable Aperture
The Honor 10, just like other multi-camera Huawei phones, has a couple of faux bokeh modes – Portrait and Aperture. The Portrait mode is the one meant for people, complete with bokeh toggle, beautification, and simulated lighting. You can shoot with both color and monochrome camera in wide or regular (telephoto) portrait views.
All the samples turned out rather good and unless you have really curly or messy hair, the camera would do just fine.
Panorama
The Honor 10 captures great panoramic shots with a vertical resolution around 3,200px. Stitching is flawless, and there are no issues with varying exposure. The dynamic range is quite impressive, as is the resolved detail.
Selfies
Honor 10 has one of the highest resolution selfie cameras on a smartphone – a 24MP snapper with a fixed-focus lens. This is the same camera we saw on the Huawei P20 and P20 Pro. We'd gladly trade half those megapixels for autofocus, or at least a focus plane further from the phone, because as things stand, you need to shoot your face from pretty close to be in sharp focus. But even if you miss, the high resolution would probably compensate for the slight blurriness.
Once you get the distance right, the level of detail is quite amazing. Colors are faithfully represented, and dynamic range is good for a selfie camera.
Video recording
The Honor 10 offers you a choice between the h.264 and h.265 codecs. We were surprised to find a very the small difference in bit rate for 4K videos – it's 22Mbps vs. 20Mbps so h.265 doesn't really give us the huge file size reduction benefit we're used to seeing elsewhere. So unless you have specific reasons to go for h.265, we'd recommend using the h.264 codec for its inherent compatibility with all platforms and devices.
There is no OIS or EIS for the Honor 10 videos.
The 4K and 1080p footage at 30fps is nice and detailed, with pleasing colors, plenty of contrast, and steady framerate. The dynamic range is a turned out great, as are the colors. Notable is also the high-quality stereo sound captured with 192 kbps bitrate.
The 1080p samples shot at 60fps are always blurry and look out of focus. We tried more than 10 different takes – each of those resulted in a blurry video. So, until that is fixed with an update, the 60fps footage is simply a no-go.
You can also download the untouched video samples: 2160p (10s, 35MB), 1080p at 30fps (10s, 14MB), 1080p at 60fps (10s, 16MB).
Video Compare Tool
Finally, for some extra pixel peeping head over to our Video compare tool, where you can examine the Honor 10 output against any phone we've tested before. We've pre-selected the Oppo R15 Pro and the Nokia 7 Plus, but you can, of course, pick your own set of phones.
The Competition
Being part of Huawei has allowed Honor to borrow everything that made the P20 great, and then leave a few things out for a more competitive price tag. And just like the Honor 8 and 9, the 10 is shaping to be one of the best bang for the buck offers in its segment right now.
Honor is making in the mid-range what Xiaomi does for the budget segment – flagship phones on bargain prices. And the Honor 10 specs sheet and price can easily make OnePlus execs feel quite Unsettled.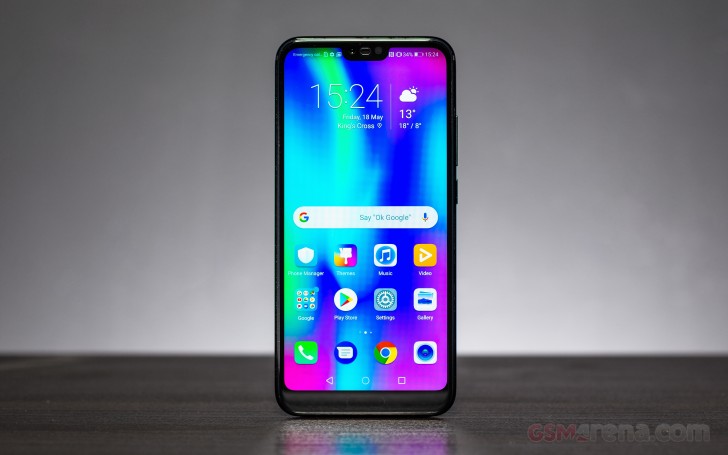 And speaking of OnePlus, the OnePlus 6 is now out with a similar notched screen but with an OLED panel. It has a stunning glass body, too, and packs a more powerful Snapdragon 845 chipset in it. The new OnePlus camera benefits from OIS and EIS but lacks native monochrome sensor and advanced skills as variable aperture. The new flagship killer is more expensive than the 5 and 5T at launch – it now costs €520, which is €130 over the Honor 10. You should decide if an OLED, better GPU, and OIS are worth the extra cash.
Moving on to another BBK phone – the Oppo R15 Pro – the choice becomes even tougher. The R15 has stunning looks, similar performance and screen, but less capable camera. It costs the same as the Honor 10, but it seems this time around Huawei has the upper hand.
Then there is the Nokia 7 Plus. With the latest HMD offer you'll get a perfectly rectangular 6″ screen, similar performance with its Snapdragon 660 chip, and one very clean Android OS thanks to Android One program. The Nokia 7 Plus has better-specked camera, with 2x optical zoom, dual-pixel AF, and EIS for the videos. There is also the larger battery. The Nokia somehow lacks the coolness of the Honor 10, especially in looks, so it's either the notch and glass body with the Honor 10, or the ruggedly-handsome Nokia 7 Plus and its Zeiss lenses.
Finally, the Samsung Galaxy A8 (2018) has a curved AMOLED at the front, a capable Exynos chip, a great main camera and an impressive dual selfie setup at the front. The A8 is not cheap, but sure looks interesting, especially for selfie-conscious fans. Then again, the Honor 10 does brilliantly with just one camera at the front, it offers better performance, a trendier screen, and it's cheaper.
And before we call it a day, there is one more phone worth considering – the Huawei P10. It's a very similar device to the Honor 10, but offers different (read better) camera sensors, optically stabilized at that. If stabilization and lossless zoom are of utmost importance and you don't mind the smaller screen, you should give the P10 a try.
The Verdict
The Honor 10 borrows the best of the Huawei P20 features and leaves just enough to keep the phone out of the flagship territory. There are no premium camera sensors with stabilization and no waterproofing. But that's about it. Everything else is… well, top-notch… and the Honor manages to make up for the change in camera with better image processing.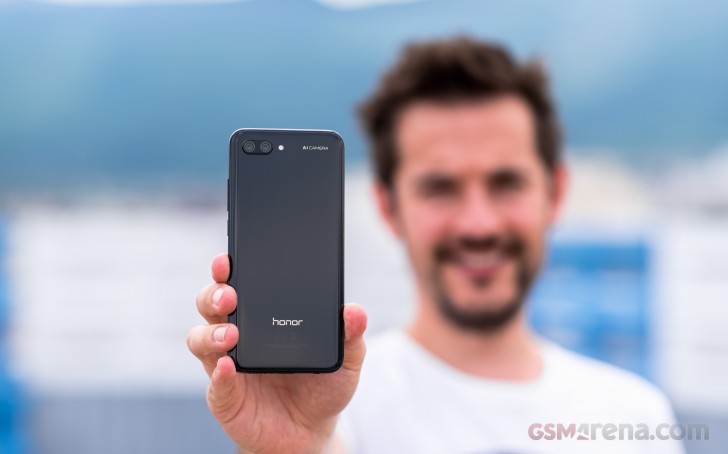 And it works great. The Honor 10 easily matches some of the best phones on the market in terms of looks, performance, camera, and yet it costs half of their price tags. And that's what the definition for bang for the buck looks like.
Pros
Nicely looking body, seems sturdy enough
Great screen with superb contrast, and you can hide the notch
Very capable main camera, color or monochrome, lots of artsy options
Dependable performance
Loud speaker
Feature-rich software
Hard to match bang for buck ratio
Cons
No IP67 rating, don't dunk it in water
Mediocre screen contrast in bright light
Ultrasonic fingerprint reader is slower/fiddlier than we're used to
The low-light photos not as good as on P20, nor is the 2x zoom
Something is wrong with the 1080p at 60fps clips as they come out blurry
For €390 launch price, we are willing to forgive a lot of those shortcomings. We'd recommend the Honor 10 wholeheartedly – it's a great all-rounder with few flaws and some extra-large claws.
Pricing

| | | |
| --- | --- | --- |
| 128GB 4GB RAM | $ 289.99 | $ 236.15 |
| 64GB 6GB RAM | $ 222.08 | |
| 64GB 4GB RAM | € 275.00 | |