Spotify has finally released an official app for the Apple Watch.
We know the importance of having music on the go, which is why we're excited to bring a new Spotify app to our highly mobile users on Apple Watch. With this new app, users can enjoy an improved experience with better control and the ability to seamlessly connect to your speakers or devices. And while we continue to innovate, we have many exciting things coming up —including the ability to listen to your music and podcasts offline.
Spotify has officially announced its app for the Apple Watch. The release comes not long after it was rolled out to Spotify beta testers earlier this month, and while the initial app appears limited to providing playback controls, Spotify has acknowledged that the ability to listen to music offline is in the works for a future update. While the standard watchOS "Now Playing" app previously allowed users to pause and resume playback, the Spotify app gives users the ability to start up playback right from their wrists, mark tracks as favourites, and access recently played tracks, as well as connecting to Spotify Connect enabled speakers.
Features:
● More activities—more control
Smartwatches let us access the world with a flick of our wrists. Ready to start your run? Hit play from your Apple Watch without having to wrangle your phone out of its running case. Running into a friend as you head into the grocery store? Tap pause to grab a cart and a chat. Not feeling a slow song during your birthday party? Skipping to the track that matches your mood and activity is now as easy as checking your notifications. Or, while listening to your favorite podcast, easily rewind 15 seconds to catch that detail you missed. It's all right there on the watch face.
Speaking of parties, easily connect your speakers or devices via Spotify Connect to effortlessly DJ from your watch.
● Easier access—easier discovery
The new integration with Apple Watch makes accessing your recently played songs simple, even with your phone in your pocket. Plus, if you find a new favorite track while on the go, just tap the ♡ icon on your watch screen to save it to your collection—and then feel free to stream it over and over again.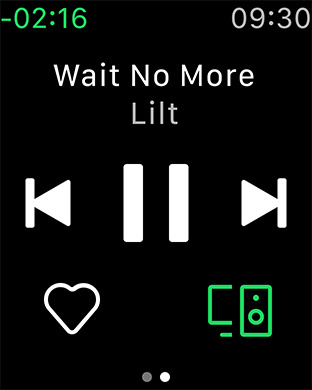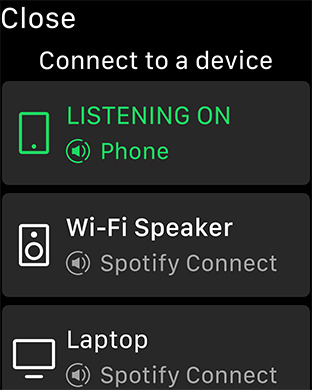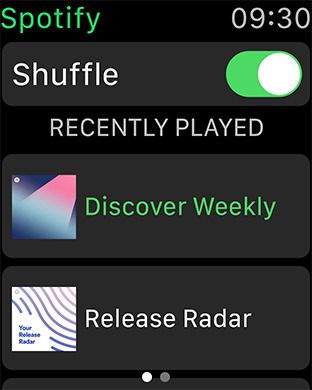 Spotify today updated its iOS app to version 8.4.79, and with the update came an Apple Watch app. With this app, you can play and pause music, skip back and forth between tracks, shuffle, heart songs, control volume, and see how much time is left in a track. You can also control volume with the Apple Watch's Digital Crown and send music to a speaker using Spotify Connect, and you can see your recently played music if you want to hear a specific playlist, artist, or album again.
Spotify says that it's got more features coming to its Apple Watch app, too. These include offline playback, but there's no word on when that particular feature might arrive.
The Apple Watch doesn't get as much love from app developers as it used to, so it's nice to see Spotify launch an app for Apple's smartwatch. We imagine that a lot of Spotify users would love to have offline playback right out of the gate, so it's kind of a bummer to see that right now the Spotify app is focused mostly on music controls, but at least Spotify has acknowledged that offline playback is coming.