Ponder a bit too long about getting a Xiaomi phone and chances are a new one will pop up, making your decision even tougher. After the Xiaomi Mi 9 made the headlines as one of the first devices to come out with the Snapdragon 855 chipset earlier this year, now a more balanced model from the same family is up for grabs – the Mi 9T also known as Redmi K20 – and it's gotten rid of that eyesore of a notch.
The Xiaomi Mi 9T also known as Xiaomi Redmi K20 is indeed a more balanced version of the headliner and it not only brings a better AMOLED screen and a larger battery but it also costs less in the process. Instead of the most powerful chipset right now – the Snapdragon 855 – Xiaomi has opted for the most powerful mid-range SoC a.k.a. the new Snapdragon 730, which do quite well matched with that 1080p screen.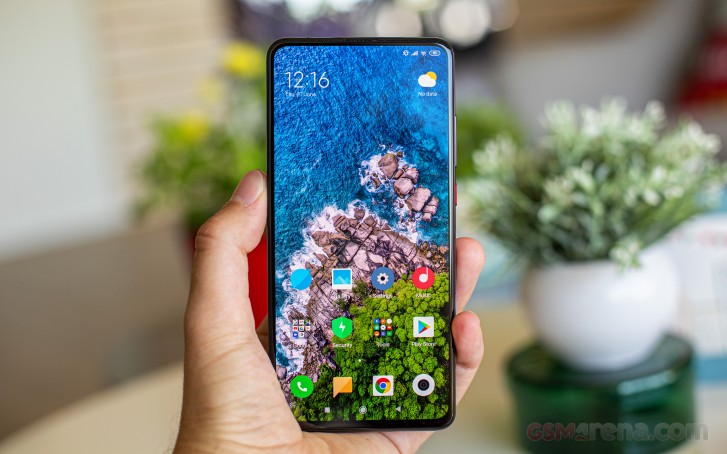 Xiaomi has launched a toned-down version of the Mi 9 side by side with the flagship back in March – the Mi 9 SE. The Mi 9T isn't a reworked SE though, it's more like an improved Mi 9 with a twist.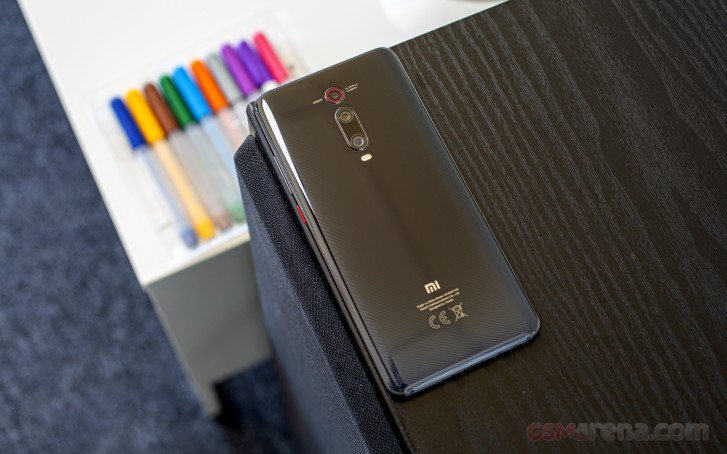 So, the highlights of the Mi 9T are the new AMOLED screen, which is now free of any cutouts thanks to the motorized pop-up selfie camera. It is also the first phone to employ the new Snapdragon 730 chip, which is the best silicon the mid-range market offers. And there is a triple-camera on the back with a familiar combo – wide/ultra-wide/tele.
Xiaomi Mi 9T specs
Body: Aluminum frame, Gorilla Glass 5 front, glass back;
Display: 6.39″ AMOLED, notch-free, 2,340×1,080px resolution, 19.5:9 aspect ratio, 402ppi; HDR 10 and DCI-P3 compliant.
Triple rear camera: Wide – 48MP f/1.8, 1/2″, 0.8µm pixel size, PDAF; Telephoto – 8MP, f/2.4, 1.12µm pixel size, 2x zoom; Ultra-wide – 13MP, f/2.4, 1.12µm pixel size; 2160p@30fps.
Front camera: Motorized pop-up 20MP, 0.8µm pixel size, f/2.2; 1080p/30fps video recording; drop detection.
OS: Android 9 Pie; MIUI 10.
Chipset: Qualcomm Snapdragon 730: octa-core CPU (2×2.2 GHz Kryo 470 Gold & 6×1.7 GHz Kryo 470 Silver), Adreno 618 GPU.
Memory: 6GB of RAM; 64/128GB storage.
Battery: 4,000mAh Li-Po (sealed); 18W fast charging.
Connectivity: Dual-SIM; LTE-A, 4-Band carrier aggregation, Cat.15/13 (800Mbps/150Mbps); USB-C; Wi-Fi a/b/g/n/ac; dual-band GPS; Bluetooth 5.0
Misc: Under-display fingerprint reader; single down-firing speaker; 3.5mm jack
The Mi 9T also features some eye-catchy and pretty unique paintjobs on all of its color options and those could turn to be another feature to tip the scales in its favor.
The Mi 9T is priced just right between the Mi 9 SE and Mi 9, so nobody should realistically expect major upgrades like water resistance or a higher-res screen. But if the better OLED screen, the bigger battery, and the beautiful design aren't enough for you, the presence of an audio jack and FM radio maybe the deal sealers you are looking for.
By the way, Xiaomi will be selling the Mi 9T as Redmi K20 in some markets, but it is the essentially the same phone, so if you are interested in the K20, you may want to stick around as well.
Unboxing the Xiaomi Mi 9T
The Mi 9T comes packed within an elegant black box and it contains the essentials – a USB-C cable and an 18W charger. Just like other standard Xiaomi retail bundles, this one also omits the headphones.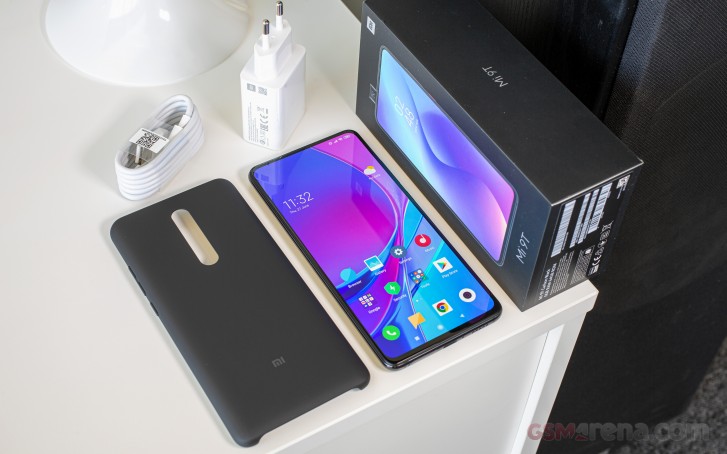 The paper compartment inside the box has a thin plastic case for some extra protection for the glass back though it will hide the eye-catchy looks.
Design
The Xiaomi Mi 9T is yet another glass-sandwich smartphone but the maker did spice things up and succeeded in making the Mi 9T both unique and recognizable.
The Mi 9T builds on the Mi 9 flagship size, but now it uses a notch-free edge-to-edge 6.39″ AMOLED panel, probably the same one we saw on the Mi Mix 3. It is protected by a flat piece of Gorilla Glass 5 and has tiny bezels but somewhat noticeable chin.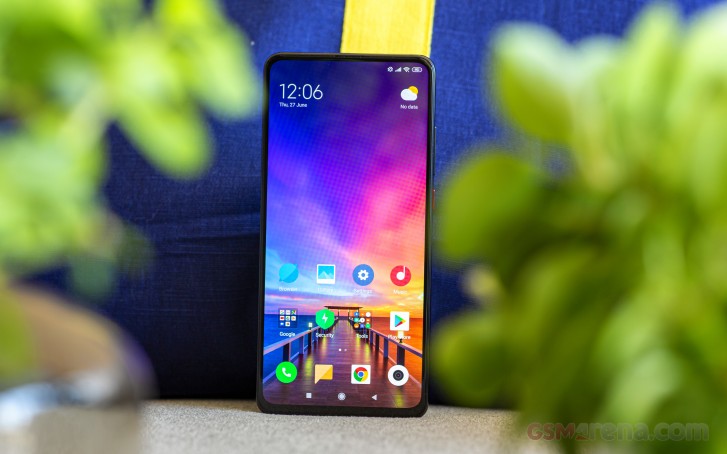 The earpiece is etched between the glass and the screen and is hard to spot even if you are looking for it. The ambient light sensor is placed beneath the screen, and you will never see it.
Underneath the screen is an optical fingerprint scanner, but Xiaomi says it has been improved since the Mi 9. Indeed, we can confirm it works much faster and almost like a conventional one. It lights up the moment you touch the screen; it scans your finger and unlocks immediately. So, it's not just a PR talk, Xiaomi did better this time, and we found the experience to be brilliant as far as these sensors allow.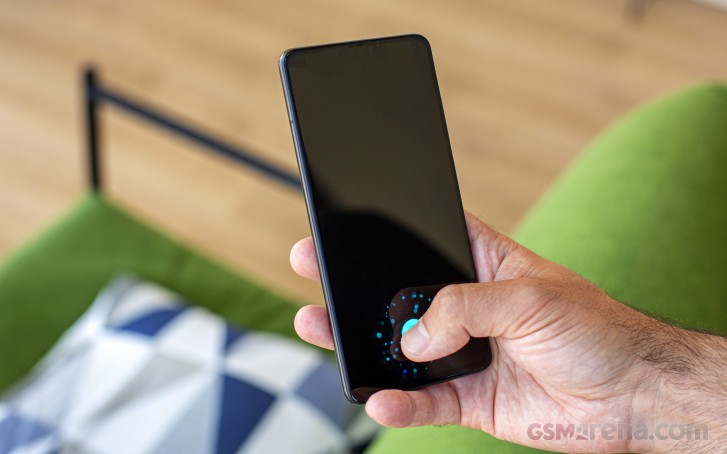 Instead of a whole sliding-out piece like on the Mi Mix 3, Xiaomi opted for a pop-up module to solve the selfie camera conundrum. It's on the left side of the top, has a motorized mechanism, and rises automatically when you switch to selfie camera or hit the power button and have face unlock enabled.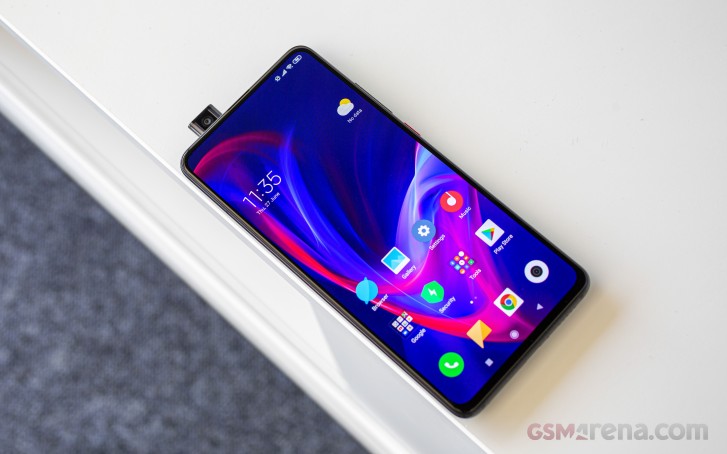 There is one very nice LED accent light built into the pop-up, and in the case of this Carbon Black model it lights up the entire module in red. It does so only on when it opening or closing. It seems like a huge missed opportunity for a hidden selfie flash, and we rather have that feature instead of a pointless decoration.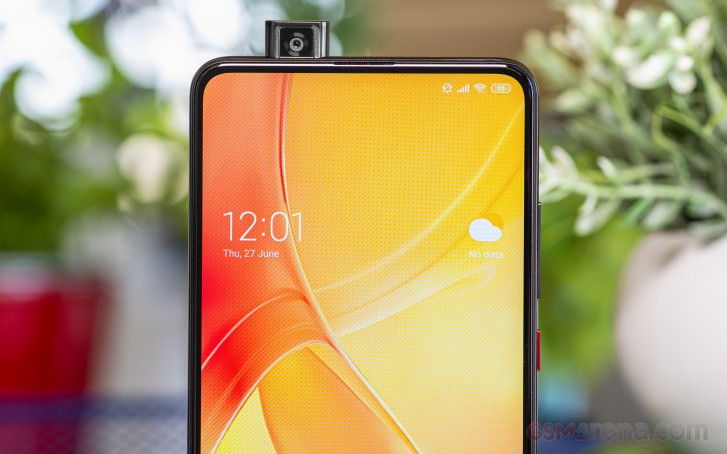 Xiaomi says it will automatically retract when the phone senses a free fall. We tried this a couple of times (above a big couch, of course) and we can confirm if you are in selfie camera mode and drop the phone, the module goes down almost immediately. It takes a second to retract completely though. If the fall is from less than a meter height, it may not be retracted entirely by the time the phone hits the ground, but it still should be safe as the mechanism will be disengaged and on its way down.
Of course, you can push it down, and it will close without breaking too, but it takes more force to push down than what we've seen elsewhere so it's probably for the better that it will retract on its own.
Finally, Xiaomi promises at least 300 000 iterations before any possibile failure of the motorized mechanism. A quick calculation says that if you open and close it about 100 times each day, it will take more than 8 years to reach the guaranteed lifespan.
The Mi 9T has a curved metal frame keeping the two glass pieces together. It has a slippery, glossy finish and is painted to match the color of the rear glass. This roundness and glossiness won't help the grip, so if you feel the phone insecure in hand, you can use the provided case.
And speaking about the frame, on the top, next to the pop-up selfie cam is the 3.5mm audio jack. Meanwhile, the bottom houses the dual-SIM tray, the USB-C port, and the speaker grille.
The back is quite impressive. It's made of a single piece of glass, though Xiaomi hasn't mentioned its maker. The glass is bent towards its longer edges – a well-known technique for creating an illusion for a thinner profile, and it does work as intended. It boosts the looks, too.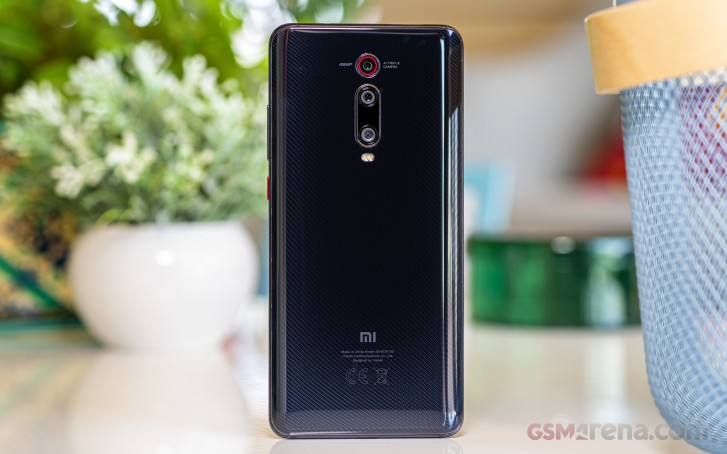 The trio of the main cameras is at the back, with one snapper sitting outside of the distinct setup. First, sitting alone above the hump housing the other two cameras is the 8MP tele camera with a 52mm zoom lens. It has a red accent around the glass, matching the red strip of the selfie camera and the red on the power button.
The 48MP written next to it would have you believe that this is the main 48MP snapper.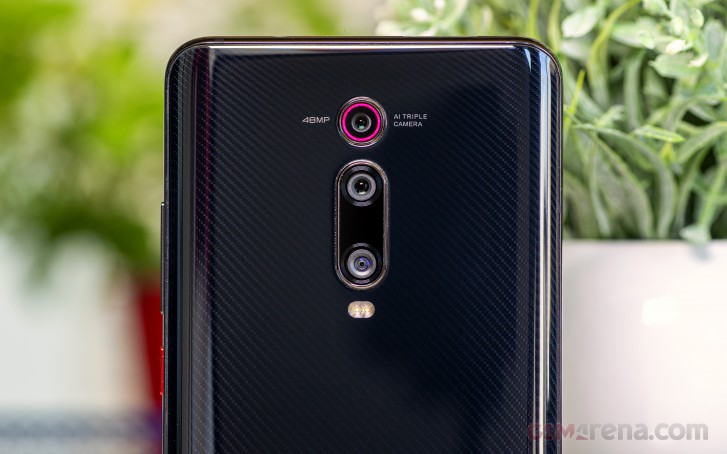 The reality is that the primary sensor is actually second, and the 13MP snapper with 15mm ultra-wide-angle lens is third. Both share the same spot, and the camera island is sticking out just a weeny bit and not enough to make the whole phone wobble.
Finally, the dual-LED flash is outside this combo, just below it.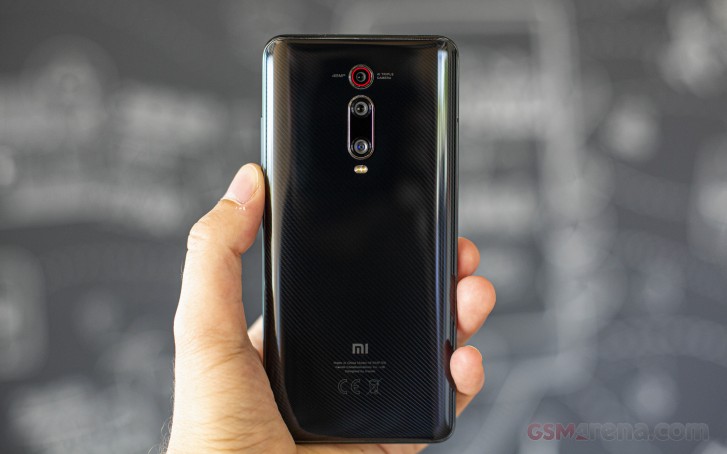 We spoke about Xiaomi making the Mi 9T unique, and it's all thanks to the whimsical paint jobs. Our model is the Carbon Black color, which has a carbon fiber pattern beneath the surface. It still looks dashing, and we like it very much. But…
The Flame Red and Glacier Blue options are the truly dazzling ones. They are both have gradients from red or blue towards black and feature these icy patterns on their lighter parts. There are no other phones like these, and we'd say the frost-like paint is the one to get if you are shopping a Mi 9T phone.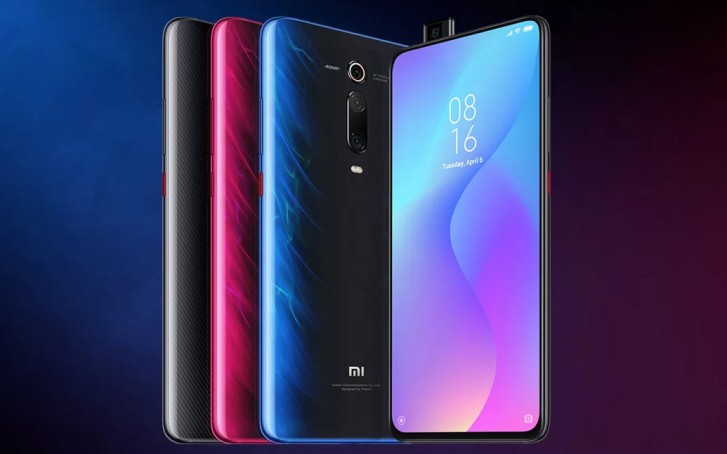 The Mi 9T measures 156.7 x 74.3 x 8.8 mm – same as Mi 9 but a millimeter thicker. The Mi 9T has a larger battery though, which probably contributed to the extra 18g over the Mi 9's weight to a total of 191g.
The Xiaomi Mi 9 series is now probably complete, and the Mi 9T is quite distinctive with the absence of a screen cutout. Meanwhile, the Mi 9 SE is the pocket-friendly one, while the Mi 9, well, has the most power under the hood.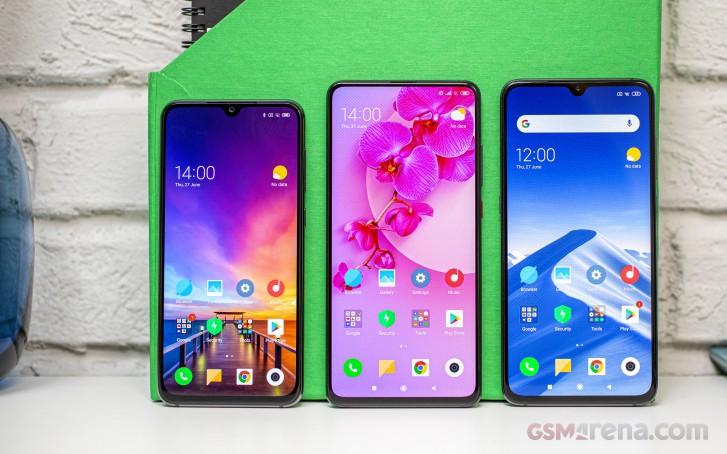 Xiaomi Mi 9 series – Mi 9 SE, Mi 9T, Mi 9
Handling the Mi 9T would leave nothing but great impressions, meaning mostly slippery and very pleasant on touch and look. It's a big phone, but not gigantic. Most users will be happy with its form factor and solid build. And if it's too slippery, there is a case in the package waiting to serve its purpose.
A large and notch-free display
The key feature of the Mi 9T is definitely that notch-less 6.39″ AMOLED screen and now it's the right time for it to shine. Xiaomi has chosen the same 6.39″ size and 2,340 x 1,080 px resolution (403ppi) for the 9T display as on the Mi 9 but removed the notch. And looking at the past Xiaomi phones it seems this might be the same panel the Mi Mix 3 devices utilize.
Interestingly, Xiaomi usually mentions when its OLEDs are made by Samsung but that's not the case for the Mi 9T. Then again apps such as AIDA read the screen maker as Samsung, so if you were curious about this – now you know.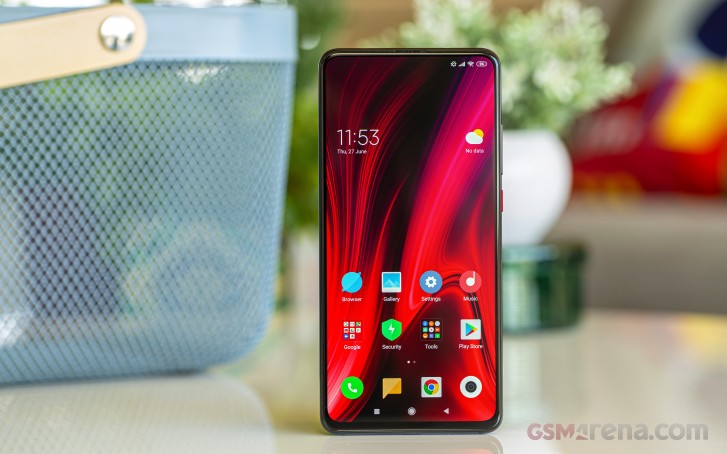 The display is protected by a Gorilla Glass 5 by Corning. Our (global) unit didn't come with a pre-applied screen protector, but we can't confirm this for other markets.
Finally, the screen is HDR10-compliant and fully covers the DCI-P3 color space.
The screen has an excellent brightness for an OLED panel of 450 nits – that's in line what Xiaomi promises. And it can go as high as 646 nits in bright light if you leave it on Auto, also matching and even exceeding Xiaomi's official promise for 620 nits.
Display test
100% brightness
Black, cd/m2
White, cd/m2
Contrast ratio
Xiaomi Mi 9T
0
449
∞
Xiaomi Mi 9T (Max Auto)
0
646
∞
Xiaomi Mi 9
0
428
∞
Xiaomi Mi 9 (Max Auto)
0
620
∞
Xiaomi Mi Mix 3
0
445
∞
Xiaomi Mi Mix 3 (Max Auto)
0
633
∞
Samsung Galaxy A80
0
405
∞
Samsung Galaxy A80 (Max Auto)
0
607
∞
Samsung Galaxy A70
0
407
∞
Samsung Galaxy A70 (Max Auto)
0
607
∞
Realme X
0
448
∞
OnePlus 7 Pro
0
436
∞
OnePlus 7 Pro (Max Auto)
0
616
∞
Nokia 9 PureView
0
531
∞
Xiaomi offers three different Contrast settings, each one representing a specific color space. The Automatic contrast fully covers the DCI-P3 color space and we measured an average deltaE of 3.7. Only in this mode you can choose the color saturation (default, warm, cool) and the Delta E of 3.7 which we measured was taken at the default preset. Choosing warm will offer an even more accurate presentation with an average deltaE of 2.4.
The Standard Contrast corresponds to sRGB and we also recorded an average deltaE of 2.4 for the color accuracy, meaning it's a pretty great one.
Finally, the Increased Contrast makes the colors pop and they are no longer as accurate.
Battery life test
The Xiaomi Mi 9T is powered by a 4,000mAh Li-ion battery, about 20% larger than the 3,300 mAh cell inside the Mi 9. The Mi 9T supports Quick Charge and the supplied 18W charger fills 45% of a depleted battery in 30 mins. A full charge takes about 100 mins.
The Mi 9T posted a top-notch endurance rating of 100 hours and great scores across the board. The screen-on times are excellent – we measured 11 and a half hours runtime in our web browsing test and north of 17 hours in our video playback test.
The standby performance was better on the Mi 9T when compared to the Mi 9, probably meaning the Snapdragon 730 modem is more power efficient in standby than the S855's.
Speaker
There's a single bottom-firing loudspeaker on the Mi 9T – it's decently loud and scored a Very Good mark on our test. The output is also very good – there is rich sound, but there are some high-pitched notes that come out wrong at maximum volume and this keeps us from giving it an excellent mark for quality of output.
| | | | | |
| --- | --- | --- | --- | --- |
| Speakerphone test | Voice, dB | Pink noise/ Music, dB | Ringing phone, dB | Overall score |
| Xiaomi Mi Mix 3 | 67.9 | 71.6 | 73.7 | Good |
| Samsung Galaxy A70 | 68.5 | 69.5 | 81.7 | Very Good |
| Samsung Galaxy A80 | 69.6 | 71.2 | 79.2 | Very Good |
| Realme X | 67.9 | 73.5 | 80.4 | Very Good |
| Xiaomi Mi 9 | 70.1 | 74.2 | 81.6 | Very Good |
| Xiaomi Mi 9T | 70.6 | 74.8 | 81.2 | Very Good |
| Samsung Galaxy S10e | 71.2 | 76.8 | 80.6 | Excellent |
| Sony Xperia 10 | 68.7 | 73.0 | 87.8 | Excellent |
| Xiaomi Redmi Note 7 | 69.8 | 71.5 | 90.5 | Excellent |
| Samsung Galaxy S10+ | 74.4 | 74.2 | 83.6 | Excellent |
| Sony Xperia 10 Plus | 68.5 | 73.2 | 90.7 | Excellent |
Audio quality
The Xiaomi Mi 9T delivered a very loud output when connected to an external amplifier and clarity was perfect too.
Our standard 32oHm headphones did cause a fair bit of damage though – volume dropped (although still remained high), and we got a significant amount of extra stereo crosstalk. We recorded some intermodulation distortion, too. All in all, we'd rate the performance here as good, mostly because of the loudness, but it's far from impressive.
| | | | | | | |
| --- | --- | --- | --- | --- | --- | --- |
| Test | Frequency response | Noise level | Dynamic range | THD | IMD + Noise | Stereo crosstalk |
| Xiaomi Mi 9T | +0.02, -0.01 | -93.5 | 93.9 | 0.0025 | 0.0068 | -93.8 |
| Xiaomi Mi 9T (headphones) | +0.60, -0.04 | -92.9 | 93.2 | 0.020 | 0.454 | -49.4 |
| Xiaomi Mi 9 | +0.02, -0.01 | -93.9 | 93.1 | 0.0015 | 0.0066 | -91.9 |
| Xiaomi Mi 9 (headphones) | +0.05, -0.04 | -92.6 | 93.5 | 0.0026 | 0.072 | -58.7 |
| Honor 20 Pro | +0.14, -0.31 | -92.9 | 92.9 | 0.476 | 0.574 | -46.8 |
| Honor 20 Pro (headphones) | +0.14, -0.24 | -88.7 | 88.1 | 0.0053 | 0.223 | -53.6 |
| Asus Zenfone 6 | +0.03, -0.01 | -85.8 | 86.8 | 0.0012 | 0.014 | -76.2 |
| Asus Zenfone 6 (headphones) | +0.05, -0.01 | -81.1 | 82.7 | 0.0068 | 0.059 | -52.0 |
| Samsung Galaxy S10 | +0.03, -0.04 | -92.2 | 92.0 | 0.0015 | 0.0079 | -92.7 |
| Samsung Galaxy S10 (headphones) | +0.06, -0.03 | -91.9 | 91.7 | 0.0020 | 0.037 | -77.0 |
MIUI10 and Pie
The Xiaomi Mi 9T boots the latest MIUI 10 ROM based on Android 9 Pie. While lightweight and intuitive, MIUI is no vanilla Android, so it will take a couple of hours for the purists to get the handle of it.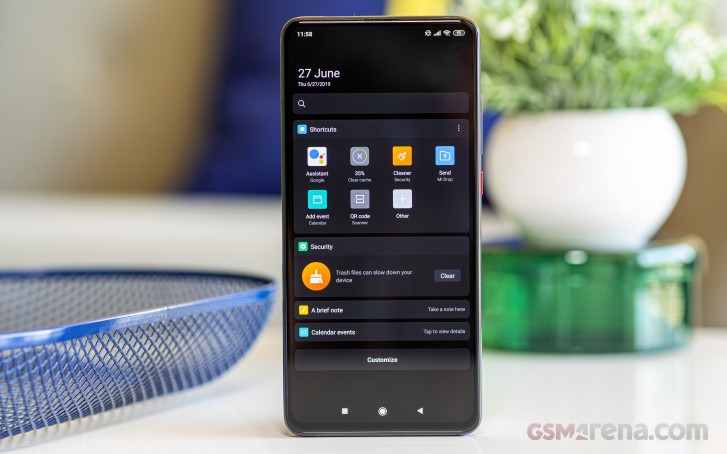 The Mi 9T supports Always-on display and you can schedule it or leave it on/off all the time. There are various themes you can choose from and make it yours.
You can unlock the screen via the improved under-display fingerprint scanner. The reader is very easy to set up and works surprisingly fast. The accuracy is superb, too, and overall it's great for your daily unlocking.
You can also set up face unlock in addition to it – it's equally fast as the Mi 9T wakes up the moment you pick it up. Note that the face unlock option may not be available in all regions.
Xiaomi Mi 9T has a Dark mode – it will switch all system colors from white to black and this way you can save some battery juice by making the best use of the power-efficient AMOLED screen. Note that not all apps support the dark mode, but the majority do.
The Mi 9T also comes with various live wallpapers including the cool 24-hour wallpaper – it changes depending on the time of day and is quite nice, indeed.
There is no app drawer in MIUI so all your apps are just sitting there on your homescreen, but you can still add them to folders. Of course, you can always install a third-party launcher if you really miss the app drawer.
Here are the default home screens on Mi 9T. There's a weather widget in the upper right corner across from a large clock widget. There is a Quick Card pane, the leftmost one. It contains different cards with relevant information – recent apps, step counter, notes, calendar events, the weather, and favorites, among others. You can configure what shows up here, or you can disable this altogether.
The task switcher felt a bit awkward at first, but we've grown to like it. It shows all of your recent apps in two columns. Tap and hold on a card for the split-screen shortcut, or just swipe it left or right to close it.
Themes are supported on the Xiaomi Mi 9T, but the app appears only when the phone is set to a supported region, say India.
MIUI also offers a Security app. It can scan your phone for malware, manage your blacklist, manage or restrict your data usage, configure battery behavior, and free up some RAM. It can also manage the permissions of your installed apps and allows you to define the battery behavior of selected apps and applies restrictions only to the apps you choose.
MIUI also offers proprietary Gallery, Music, and Video player. In some regions, the music and video app include paid streaming options. FM radio app is available, too.
In some markets, the pre-installed applications by Xiaomi will show ads, which is how Xiaomi's is compensating for the relatively low prices of its devices. We're reviewing a global version of the Mi 9T and we didn't see any ads at all.
Performance and benchmarks
The Xiaomi Mi 9T employs the Snapdragon 730 chip – the most powerful upper midrange SoC from Qualcomm. It's built on an 8nm production process and features an octa-core CPU in a 2×2.2 GHz Kryo 470 Gold (Cortex-A76 based) & 6×1.8 GHz Kryo 470 Silver (Cortex-A55 based) configuration plus an Adreno 618 GPU. There's a single memory tier of 6GB of RAM.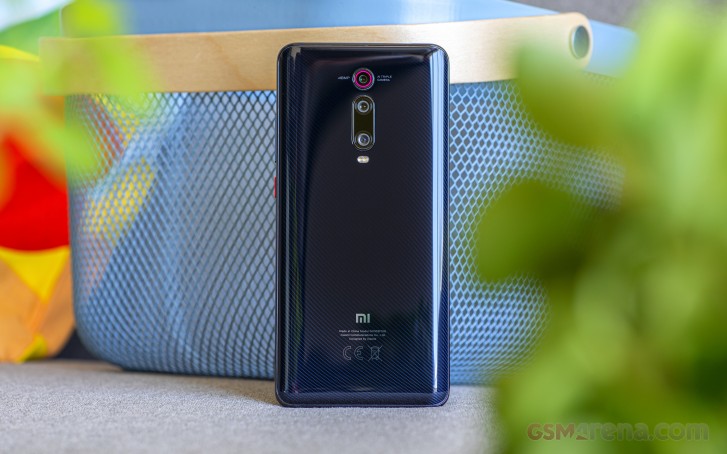 The Snapdragon 730 may have just two high-performance A76-derived cores, but those were enough to put it ahead of the competition which uses the older generation cores. The single-core score is amazing, as is the multi-core performance and both can only be bested by the flagship S855 chip. The Snapdragon 730 offers enough processing superiority over the Mi 9 SE's S710 (A75-based) to make a difference.
The Adreno 618 GPU sounds beyond promising on paper and should be more than adequate to handle all 1080p content. Indeed, it can only be bested by the flagship Adreno 640 inside the S855 SoC, which was kind of an overkill beneath the 1080p's screen of the Mi 9.
Finally, there is no real difference between the Adreno 616 inside the Mi 9 SE's S710 and the Adreno 618 within the Mi 9T.
Some say AnTuTu never lies, and the compound test indeed put the Mi 9T on top of every other competitor. The only one that could beat it is the Mi 9.
The Snapdragon 730 is bridging the gap between the mid-range and the flagship classes, very successfully at that. It has one of the most powerful processors to date, and the GPU will handle whatever game you threw at it for the next couple of years to come.
Sure, the Mi 9 has the Snapdragon 855 with twice as much graphics power, but it mostly goes underutilized as it is not needed on its 1080p display. So, for most, if not all, intents and purposes you won't feel a difference between the Mi 9 and Mi 9T as far as flagship gaming is concerned.
Finally, the Mi 9T's Snapdragon 730 stays cool enough under peak performance and we didn't notice any throttling.
A familiar triple camera
The Xiaomi Mi 9T has a triple-camera on its back with the same logic as the Mi 9. It does have different sensors for all of its three cameras, but should still be able to match the Mi 9 camera quality for the most part.
Just like the Mi 9, the Mi 9T main camera has a huge 1/2″ 48MP sensor behind f/1.75 26mm lens that spits out 12MP images. On top of it, somewhat separated, is the 8MP (1/4″) telephoto snapper behind f/2.4 52mm lens for 2x optical zoom. And below the main snapper, sharing the same piece of front glass is the 13MP (1/3″) sensor behind an f/2.4 15mm lens for ultra-wide-angle shots.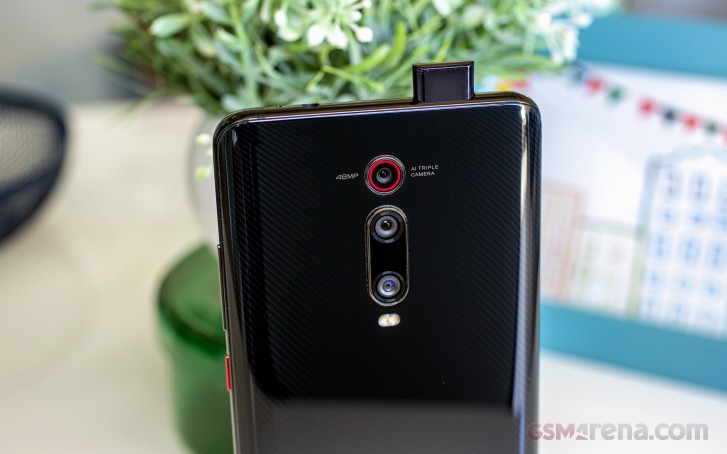 The 48MP sensor sits is behind an f/1.75 lens and is not stabilized. In fact, none of the three snappers features optical stabilization. The main sensor has 0.8µm pixels, the tele and ultra-wide snappers have 1.12µm pixels.
The default camera app hasn't changed that much. Swiping left and right will shuffle through the camera modes, including a 48MP one, and you will find additional settings in the tab above the viewfinder. It lets you adjust some settings like beautification, HDR, AI, video mode, and picture quality. The usual 0.6x/1x/2x toggles are on the viewfinder itself.
Night Mode is also available on the Xiaomi Mi 9T for those long-exposure hand-held shots when light is limited.
Image quality
The 12MP images you'd get by default from the main camera have exemplary level of detail and true-to-life colors. The contrast is excellent, while the dynamic range is notably wide. The images are sharp but not over-sharpened and overall those are among the best 12MP daylight photos we've seen to date with the only visible issue being the moire fringes on the third photo below.
There is a dedicated 48MP mode if you want to shoot in 48MP. This time around it's put very conveniently to Photos (mode) and is one swipe away. It does save the picture in full resolution, but the detail is nothing that special and you can notice various smudged areas and artifacts.
There isn't a benefit of shooting in 48MP and then manually resizing down to 12MP either – you won't get more detail or sharper image. And saving in 48MP is a slower and costly task – one image eats about 30MB of your storage.
The 8MP tele camera may not be as cool as the main one, but it still produces great images with plenty of detail. Some of them are a little bit noisier than the ones from the primary shooter but as far as tele shooters go this is one of the better ones out there.
But also just like most phones, this zoom camera won't fire when light drops below a certain threshold. The samples you will see are excellent but don't expect you will use this camera for sunrises or sunsets, let alone night-time photos. In non-favorable light conditions, you will get a 12MP digitally zoomed photo from the main camera instead.
Finally, we snapped some 13MP images with the ultra-wide-angle camera. Its per-pixel quality is lower than the other two, but the colors are still nice, and noise levels are low.
There is noticeable corner softness, which is mostly attributed to the automatic distortion correction.
You can opt out of the lens correction, and you will get sharper corners at the expense of distorted buildings around the edges of the frame.
Xiaomi has an AI toggle, which is a simple scene recognition and it doesn't do much. But it can offer suggestions for which camera you should use in some scenes, so if you are new to this multi-camera stuff, you might what to give the AI a try.
Now, let's see how well those cameras fare in the dark. The photos from the regular camera turned out fine, but the aggressive noise reduction resulted in the loss of a lot of fine detail. Indeed, the noise is pretty low, but so is the detail. Despite the f/1.75 aperture the Mi 9T often fails to capture bright enough exposures. The lack of optical stabilization forces it to keep shutter speeds above 1/14s and compensate with higher ISO. Higher ISO brings in more noise, which is then processed and it leads to reduced levels of captured detail overall.
The Night mode (takes about a second to shoot) makes a difference by being able to get the proper exposure even in the darkest environments. The result is nicely balanced, and subjects look a bit more detailed. It's not the best implementation we've seen, but it works a lot faster than, say, Huawei's.
The 12MP resulting images don't quite have the same per-pixel detail as the daylight shots and are quite soft obviously, but they are not too bad either and much better than you'd achieve with the regular shooting mode at night.
You can use the 48MP mode in low-light, too, and here it could make a difference if you are down for some manual editing. The native 48MP photos lack noise reduction and thus once you resize them to 12MP they would look more detailed.
If you are okay with doing this for each night photo – download to a computer, resize, save, repeat – then you can eventually get somewhat more detailed photos out of this camera. This won't solve the dark exposure, of course, but can help capture more detail. We would still recommend using the Night mode to save yourself the hassle.
As we mentioned a few paragraphs ago, the tele camera isn't working when the light is low. Instead, you'd get a digitally cropped and zoomed 12MP photos from the main camera. And it's not a bad digital zoom – it's one of the benefits of having a high-res 48MP sensor.
The photos from the ultra-wide-angle camera are quite bad as it wasn't meant to be a night shooter. The noise reduction is very aggressive, and the exposure is often quite dark. Add to that the overall softness and lack of detail, and you get 13MP nighttime images which are not very attractive.
Once you're done with the real world samples, head over to our Photo compare tool to see how the Xiaomi Mi 9T stacks up against the competition.
Portraits
The quality of the portraits taken with the rear camera of the Mi 9T is dependent on the light conditions since those are taken with the telephoto snapper that has smaller pixels and f/2.4 aperture. But that's valid for any similar telephoto camera on a smartphone.
So, when the light is right, and you take several shots just in case, you will be rewarded with some nice portrait shots – detailed, with excellent subject separation and convincing faux blur.
Various portrait lighting effects are available, but none of them really grew on us.
Selfies
The 20MP pop-up selfie camera turned out to be an excellent shooter.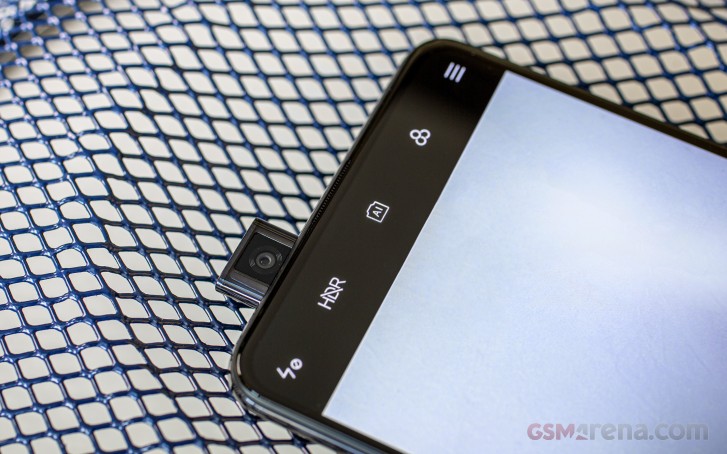 There is more than enough detail, the colors are nice, and the images are sharp enough. Sure, you have a limited range for the focus sweet spot, but with enough leeway to cover the different arm lengths and those who prefer closeup shots.
It can also take blurred background selfies and does it quite proficiently even though there isn't a depth sensor. There is a drop in the sharpness, though.
The dynamic range on the selfies is not impressive but leave the Auto HDR on and it will improve things a lot.
Video recording
The Xiaomi Mi 9T captures video up to 4K @ 30fps, and all other common modes are available – 1080@30fps and 1080p@60fps. It seems at first that you can capture in these resolutions with all three cameras, but you actually can't. While the regular and ultra-wide snappers do record videos, the 2X zoom toggle is really a digital zoom from the footage from the main camera – no matter the resolution.
Slow-mo video are available – 1080 @120, and 720p @960fps or @240 fps.
The video bit rate is 40-42Mbps in 4K, about 10Mbps in 1080p at 30fps, and 20Mbps in 1080p at 60fps. Audio is recorded in stereo with a 96Kbps bit rate.
We found 4K videos from the main camera sharp and detailed, though not class-leading when you examine them from closely. The noise is kept reasonably low. Contrast is excellent, color rendition is quite nice and true to life, and the dynamic range is nicely wide. Overall, we are happy with the 4K footage.
The 1080p capture at 30fps is excellent across the board – resolved detail, contrast, colors, dynamic range.
Unfortunately, the detail in the 1080p videos shot at 60fps is halved making those looked jaggy, if not pixelated.
As we said the 2X toggle isn't using the 8MP sensor with the 52mm lens. Sure, we can understand that 8MP can't do 4K and that's why Xiaomi uses its main camera, but it's still beyond our understanding why not at least allow it for the 1080p resolution. Still, even though digitally zoomed, the 2X videos turned up pretty good reaping the benefits from that 48MP large sensor.
Our positive words for the zoomed videos apply only for the 30fps ones. The 1080p at 60fps clips are abysmal.
The ultra-wide-angle 4K videos are softer than the regular ones and less detailed. Their color rendition turned out oversaturated, and the dynamic range is lower. The 1080p videos at 30fps taken with the ultra-wide-camera are mostly on par with the ones from the main snapper but keep the colors over-saturated. And similarly, the 60fps clips are less detailed and look pixelated.
EIS is available for all snappers and resolutions at 30fps. The digital stabilization does a great job smoothing the camera shake at the expense of minor loss of FoV.
Wrap-up
We are not particular fans of flagship spin-offs as often those do more harm than good. That is not the case with the Mi 9 series though, as both the SE and T models feel like problem solvers of something that the Mi 9 got wrong or simply lacked to win users on its side.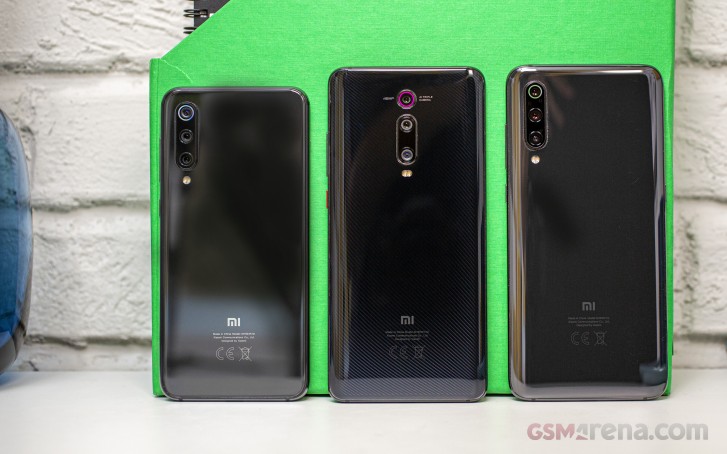 Xiaomi Mi 9 series – Mi 9 SE, Mi 9T, Mi 9
The Mi 9T offers an interrupted screen over the Mi 9, a larger battery, and arguably a prettier body. There is also an audio jack and an FM radio – both unavailable on the Mi 9. The Mi 9T has an inferior chipset, but as far as 1080p performance goes – nobody should be able to tell the difference in performance. And finally, the Mi 9T is cheaper than the Mi 9 – and that's by a large margin on some markets.
Then there is the Mi 9 SE, which is cheaper than the Mi 9T and bets on a smaller pocket-friendly form factor. It may have a notch-less screen, but it does pack a 5.97″ Super AMOLED of 1080p resolution and a Snapdragon 712 chip almost as capable as the S730 inside the Mi 9T. It has the same trio of snappers on the back, too. If you want a smaller Mi 9, the Mi 9 SE is a great option.
The competition
The first competitor that comes to mind is within Xiaomi's ranks – the Mi Mix 3. The Mix costs the same, has the same screen as the 9T, and while it offers lesser camera experience, it has a more powerful Snapdragon 845 chip. The Mix has a giant slider for its duo of selfie snappers, it weighs a lot, and yet has a smaller battery. Food for thought.
The OnePlus 7 is a more expensive option but may catch your attention with that 6.41″ Optic AMOLED, notched though, and the latest Snapdragon 855 chip. It lacks and tele and ultra-wide snappers but excels in protection – Gorilla Glass 5 and 6, and the word is it has uncertified water resistance. And the Oxygen OS is among the most responsive and fast Android versions we've seen, so there is that.
The One UI-powered Galaxy A70 costs about the same as the Mi 9T and offers an even bigger but notched Super AMOLED screen. The Snapdragon 675 inside the A70 is not that behind the 730, the triple-camera on the back isn't as good though and it lacks a telephoto snapper. The battery life is undeniably great. The phone has a microSD slot on top of the 9T if that's a must for you.
Realme X, where available, is noticeably cheaper, but it has a lot to offer. The Realme has a cutout-free 6.53 AMOLED screen, a Snapdragon 710 chip, a large battery, and a 48MP main snapper with a depth sensor. Its selfie camera is also of the pop-up kind, even though it's just a 16MP one. If the Realme X is available in your country, do check it out before deciding.
The verdict
Xiaomi Mi 9T (or the Redmi K20 as it's called on some markets) is a phone that stands out with its looks and immersive screen. And if you are looking for one of those, or both, you've probably already decided. But the Mi 9T has a great chipset and four cameras to strengthen its case, and the only real threats come from Xiaomi own smartphone series.
It's one very balanced smartphone that excels in almost everything. Given the chance, we're sure it's a phone which will delight you so it earns our recommendation.
Pros
Excellent 6.39″ AMOLED, high brightness, HDR10, notch-free
Quick and accurate under-screen fingerprint scanner
Snapdragon 730 offers great peformance
Great battery life, fast charging
Unique design, audio jack is present
Great all-round camera experience on all three snappers, day and night, photo and video
Excellent selfies
MIUI 10 and Pie are fast and fluid
Cons
Priced unfavorably close to the Mi 9 in some markets
The regular low-light photos could use a better processing
Super slippery without a case, and yet, a case would hide its great looks