The new Samsung Galaxy A series has proven to be an excellent lineup of offers starting from the budget A10 and going all the way to the upper-midrange A80. We already reviewed a bunch of those As, but we are far from done yet – there are still so many of them left. And today it's the Galaxy A30's turn – an intriguing mixture of A40's internals and A50's display.
The Galaxy A (2019) smartphones have a couple of common features, and the A30 is no different – it has a glasstic body, a Super AMOLED screen, and a multi-camera setup on the back that includes an ultra-wide-angle snapper. But this phone is sort of an oddball.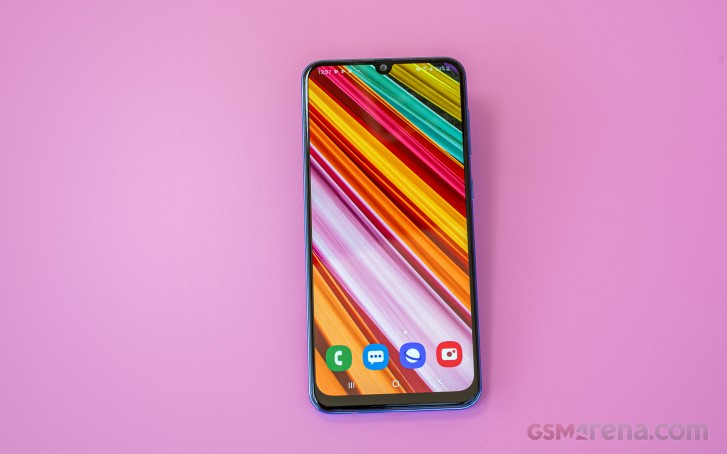 We guess at some point Samsung had this plan to arrange those models by price, but the Galaxy A30 does not fall into the ranks so well as it is more expensive than the A40 model. And it makes sense to be that way since the Galaxy A30 packs a larger AMOLED and a beefier battery compared to the A40.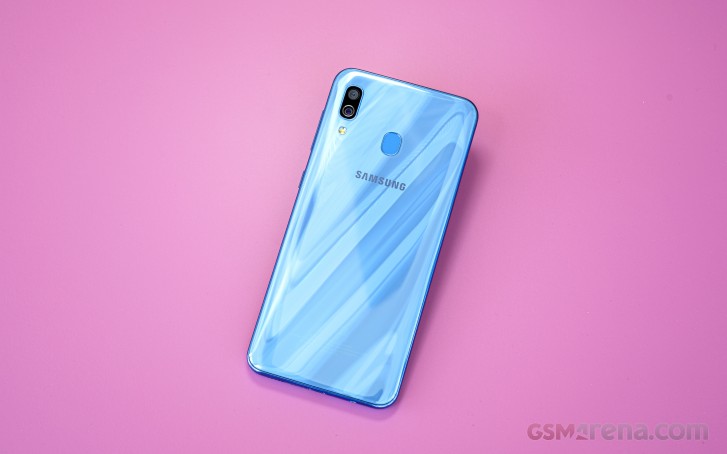 So, the Galaxy A30 is jam-packed with nice hardware – the 6.4″ Infinity-U AMOLED is among the best screens in the entire midrange class, there is a snappy enough Exynos chipset, a dual-camera on the back, a huge 4,000 mAh battery, and Samsung's latest One UI on top of Pie OS.
Samsung Galaxy A30 specs
Body: Gorilla Glass 3 front, plastic frame and back;
Screen: 6.4″ Super AMOLED; 19.5:9 aspect ratio; FullHD+ (1080 x 2340 px)
Rear cameras: 16 MP, f/1.7, PDAF; 5 MP, f/2.2, (ultrawide)
Video capture: 1080p@30fps
Front camera: 16 MP, f/2.0, fixed-focus; 1080p video
Chipset: Exynos 7904 Octa (10nm), octa-core processor (2x Cortex-A73@1.8GHz + 6x Cortex-A53@1.6GHz), Mali-G71MP2 GPU.
Memory: 4GB of RAM + 64GB storage / 3GB of RAM + 32GB storage; Up to 512GB microSD card
OS: Android 9.0 Pie; Samsung One UI on top
Battery: 4,000mAh Li-Ion; 15W quick charge
Connectivity: Dual-SIM/ Single-SIM options available; LTE; USB 2.0 Type-C; Wi-Fi a/b/g/n/ac; GPS + GLONASS + BDS; Bluetooth 5.0; FM radio
Misc: Single bottom-firing speaker, rear-mounted fingerprint reader
What's missing? Just water-resistance. Indeed, water-resistance was the cornerstone for the Galaxy A series, but not anymore. None of the latest A phones comes with ingress protection, but they are not losing any slots or jacks, so it's a silver lining of a sorts.
Unboxing the Galaxy A30
The Galaxy A30 retail box contains the usual bunch – a USB-C cable, a rather cheap-looking pair of headphones with a mic, and a charger.
The A30 supports 15W fast charging, Samsung's Adaptive Fast Charging to be specific, and get the corresponding charger bundled with each A30.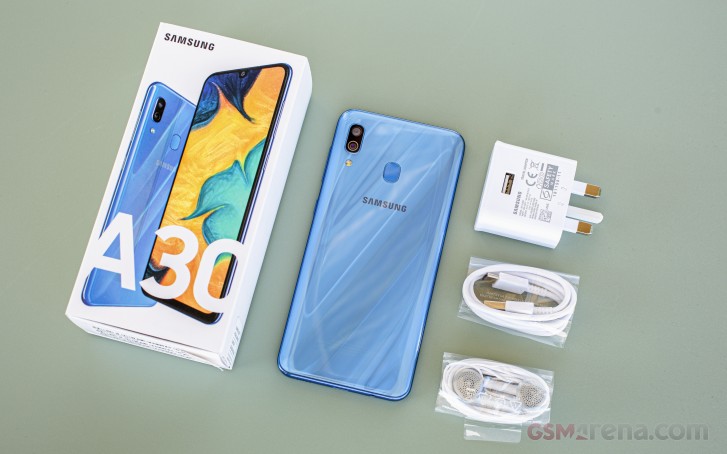 Finally, there is a factory-applied screen protector on the Galaxy A30. It's a very thin and rather easy to peel off, but it's still useful, and we appreciate it.
Design
Samsung came up with the Glasstic term to best describe the material used for the backs of its new Galaxy A series, and it contains the rather obvious answer – glass and plastic. Indeed, the Galaxy A30, just like the A40 and the A50, has a body made of those two materials.
Both the frame and back are made of plastic but one that looks more like glass than plastic. If you've seen one Glasstic phone, then you've seen them all. But if not, then you probably have no idea what exactly Glasstic is, have you?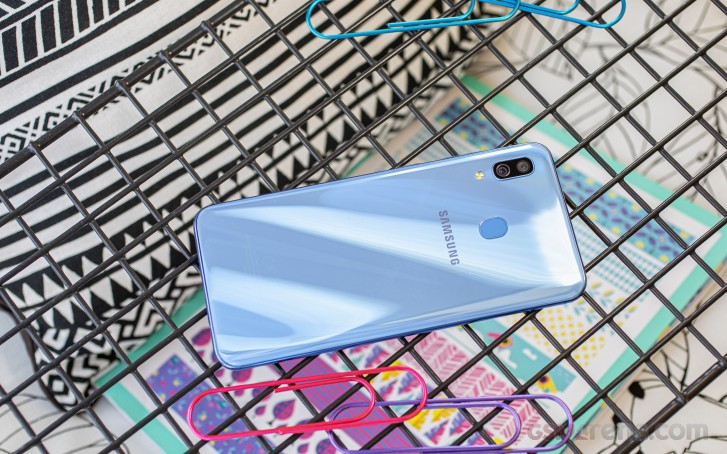 The screen is covered by a piece of Gorilla Glass 3 by Corning. The A30 has a proper Super AMOLED at its front. And it seems to be the same panel we saw on the Galaxy A50 – a 6.4″ 1080p unit with a U-shaped notch that houses the 16MP selfie snapper.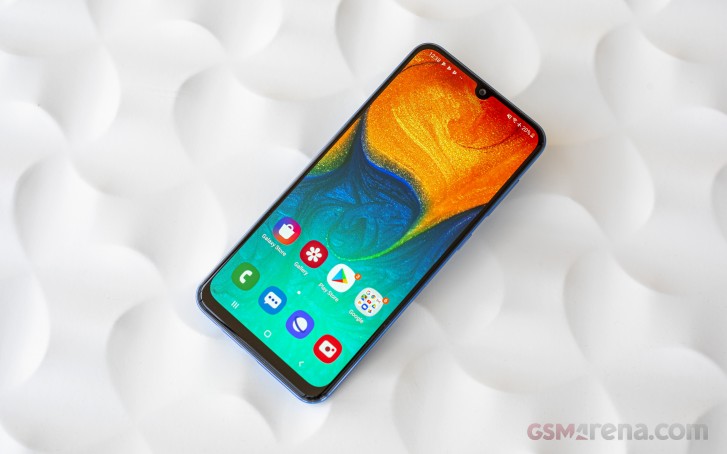 The earpiece is just above the selfie cam, but it is so small and thin that's it is almost invisible.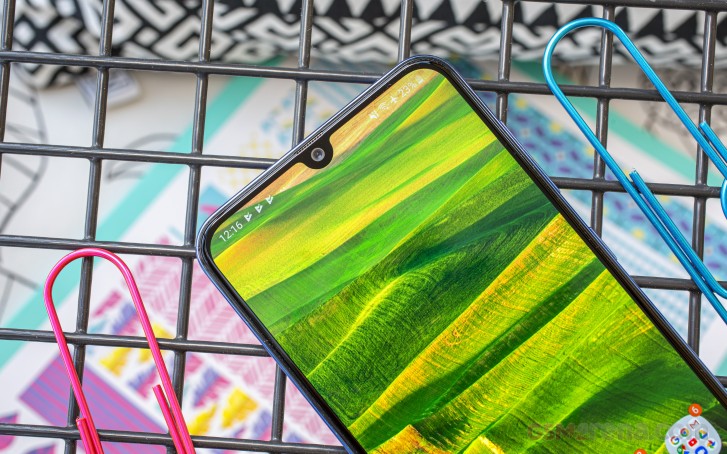 The AMOLED panel is premium hardware, but the high-quality stuff ends with it. The side bezels are tiny, but the chin is pretty big. Then there is this visible screen enclosure between the glass and the frame, which is very sharp around the bottom of the phone. Those are common among the cheap phones though and are not exclusive to the Galaxy.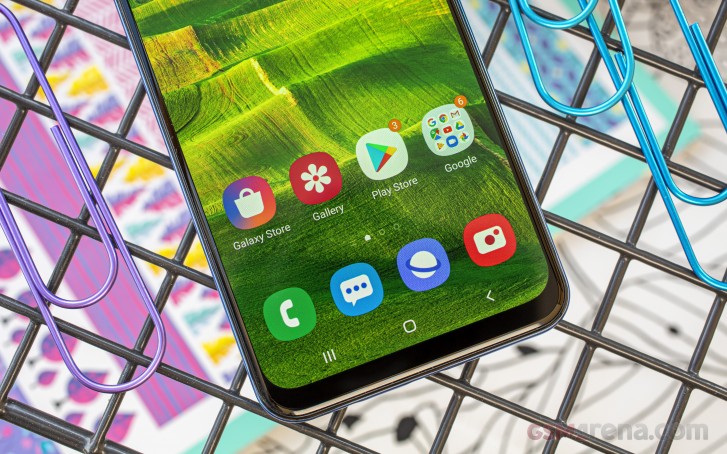 The frame is very thin, curvy, and glossy, meaning it's pretty in the few seconds when it's not covered in fingerprint smudges, and is also hard to get a nice grip on.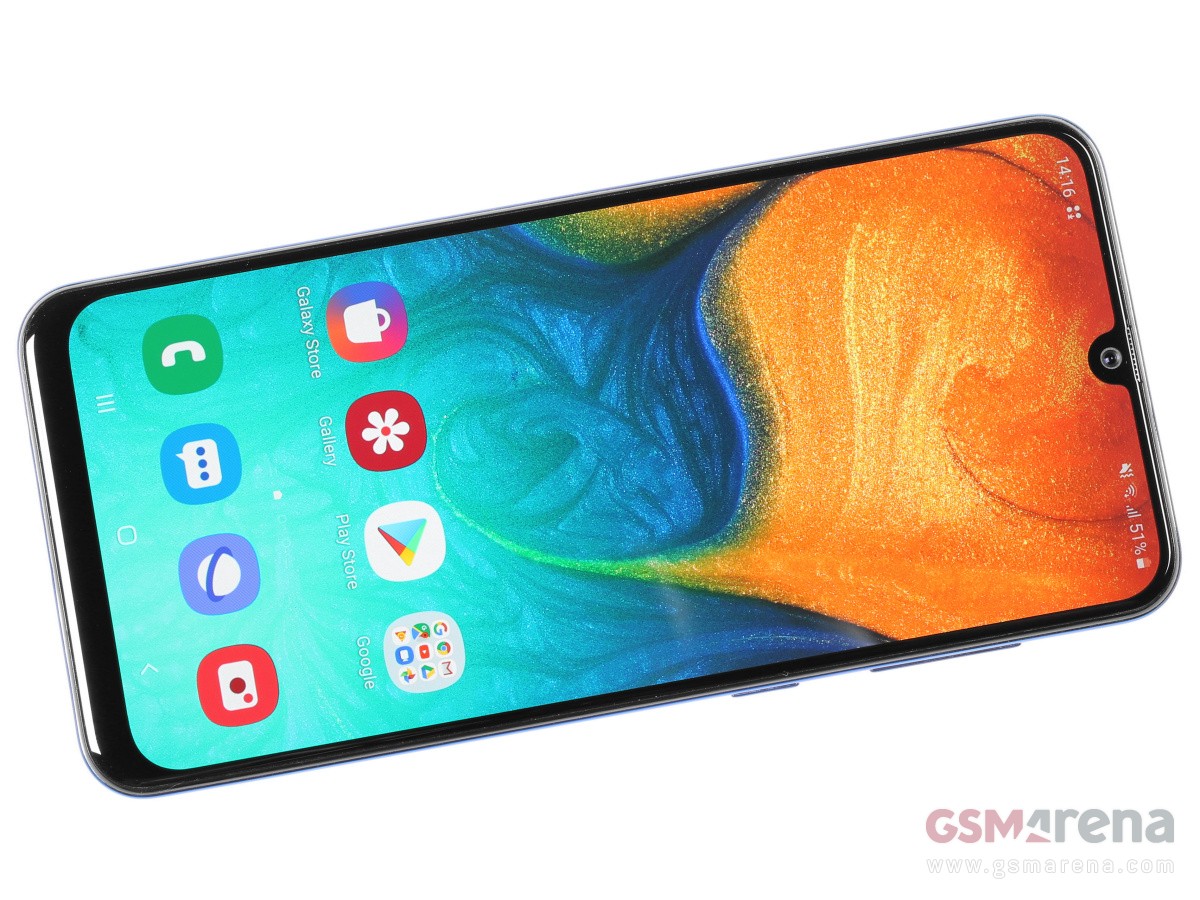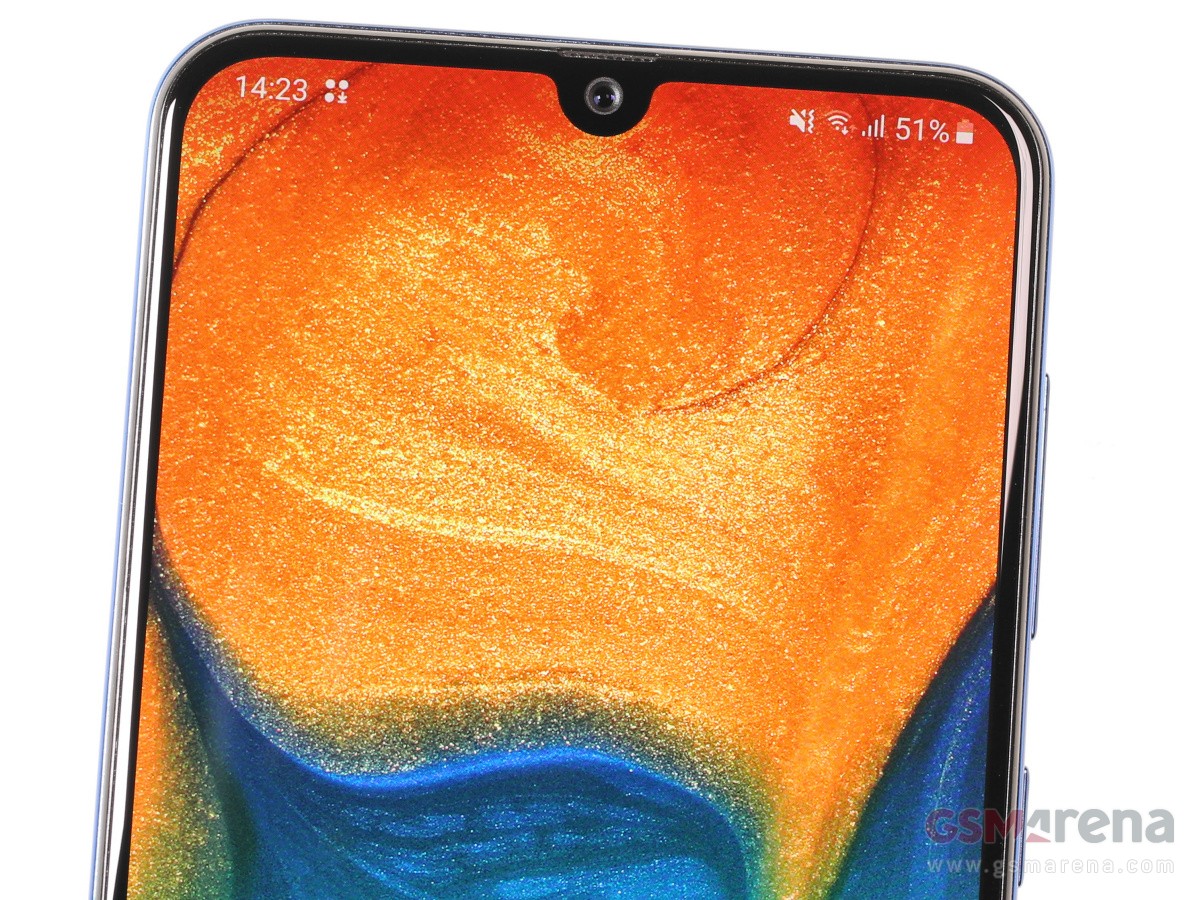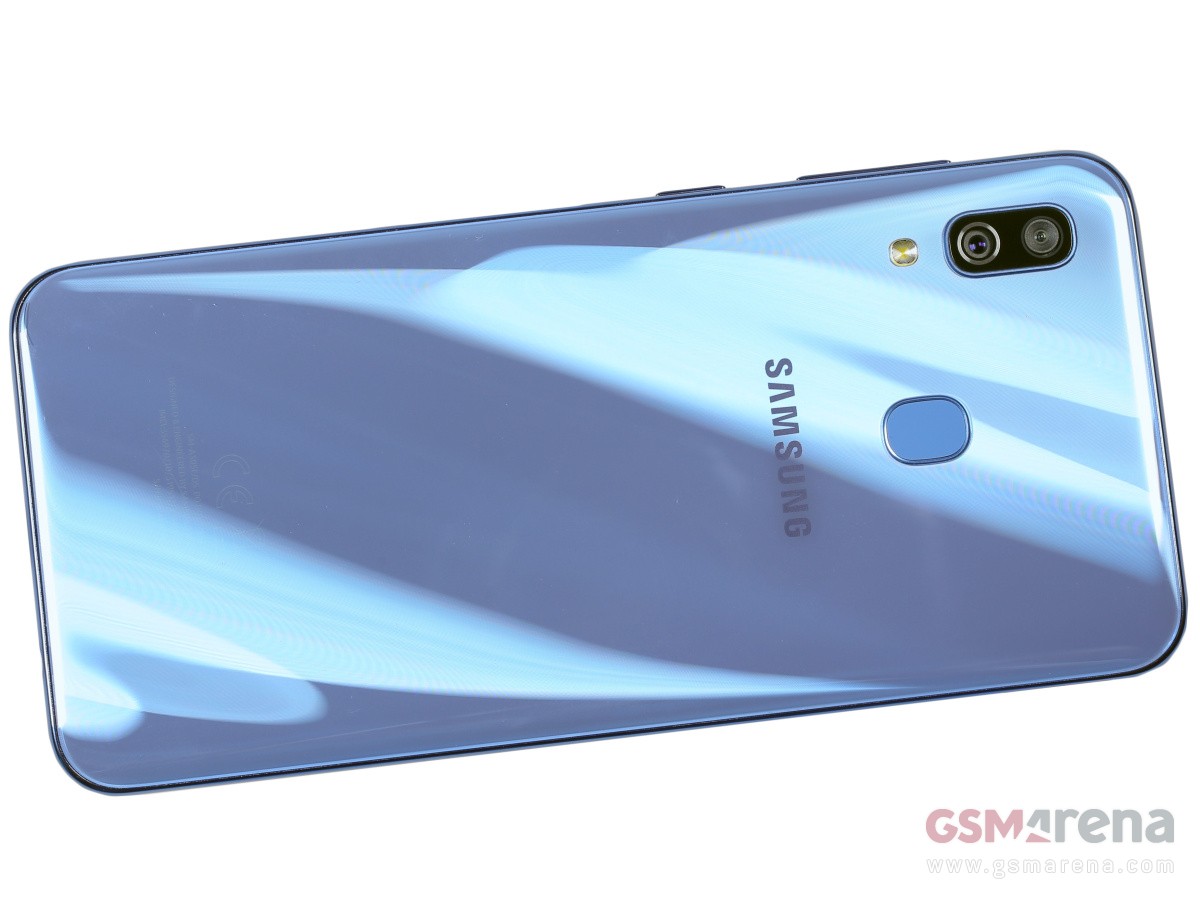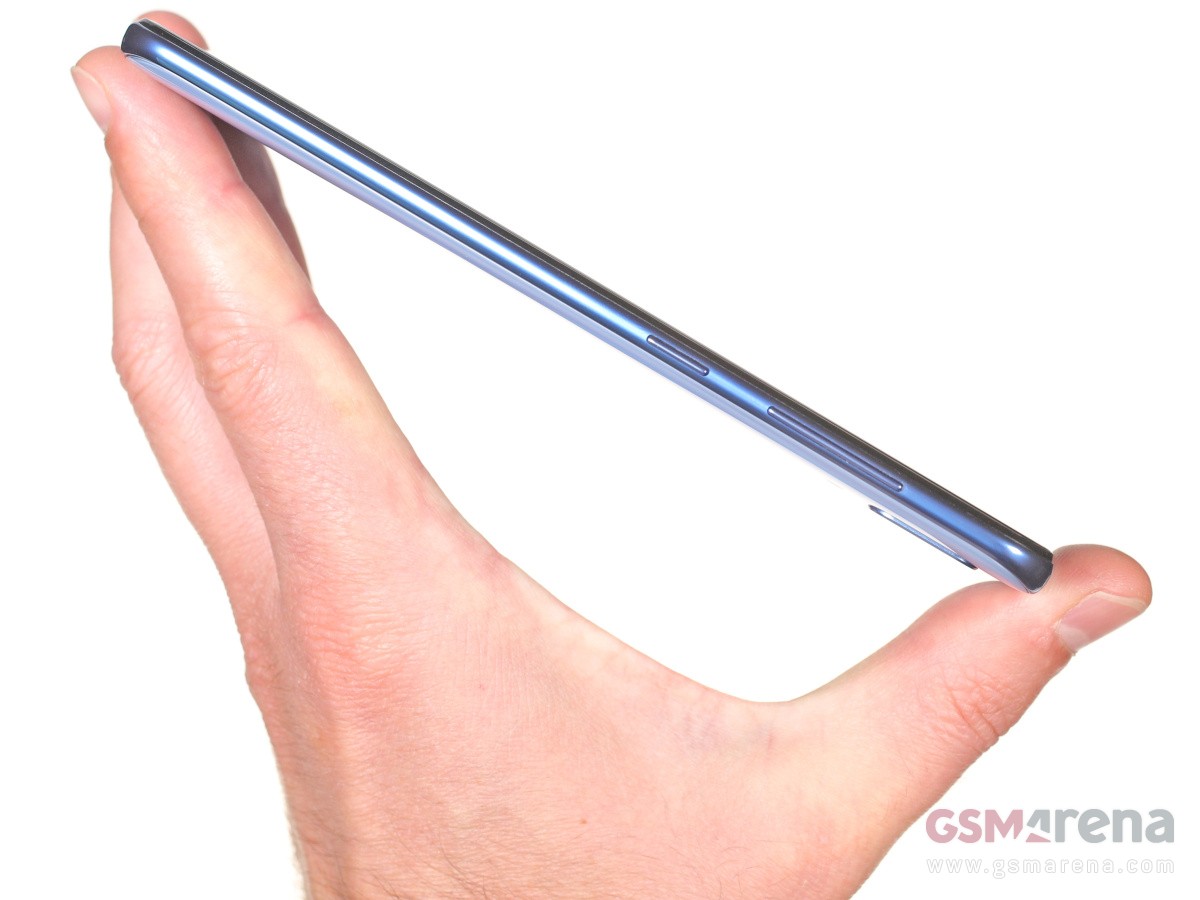 The tri-card slot, the volume and power keys are on the right, while the speaker, USB-C port and audio jack are at the bottom of the Galaxy A30.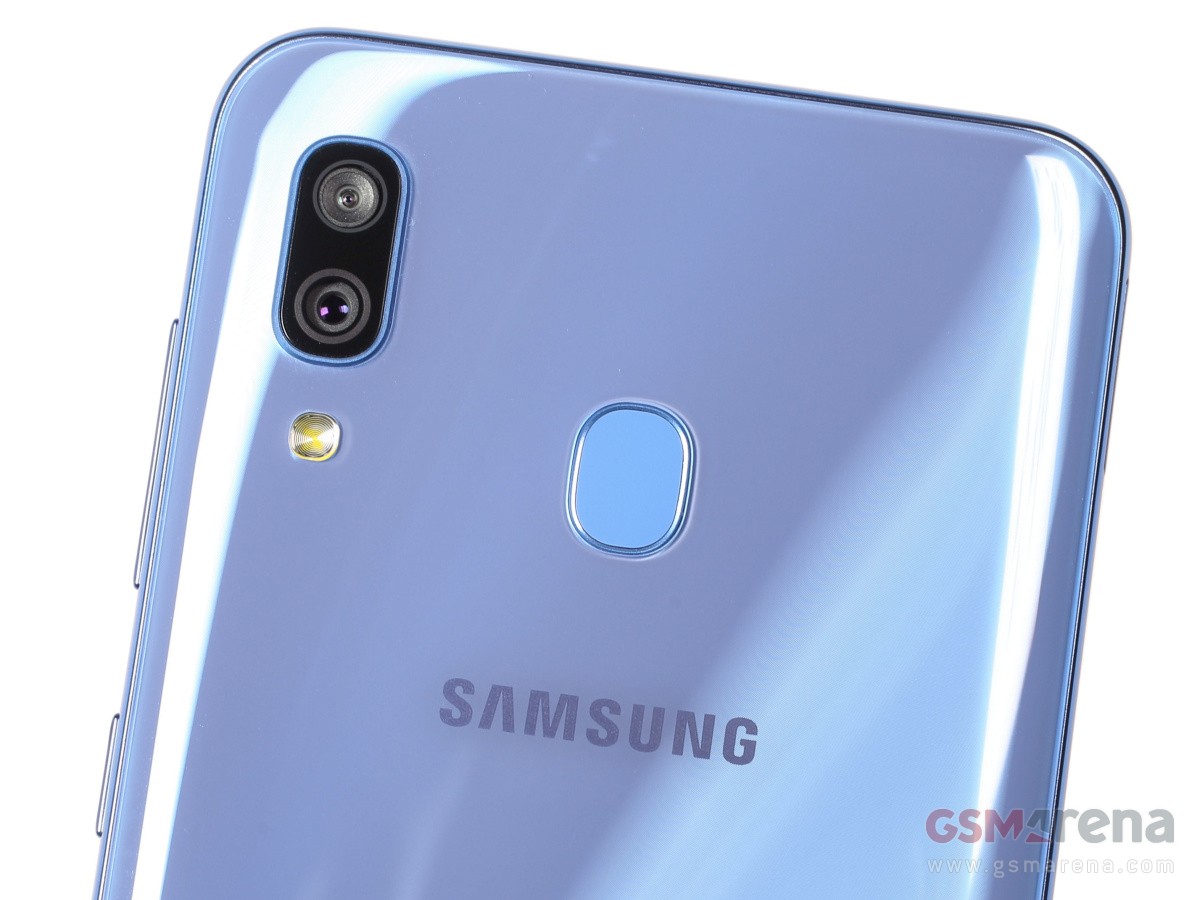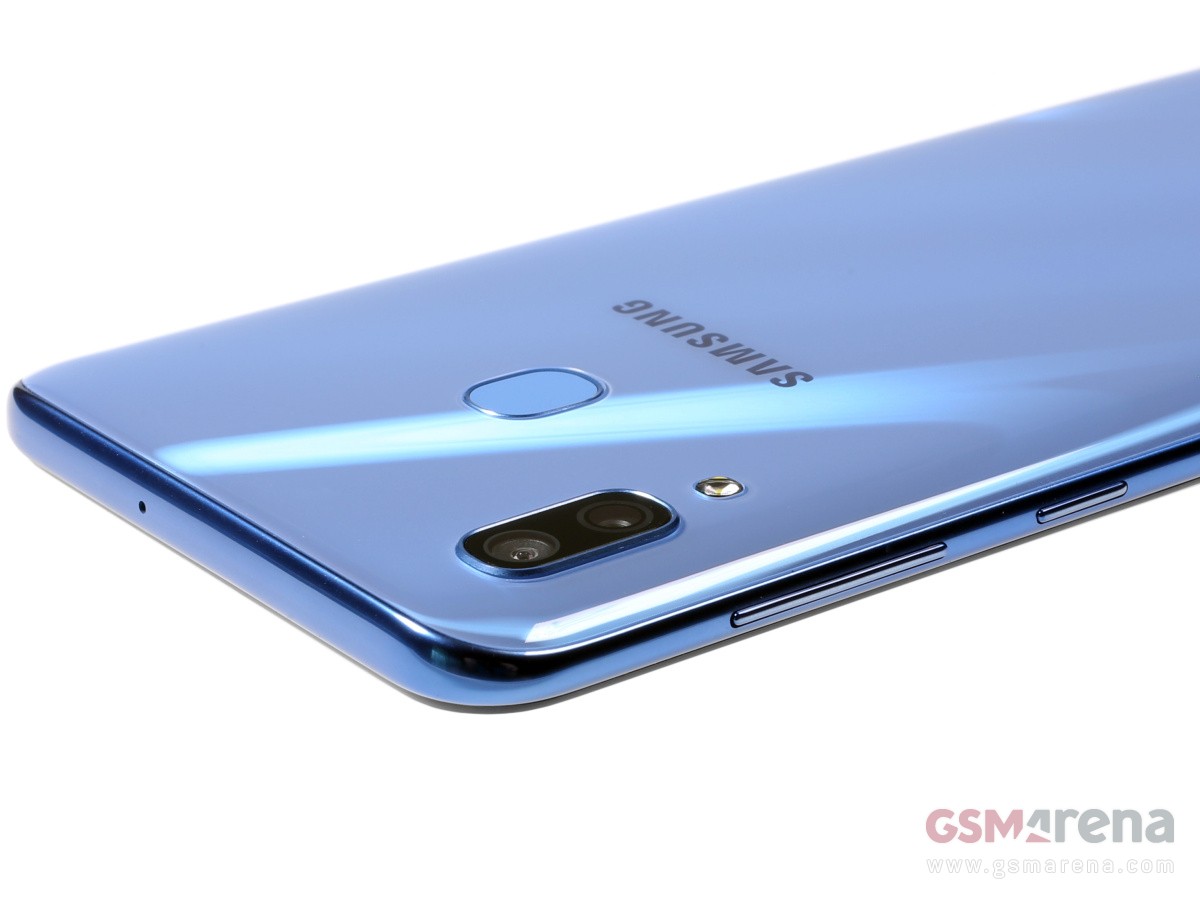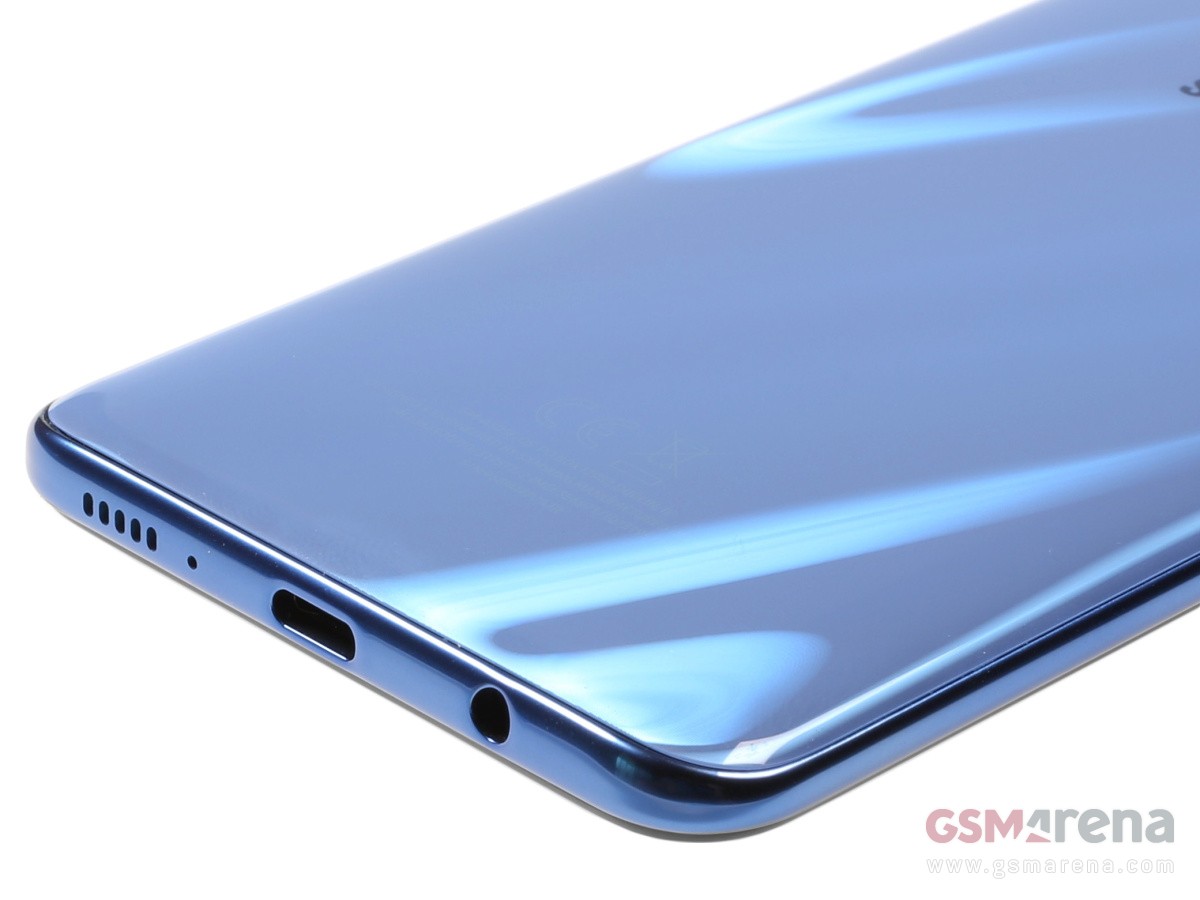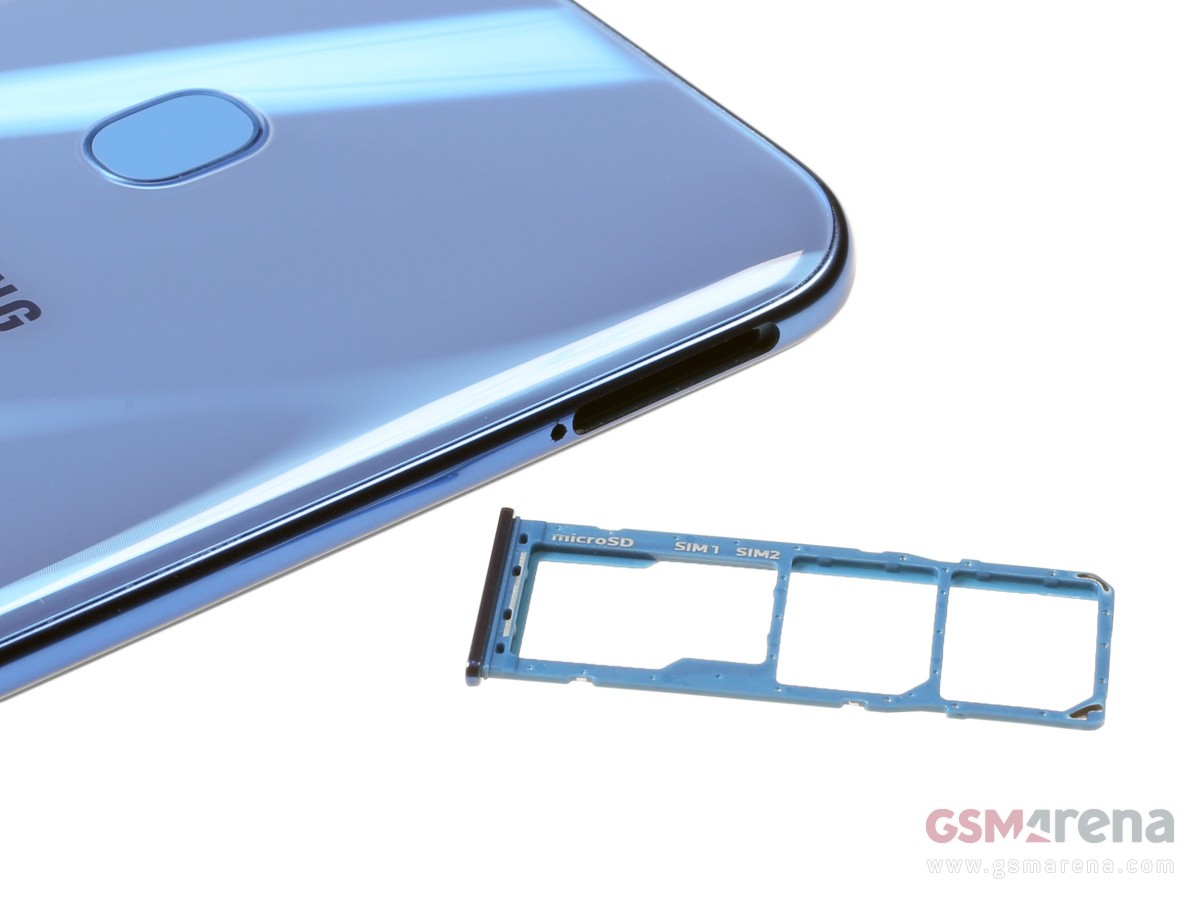 The Glasstic piece covering the back is flashy and dazzling. No matter if you opt for the blue, red, or black model, the color-changing effect be present on all of them. The piece is bent towards the longer sides and this may not be helping the grip but makes up for a thinner profile and a dash of premium feel.
The dual-camera is on the back humping just a tiny little bit and it won't wobble on a flat surface. The setup has the secondary 5MP ultra-wide snapper on the top and the 16MP main eye at the bottom. A single LED lash sits outside of this tiny hump.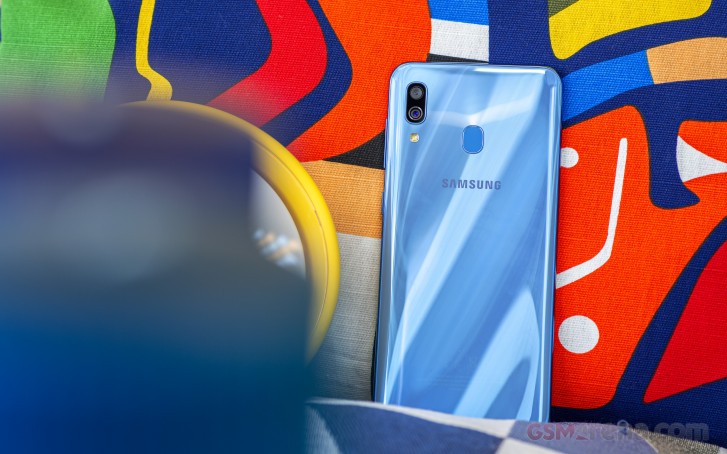 The fingerprint scanner is also on the back and it's of our favorite kind – always on and blazing-fast. Its recognition is very accurate, too, and performance doesn't seem to be affected by smudges.
The Galaxy A30 measures 158.5 x 74.7 x 7.7 mm, which is exactly the same as the Galaxy A50. The A30 weighs 165g, a gram less than the A50.
Handling the Galaxy A30 is business as usual. The phone feels more like made of glass than plastic, which is nice but is easy to smudge and eventually it becomes a mess. It's not as slippery as the looks suggest though, and even if the profile is slim and not that grippy, we didn't have any major issues while handling it.
Display
Beyond any doubt, the huge Super AMOLED screen is the Galaxy A30's main selling feature. It's the same large 6.4″ Super AMOLED screen of 1080p+ resolution as seen on the A50. The actual pixel count is 2,340 x 1,080, making the aspect ratio quite tall (19.5:9). The pixel density is more than enough at 403ppi.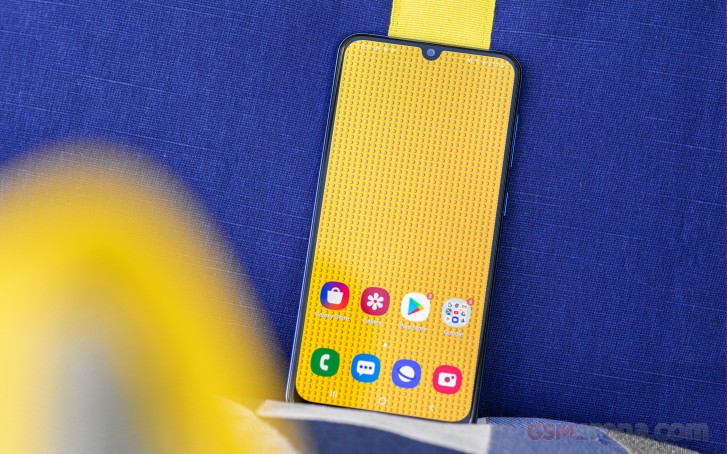 The A30 has the so-called Infinity-U panel, meaning it has a U-shaped notch at the top for the selfie camera. The screen is of the usual high-quality we've grown to like. We measured about 430 nits of maximum brightness in manual mode and 550nits in Auto when the ambient light sensor exposed to bright light. We measured a minimum brightness of 1.9nits.
Display test
100% brightness
Black, cd/m2
White, cd/m2
Contrast ratio
Samsung Galaxy A30
0
433
∞
Samsung Galaxy A30 (Max Auto)
0
548
∞
Samsung Galaxy A40
0
410
∞
Samsung Galaxy A40 (Max Auto)
0
548
∞
Samsung Galaxy A50
0
424
∞
Samsung Galaxy A50 (Max Auto)
0
551
∞
Samsung Galaxy M30
0
437
∞
Samsung Galaxy M30 (Max Auto)
0
641
∞
Xiaomi Redmi Note 7
0.358
479
1338
Huawei Honor 10 Lite
0.344
441
1282
Nokia 7.1
0.377
490
1300
Nokia 7.1 (Max Auto)
0.465
600
1290
Sony Xperia 10
0.362
549
1517
Sony Xperia 10 Plus
0.381
583
1530
Oppo F11 Pro
0.316
440
1392
Realme X
0
448
∞
Motorola Moto G7 Plus
0.332
473
1425
Motorola Moto G7 Plus (Max Auto)
0.469
590
1258
As we've come to expect from Samsung Super AMOLEDs, the display on the Galaxy A30 is capable of accurately reproducing different color spaces depending on content and selected display mode. The Basic mode stays true to sRGB (average DeltaE of 1.6), AMOLED Photo is for Adobe RGB applications (average DeltaE of 1.8), while AMOLED Cinema adheres to the DCI-P3 color space (average DeltaE of 2.2). Of course, the default Adaptive mode makes no claims for accuracy and posts an average DeltaE of 3.4 against a DCI-P3 target with a maximum deviation of 9.
Battery life
The Galaxy A30 has a large 4,000mAh battery inside, just like the A50's. It supports 15W charging, and the supplied charger will refill about 30% of the A30's depleted battery in half an hour.
In our testing, the Galaxy A30 achieved some respectable results. We clocked north of 11 hours on our Wi-Fi web browsing script and 14 and half hours of looping videos in airplane mode. The 3G talk time is over a day – an excellent score as well.
Adding to the mix the very good standby performance the Galaxy A30 posted an overall Endurance rating of 92h.
Loudspeaker
The Galaxy A30 has a single loudspeaker located on the bottom. It scored a Below Average mark in our three-pronged test when it comes to loudness, and it is very quiet – it's been a while since we've seen a phone rank this low. The output is okay for the class but won't impress with rich sound.
| | | | | |
| --- | --- | --- | --- | --- |
| Speakerphone test | Voice, dB | Pink noise/ Music, dB | Ringing phone, dB | Overall score |
| Samsung Galaxy A30 | 65.9 | 66.6 | 68.4 | Below Average |
| Samsung Galaxy M30 | 65.6 | 66.2 | 70.4 | Average |
| Samsung Galaxy M20 | 67.0 | 66.8 | 68.6 | Average |
| Samsung Galaxy A40 | 66.2 | 68.3 | 73.6 | Good |
| Samsung Galaxy M10 | 66.2 | 71.7 | 80.0 | Good |
| Realme 3 | 66.0 | 71.8 | 81.2 | Good |
| Samsung Galaxy A50 | 68.9 | 71.3 | 82.7 | Very Good |
| Sony Xperia 10 | 68.7 | 73.0 | 87.8 | Excellent |
| Realme 3 Pro | 67.5 | 73.8 | 90.5 | Excellent |
| Xiaomi Redmi Note 7 | 69.8 | 71.5 | 90.5 | Excellent |
| Nokia 7.1 | 75.6 | 76.0 | 81.1 | Excellent |
| Moto G7 Power | 75.8 | 75.2 | 82.5 | Excellent |
Audio quality
The Samsung Galaxy A30 had a fine performance in the first part of the audio test. With an active external amplifier, it posted excellent scores and had above average volume levels .
While the loudness didn't suffer when we plugged in headphones, a few of the scores took a hit – most notably the stereo crosstalk and to a lesser extent intermodulation distortion and frequency response. The overall performance was very close to the Galaxy M30, suggesting a shared audio chip, but the A30 comes just behind its sibling likely due to slightly different wiring.
| | | | | | | |
| --- | --- | --- | --- | --- | --- | --- |
| Test | Frequency response | Noise level | Dynamic range | THD | IMD + Noise | Stereo crosstalk |
| Samsung Galaxy A30 | +0.03, -0.05 | -93.3 | 93.0 | 0.0068 | 0.012 | -88.9 |
| Samsung Galaxy A30 (headphones) | +0.23, -0.25 | -90.8 | 91.2 | 0.015 | 0.266 | -48.0 |
| Samsung Galaxy M30 | +0.03, -0.05 | -90.5 | 90.4 | 0.0057 | 0.016 | -90.0 |
| Samsung Galaxy M30 (headphones) | +0.26, -0.20 | -92.9 | 92.4 | 0.095 | 0.249 | -59.1 |
| Sony Xperia L3 | +0.07, -0.01 | -91.9 | 91.8 | 0.0013 | 0.009 | -89.3 |
| Sony Xperia L3 (headphones) | +0.50, -0.50 | -90.6 | 90.8 | 0.0049 | 0.392 | -52.3 |
| Realme 3 | +0.07, -0.04 | -93.5 | 93.4 | 0.0010 | 0.0067 | -91.6 |
| Realme 3 (headphones) | +0.50, -0.17 | -92.1 | 92.2 | 0.011 | 0.401 | -52.0 |
| Motorola Moto G7 Play | +0.07, -0.01 | -90.0 | 90.1 | 0.0019 | 0.015 | -92.9 |
| Motorola Moto G7 Play (headphones) | +0.16, -0.10 | -92.3 | 92.5 | 0.0069 | 0.164 | -64.8 |
Android Pie and One UI
The Galaxy A30 comes with the new One UI based on Google's latest Android Pie. It premiered on the Galaxy S10 phones, and it's a promising replacement of the previous Samsung Experience UX. Just as expected, it packs heavy customizations and tons of old and new features but presented in a cleaner and simplistic way.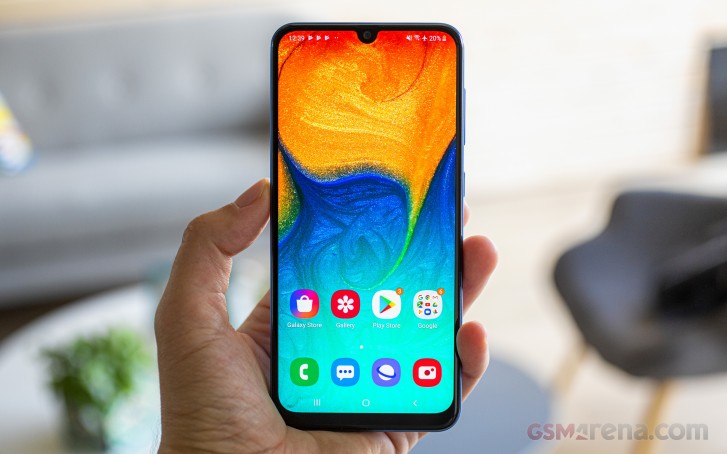 If you've used Samsung UX over the past few years, you will probably work your way around quickly. However, there are a couple of major revamps that may seem strange or even uncomfortable at first, but we think the changes are for the better.
Aside from the colorful new icons that might not be to everyone's taste (you can swap the default ones with another icon pack), Samsung has implemented numerous changes towards more effective and comfortable one-handed use. Now all system menus, including the drop-down menu with all the quick toggles, are located on the bottom half of the screen, so they are within reach of your thumb. It takes some time getting used to, but we think it's a pretty smart solution.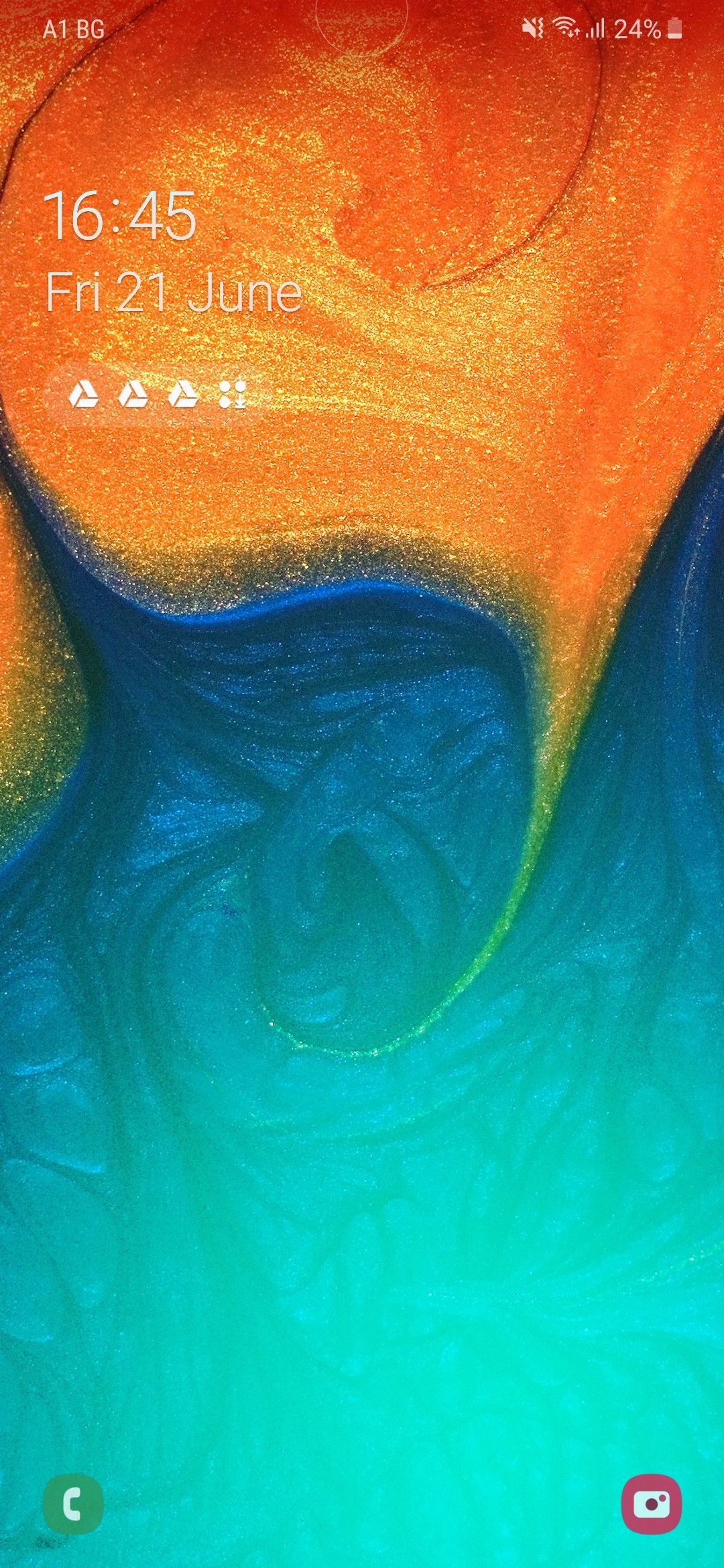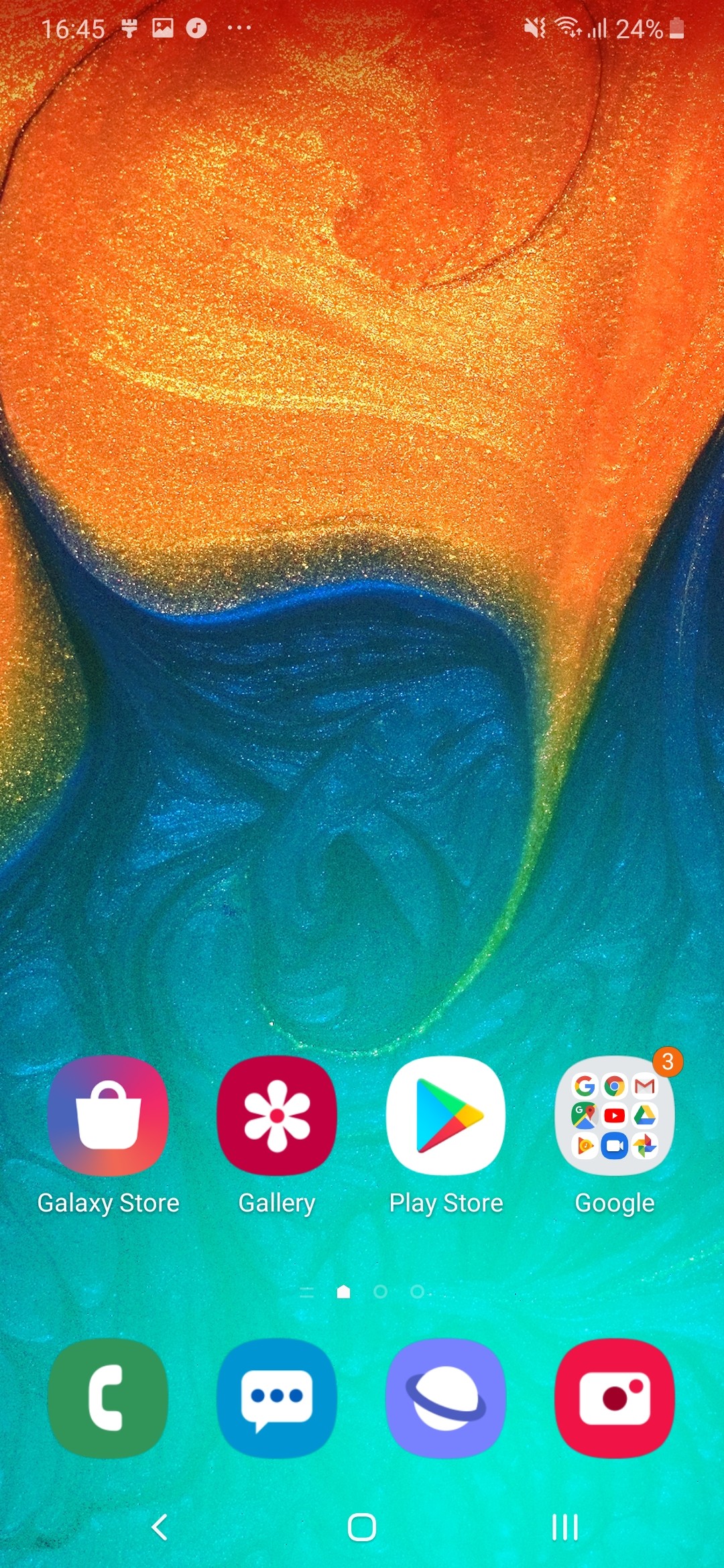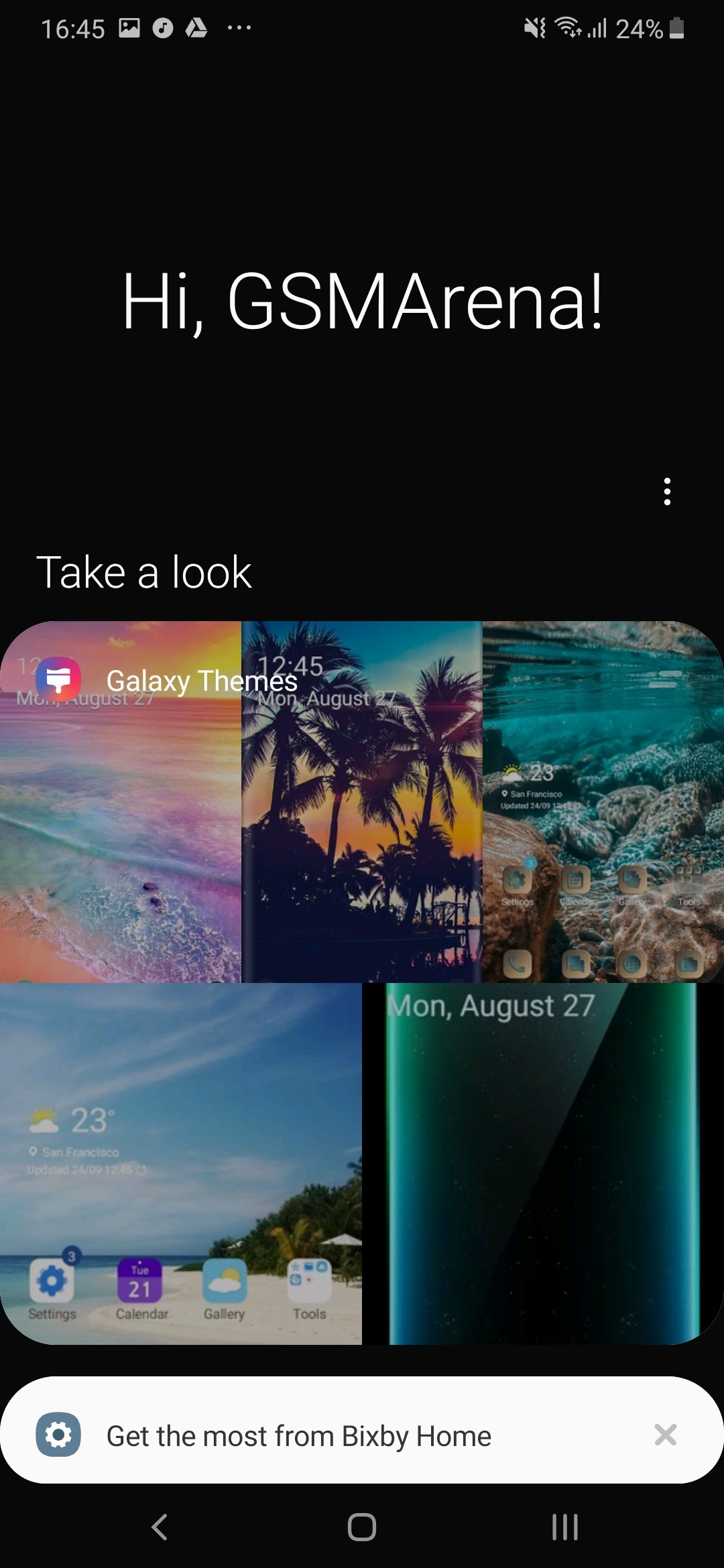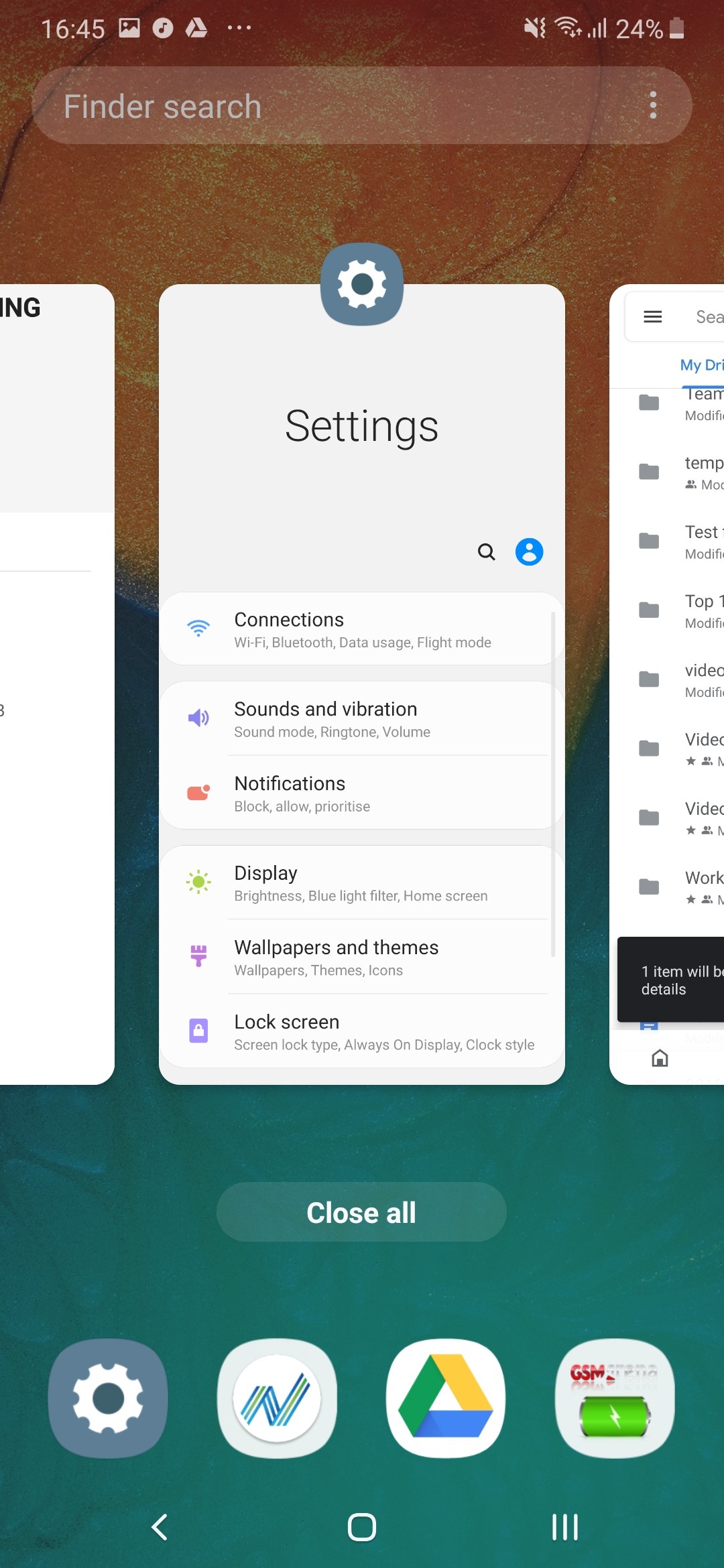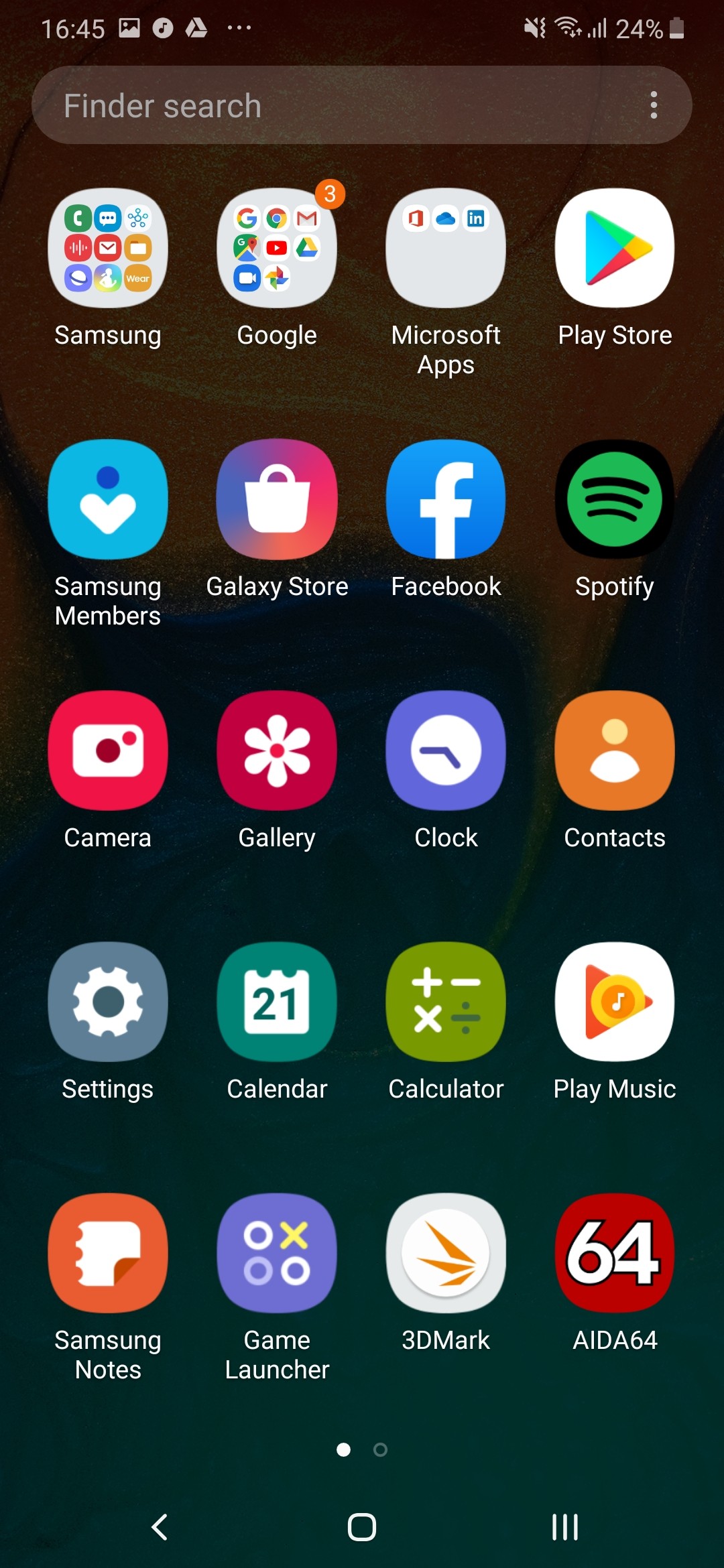 Speaking of one-handed use, there are still some small tidbits that Samsung forgot about. For example, the app folders still open in full-screen with the icons placed on the upper half of the display, which means you'll have to use your other hand to reach them.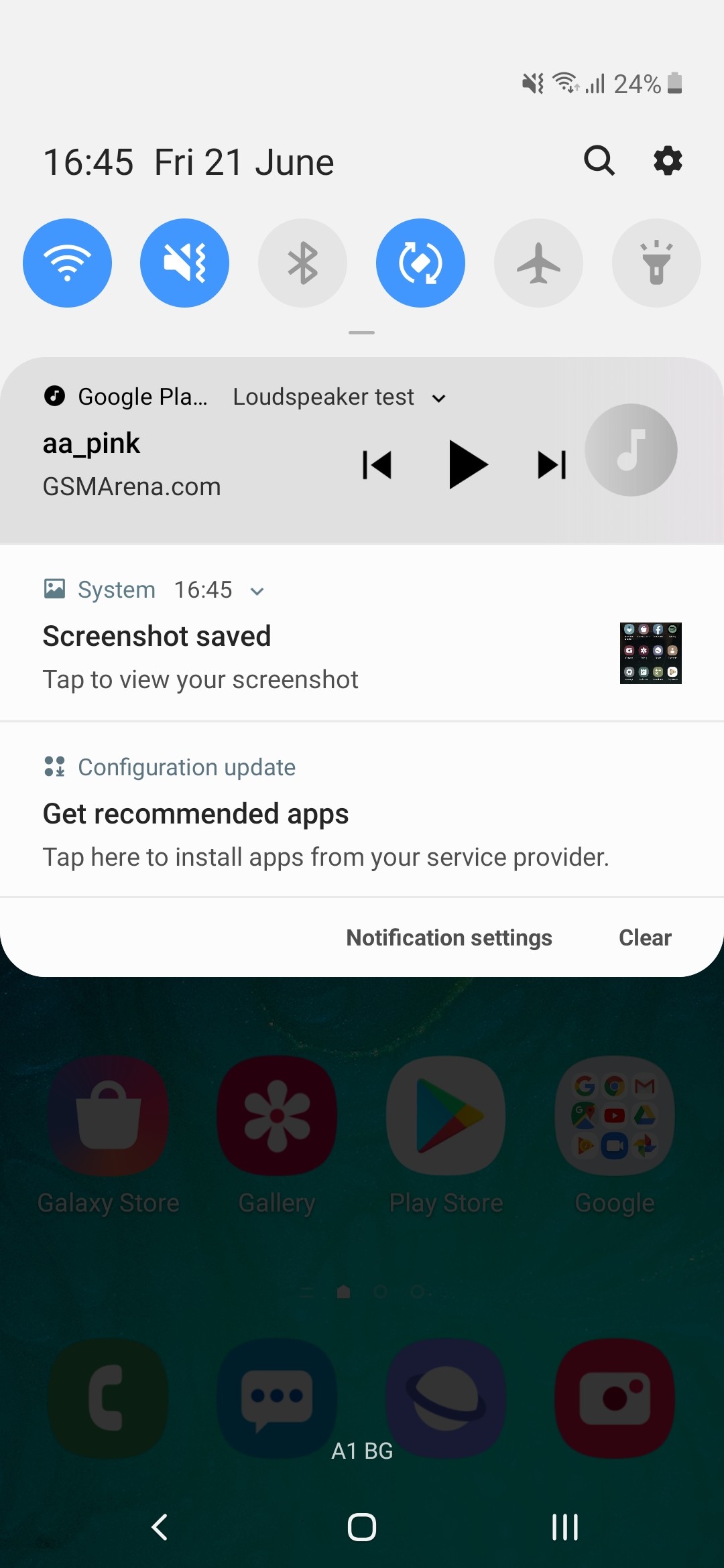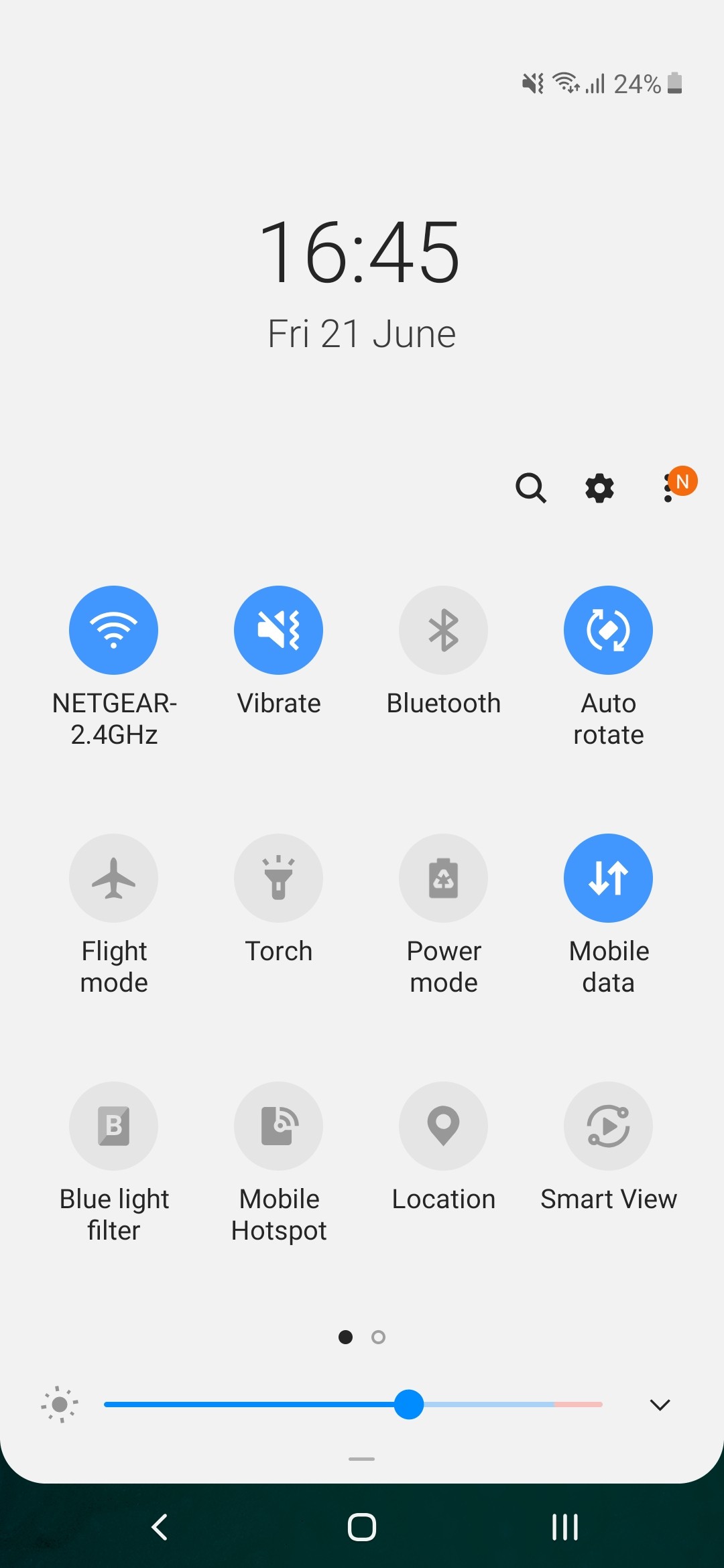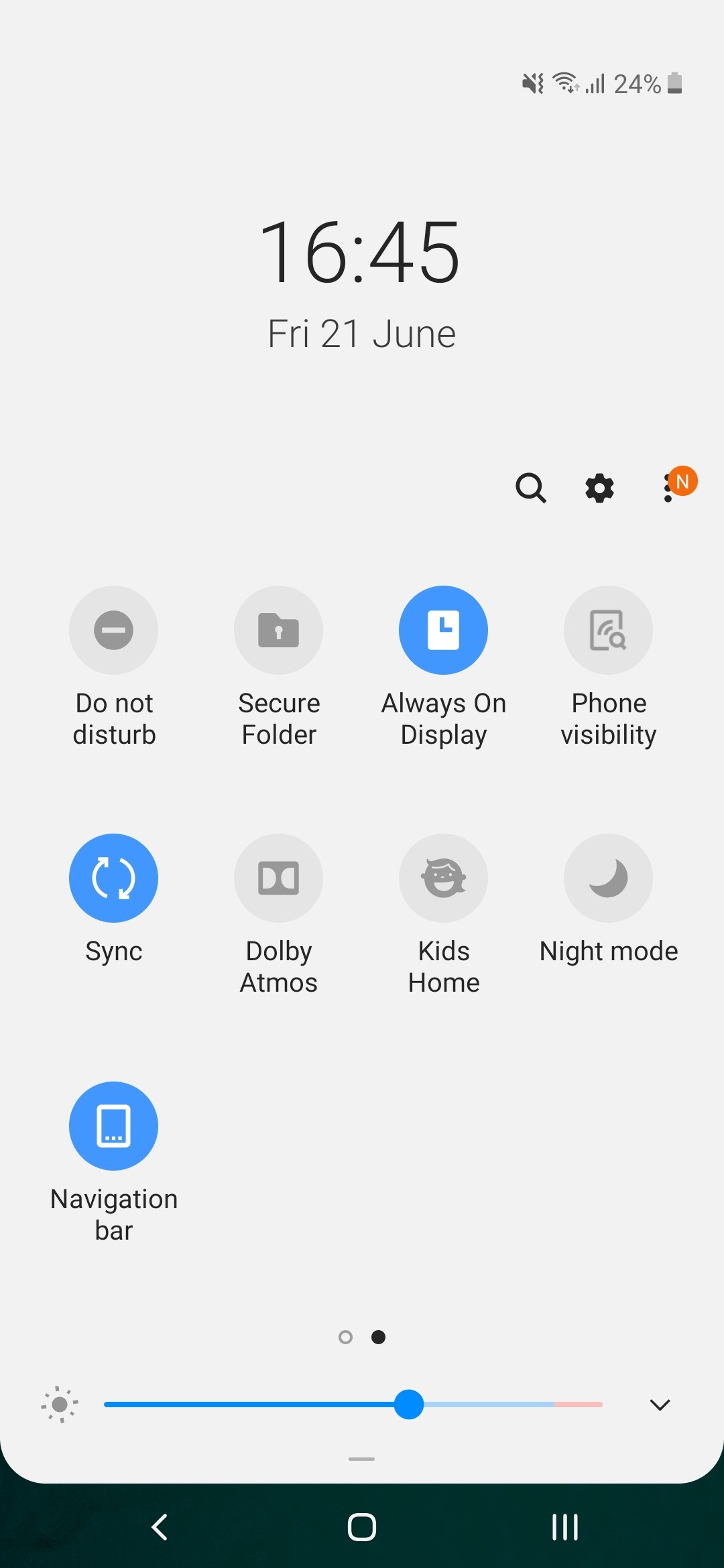 And just like everyone else, Samsung has its own way of implementing Google's new gesture-based navigation. They work as conventional buttons – swiping from the bottom-left brings out the recent apps menu by default and swiping from the bottom-right takes you a step back. You can swap them in the settings menu, but the home button remains as a single swipe from the bottom-center. If you swipe and hold, it will summon Google's Assistant.
In the end, Samsung saved a couple of pixels on the bottom, but the gestures still feel half-baked.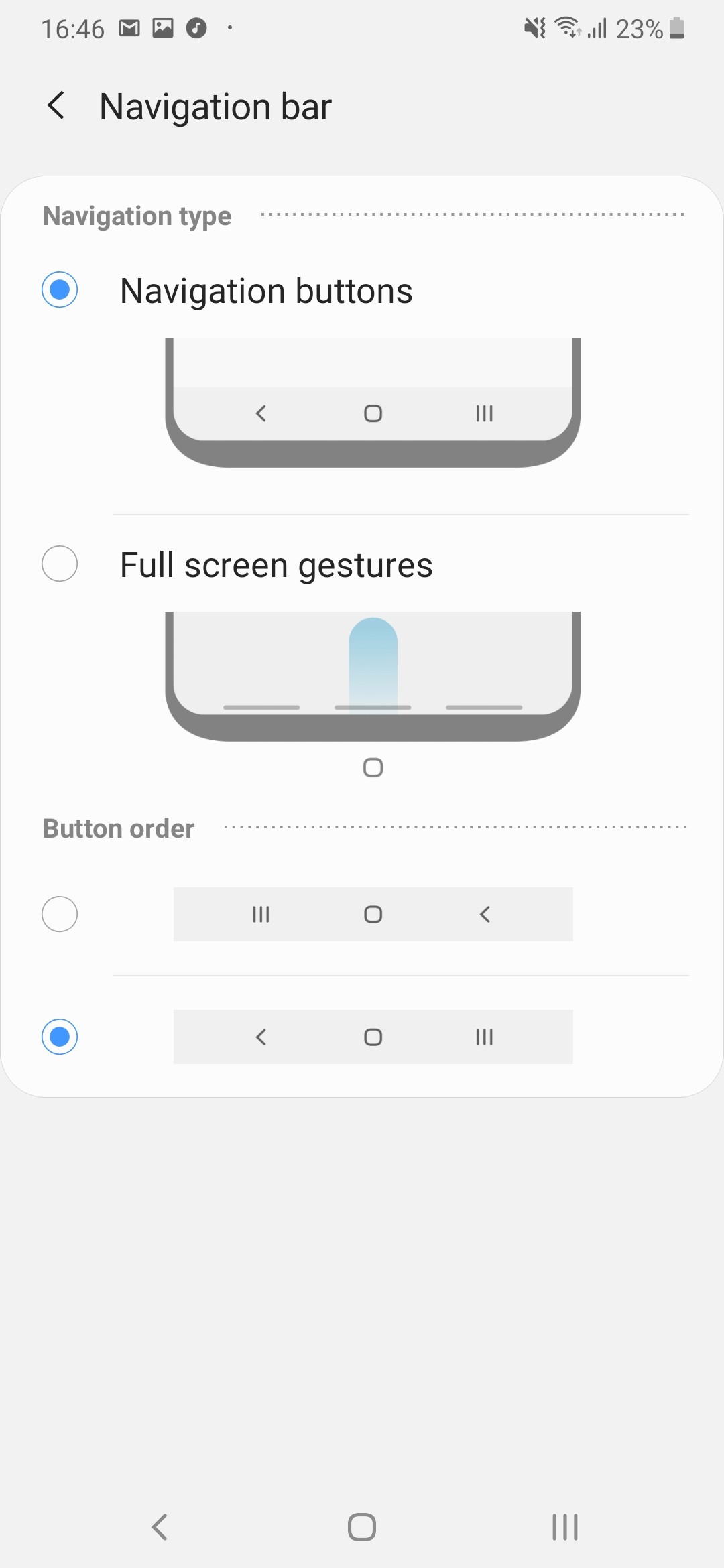 What doesn't feel half-baked, however, is the Always On Display feature. It gives you plenty of options although not as many as on the Galaxy S10 phones (there is no brightness setting or wallpaper option here). You can choose different clock styles and font colors, what notifications to be displayed, and when the AOD to be shown – on tap, always, or scheduled.
In line with the rest of the UI changes, the general Settings menu has been revamped too. It's pretty compact, and some of the settings you might be looking for have ended up elsewhere. For example, the Device care sub-menu now accommodates the Battery settings and information, storage and memory management and the security features. Tapping on the Battery icon will open up the familiar battery menu full of settings and adjustments. Aside from the usual info and features which you'd find on pretty much every other Android handset, Samsung has added a couple of additional options.
You have three power modes – Optimized, Medium-power saving and Maximum power saving. Optimized is the default one with performance cranked up to the maximum. In the upper right corner of the battery menu sits another sub-menu giving you more granular control over your power consumption.
Speaking of granularity, the Advanced menu gives you the option to set notifications to pop-up in a small view with which you can interact.
Google's push for the so-called Digital well-being has reached Samsung's One UI too. If you were ever wondering how much time you spend on your phone and which apps you mostly used, the Digital well-being sub-menu would give you the details. It's cool, but it will probably stay unused by most users.
As before, Samsung's own take on the custom Android is full of features and pre-installed apps. We are overwhelmed, and it's hard to go over every one of them. And besides, there are plenty of carry-overs from the previous software versions. Some users may be annoyed with the heavy customization and set of pre-installed apps, especially if you are coming from a vanilla Android.
For multimedia you have the new Gallery app by Samsung for browsing photos and videos, while Play Music handles well, your music. There is also an FM radio app on board, a proprietary My Files file manager app, Samsung Health app, Bixby assistant, among others.
And although not perfect, we kind of like where Samsung is going with this. It's addressing an issue that's been overlooked for quite some time since the new wave of huge smartphone displays. One-handed operation on the One UI is much more pleasant and comfortable. Oh, and the inclusion of the Camera Night mode was a long-awaited feature for more than just a few users.
Performance and benchmarks
The Samsung Galaxy A30 is powered by Samsung's Exynos 7904 chipset, which is essentially a downclocked 7885 and we already met it within the Galaxy A40. The SoC packs an octa-core processor with 2x high-performance Cortex-A73 cores clocked at 1.77 GHz and 6x power-efficient and smaller Cortex-A53 cores ticking at 1.59 GHz. For graphically intensive tasks, the Exynos 7904 relies on the Mali-G71 MP2 GPU.
When it comes to memory, the phone comes either with 3GB or 4GB of RAM depending on the model's base storage – 32GB or 64GB. The one we got for this review has 4GB/64GB.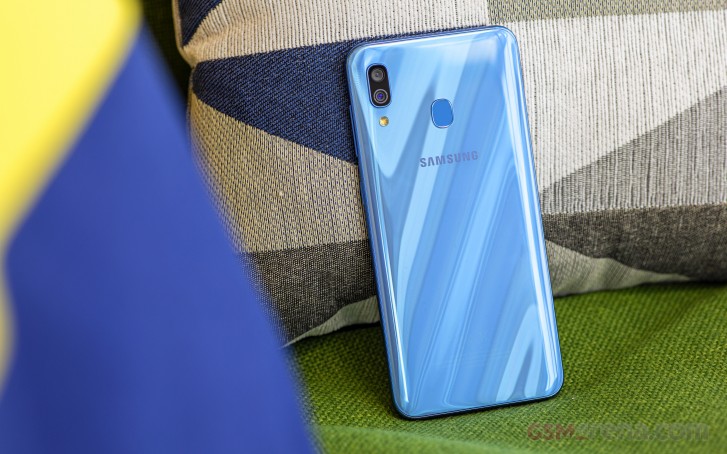 We kick things off with the usual CPU testing to see where the Exynos 7904 stands. The scores aren't showing a winner, but nobody really expected a chart-topper. One A73 core ticking at 1.77GHz is powerful enough and would beat any A53 one, while it's not that far from the A73s clocked at 2.2GHz or similar.
A dual-camera on the back
The Samsung Galaxy A30 has two snappers on its back – the main 16MP PDAF f/1.7 snapper is joined by a 5MP fixed-focus, f/2.2 ultra-wide and there is also a single LED flash around. There is no depth cam on the A30, but it can do portrait photos with defocused backgrounds just fine – Live Focus as Samsung calls the mode.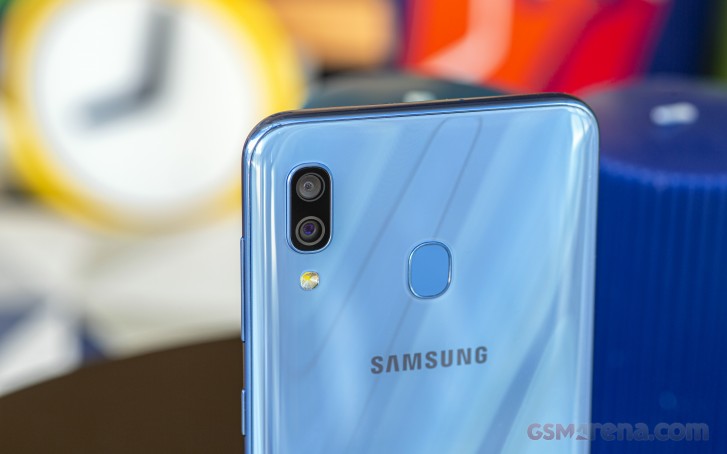 So, the primary camera has a 16MP resolution sensor behind a fast f/1.7 lens with a focal length that's reported as 26mm. Then the 5MP sensor behind an f/2.2 aperture lens that delivers a 120-degree field of view. The EXIF data reports 13mm focal length.
The camera app is very much the same as on any current Samsung, only with more icons in the viewfinder to control which camera is being used. The icon with 3 trees means ultra-wide-angle cam, while 2 trees denote the regular camera.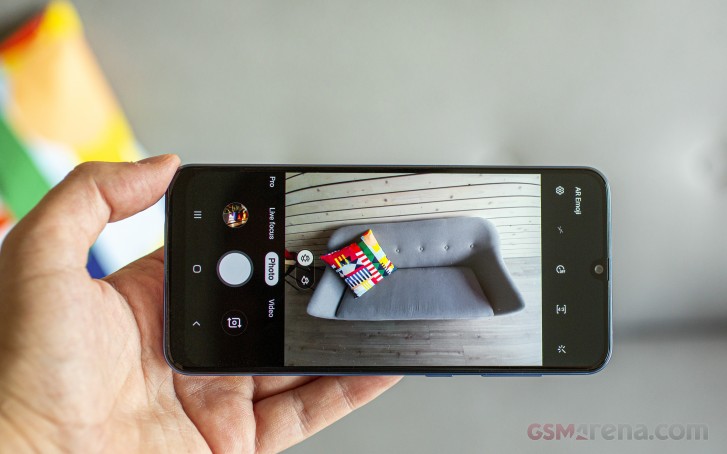 Basic operation is business as usual with side swipes for cycling through modes and an up/down action for toggling between the rear and front cameras. There's an AI-powered Scene optimizer mode that should recognize certain types of scenes and adjust parameters accordingly. We kept it off, as it doesn't make that much of a difference, plus we tend to prefer to add the effects after. The shown modes, as well as their arrangement, can be tweaked in settings.
There's also a Pro mode, but there's hardly anything pro about it – you can only choose ISO (in the 100-800 range), exposure compensation (-2/+2EV in 0.1EV steps), and white balance (presets, but no light temperature).
Image quality
The photos we snapped with the main camera in broad daylight turned out very good, keeping in mind the A30's price. The stills have plenty of fine detail, generally realistic colors, and excellent contrast. The dynamic range is above average and Auto HDR triggers extremely rarely – only in very demanding scenes. That said, just like on the M30, there were instances when it could have helped, and the phone didn't engage it, so keep an eye on that.
There is some noise in areas of uniform color, and the grass presentation could have been better, but the A30 is a budget phone, and it offers more than enough for its class.
The ultra-wide-angle camera relies on a 5MP sensor with fixed focus. There is no lens correction available, so distorted buildings are expected.
During the day this tiny camera produces pleasant photos, which may not be filled with much detail, but they do have a super-wide field of view. The colors are more popping than what we experienced on the 16MP regular stills, but probably Samsung has tweaked it this way to create livelier images and enough distraction from the inferior quality. And indeed, it does.
The low-light photos from the main 16MP camera are nothing impressive as expected. They do have good color saturation, a step up from the M30's low-light images, but highlights will get clipped, just like on the other phone. The level of detail is underwhelming, and there's prominent noise across the board.
There is no Night Mode on the Galaxy A30, so you can't get anything close to Huawei's low-light shots. And this is mostly felt in the ultra-wide-angle photos, which are rather abysmal without any software enhancements.
Once you're done looking at the real-life samples, don't forget to head over to our Photo compare tool to check out how the Galaxy A30 deals with our studio charts.
Live Focus
The ultra wide-angle camera isn't used for depth information, so the software does all the heavy lifting and does the edge separation on its own. The Live Focus photos surprised us with very good separation and very smart detection. You can adjust the strength of the bokeh in real time or later on in the gallery with the slider below.
The Live Focus photos are saved in 8MP resolution.
Selfies
The 16MP selfies are soft and average in detail, but they do offer excellent contrast and punchy colors. The Auto HDR fires here more often than not, but it does an excellent job in restoring the clipped highlights.
If you get the distance right, and if there's plenty of light – you can get some nice shots.
Portrait mode is available on the selfie camera as well, with just the one camera. The portraits are softer than regular selfies, while the edge detection is far worse than on the main camera. The processing tries to mask the defects and artefacts with extra blur, mostly unsuccessful though. The Auto HDR works here when needed and does an excellent job.
Video recording
The main camera can only record up to Full HD at 30fps, and the same goes for the wide-angle unit. There is no electronic stabilization on any of the snappers.
But if you'd like 4K video recording, the good news is that you can download Open Camera or another third-party camera app from Play Store and enjoy 2160p recording. Be aware though, that the snapper is limited to 4K capturing at 20fps and the clips will be choppy.
If all else fails, the 1080p videos (17Mbps bitrate) from the main camera are excellent, if not class leading. Those are highly detailed, with little noise and true-to-life colors. Dynamic range is good too. We'd rank the A30's 1080p clips among the better ones we've seen, not just in its class, but overall. And their stereo audio is top-notch, too, captured with 256kbps bitrate.
The footage from the ultra-wide-camera doesn't have award-winning detail, but it's decent as ultra-wide videos go.