The Galaxy A series has become even more diversified this year. Samsung has already introduced the Galaxy A10, A20, A30, A40, A50, A70, and A80 smartphones with the focus being on new AMOLED screens and premium camera skills. And our guest of honor – the Galaxy A50 – has plenty to show of both.
The Galaxy A series has always been comprised of premium midrangers. But Samsung's strategy for it has come through several transformations. From all-metal phones and water-resistant designs, through a couple of odd experiments, and lately – pioneering trendy features like notched AMOLEDs and ultra-wide-angle snappers.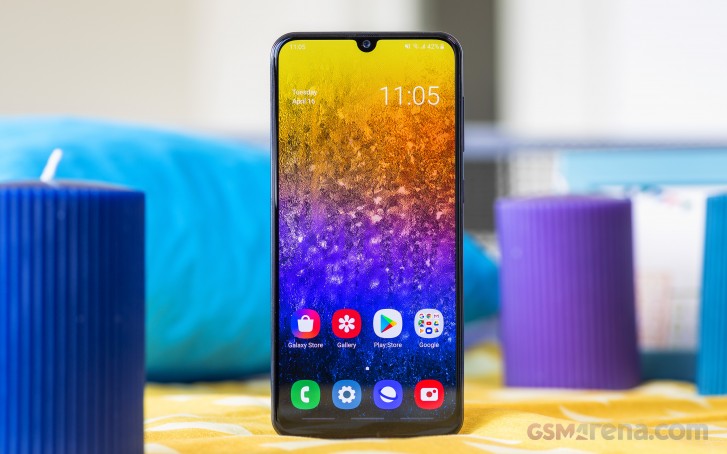 The Galaxy A50 is a well-rounded smartphone packing as many cool specs as possible. Start with the slim design with the gradient paint job, move to 6.4″ the Infinity-U Super AMOLED screen with a premium fingerprint scanner underneath, then there is a powerful Exynos chip, and a triple camera on the back. The large battery and the latest Android Pie with the clean One UI are hard to miss, too.
The Galaxy A50 is obviously positioned between the lower-tier of As with HD AMOLEDs and less-impressive snappers, and the higher-tier A70 and A80 with larger screens, more powerful chips, and even more premium snappers. And that's exactly what makes it so special – having the best from both worlds – cool specs on a lower price.
Samsung Galaxy A50 specs
Body: Gorilla Glass 3 front, plastic frame and back;
Screen: 6.4″ Super AMOLED; 19.5:9 aspect ratio; FullHD+ (1080 x 2340 px)
Rear cameras: 25 MP, f/1.7, PDAF; 8 MP, f/2.2, (ultrawide); 5 MP, f/2.2, depth sensor
Video capture: 1080p@30fps
Front camera: 25 MP, f/2.0, fixed-focus
Chipset: Exynos 9610 Octa (10nm), octa-core processor (4xCortex-A73 + 4xCortex-A53), Mali-G72MP3 GPU.
Memory: 4GB of RAM + 64GB storage / 6GB of RAM + 128GB storage; Up to 512GB microSD card support
OS: Android 9.0 Pie; Samsung One UI on top
Battery: 4,000mAh Li-Ion; 15W quick charge
Connectivity: Dual-SIM/ Single-SIM options available; LTE; USB 2.0 Type-C; Wi-Fi a/b/g/n/ac; GPS + GLONASS + BDS; Bluetooth 5.0; NFC
Misc: Single bottom-firing speaker, Under-display fingerprint reader
One notable omission of the 2019 Galaxy A phones is the lack of water-protection. Samsung has changed its mind yet again, and this mid-range lineup won't feature any ingress protection. Giving something and then taking it away isn't the best move for sure, but we, and probably Samsung too, hope to the A50 will have enough of niceties to make up for that.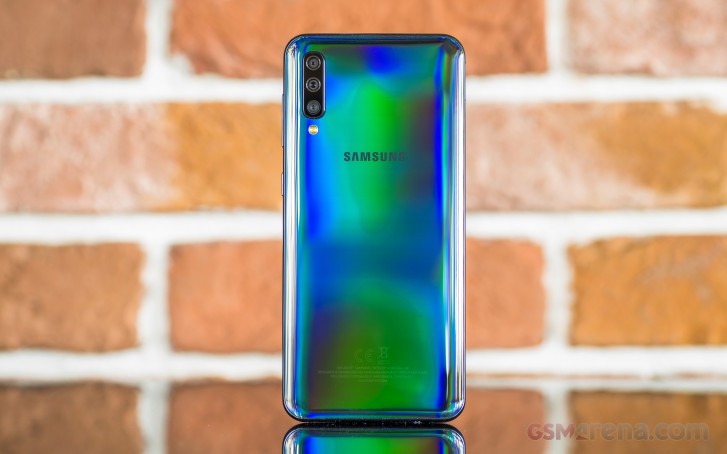 Design
Samsung has invented a whole new word for the design of the new Galaxy A phones – 3D Glasstic. While it may sound pretentious, it's actually a clever combination of words as the A50 has both glass and plastic on its body and the latter looks more like glass than plastic.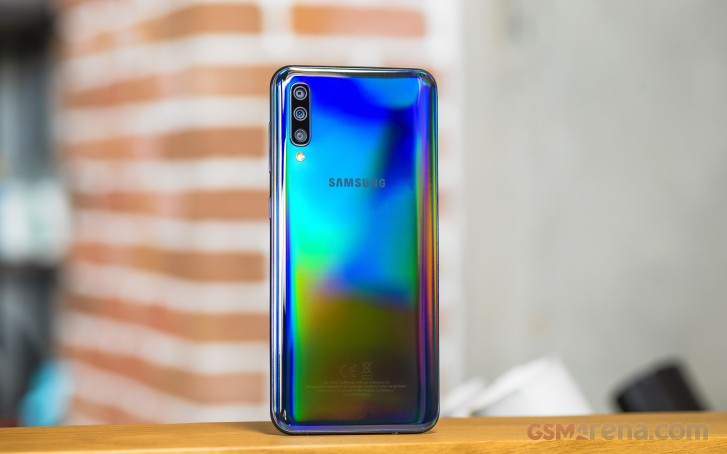 But what's also important is that the Galaxy A50 looks stunning courtesy of its dazzling paint job. In fact, the back is so shiny and has so much light reflection and refraction that it was almost impossible to get a proper shot of it. All color options – Black, White, Blue (ours), and Coral – display massive flares when exposed to a bit of light.
And this is for what the whole 3D Glasstic term was invented for. It's not Gorilla Glass, sure, but it made us talk about it, so we can consider it a success.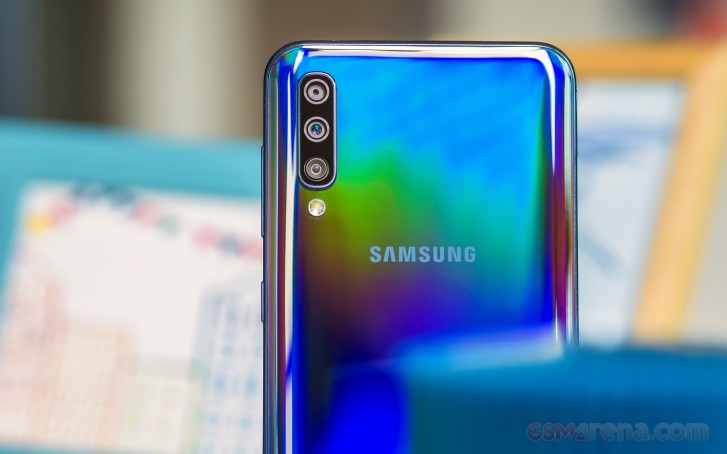 And while we are at the back, the Galaxy A50 has a triple-camera setup here. Don't get too excited yet, as it's far away from Huawei's trifecta. The A50 has a main 25MP camera, a secondary 8MP snapper with fixed-focus and 13mm ultra-wide-angle lens, and a 5MP sensor for depth information. There is also a LED flash around. The camera is humping just a tiny little bit and thankfully, it doesn't wobble when put on a flat surface.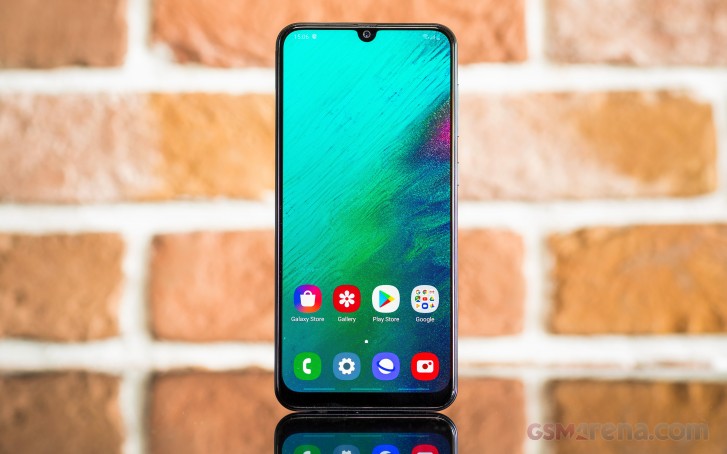 The whole front of the A50 is taken by the large 6.4″ Infinity-U Super AMOLED screen. It has a U-shaped notch at the top for the 25MP selfie camera, while the earpiece so thin that's it is almost invisible above it.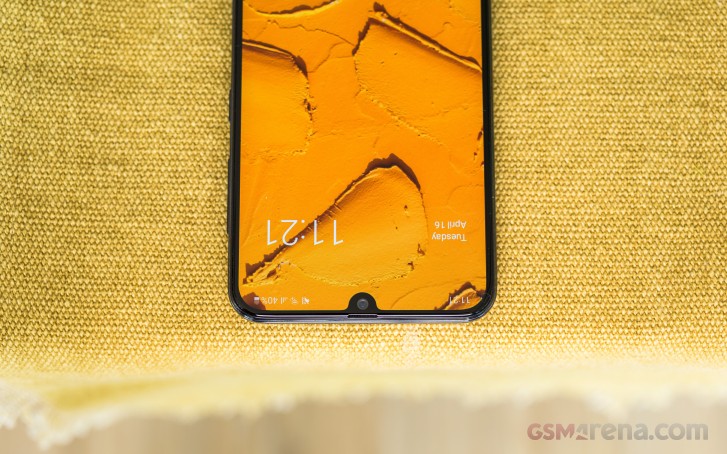 The screen has minimal bezels on its top and longer sides, but there is a noticeable chin at the bottom for the screen controller. The flagship models are currently the only ones not having that chin but the jury is still out whether this is good in usability terms or not.
There is an under-display fingerprint scanner on the A50 and the experience is similar to what we saw on the Galaxy S10 phones. It is positioned around the bottom and is easy to set up, but the experience is equally unreliable. One day it works just fine, the next day it's a hit and miss between considering our presses too short or too light, or just the opposite. Hopefully, a software fix is on the way for the A50 as well.
Update: June, 2019: Samsung has already released a firmware update that improves the fingerprint scanner experience. Indeed, the sensor is now more responsive and accurate. The while unlocking routine seems to be quicker, as well. And this is also the reason, why the fingerprint scanner was removed from the Cons list at the end of this review.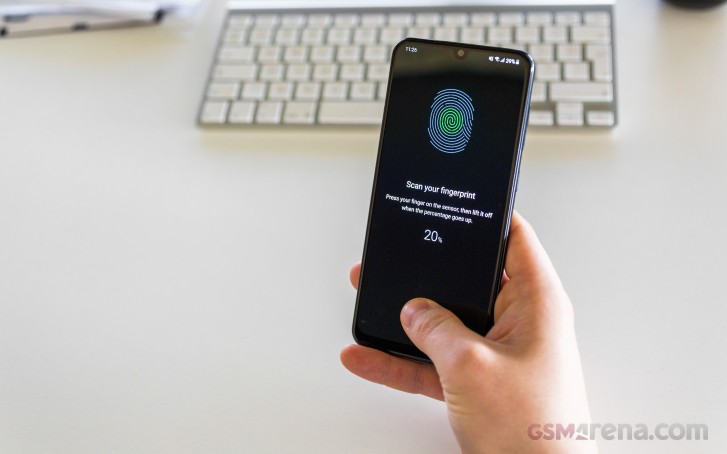 With a diagonal of 6.4 inches, the screen is a pretty close match to the one on the S10+ size-wise, of course. It also supports HDR10+ and has fancy curved sides. It is 1080p in resolution and has a different aspect with 19.5:9 ratio.
The Galaxy A50 measures 158.5 x 74.7 x 7.7 mm, which makes it almost identical to the S10+ footprint. It weighs 9g less though at 166g.
The frame is made if plastic, just like the back of the A50, and is as glossy and shiny. It's also very thin on its longer sides. There is a triple-card slot on the left, while power and volume keys are on the right. The essentials are at the bottom – the USB-C and audio ports, as well as the single loudspeaker.
At the end of the day we didn't really mind the plastic frame on the Galaxy A50. As long as it is reasonably durable, it's a perfectly fine alternative to the popular "glass sandwich" design.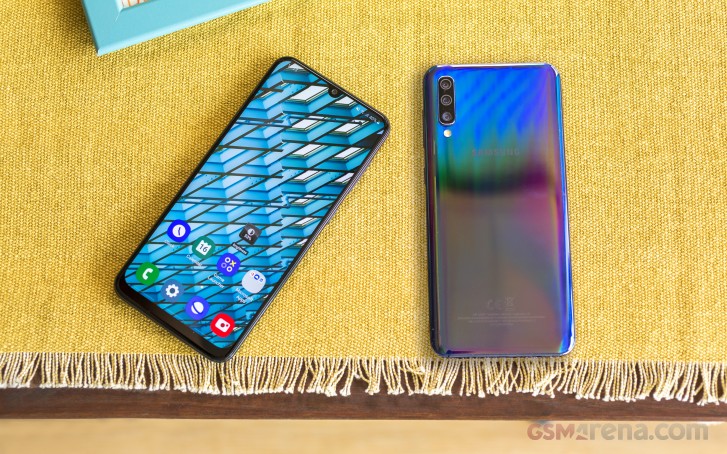 Handling the Galaxy A50 is a pretty familiar feeling if you have any experience with a recent Samsung phone. The sides taper in a very familiar way and make for a fairly slim edge. It is super prone to fingerprints and smudges, but in spite of all that glossiness, the phone didn't feel as slippery as it looks and that's probably a first.
Display
All Galaxy A phones have always had one thing in common and that's the Super AMOLED screen. The A50 isn't a combo breaker either and it also packs a large 6.4″ Super AMOLED screen of 1080p+ resolution. The actual pixel count is 2,340 x 1,080 making the aspect ratio quite wide at 19.5:9 and the pixel density is more than enough at 403ppi.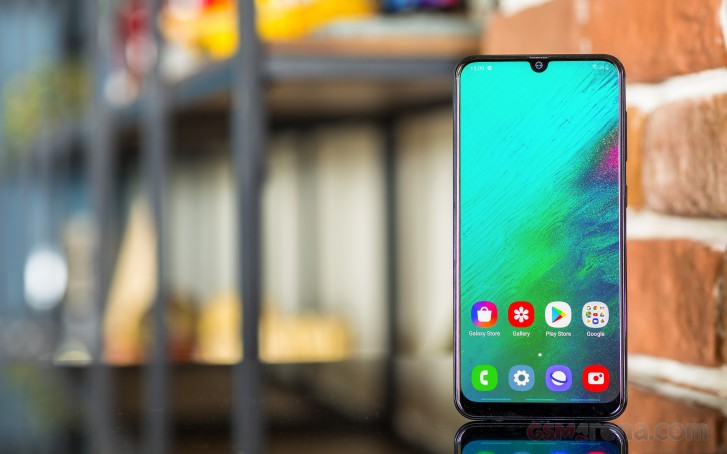 The A50 features the so-called Infinity-U panel, meaning it has a U-shaped notch at the top for the selfie camera. Samsung was one of the few makers to stay away as long as possible from the screen cutouts but eventually it caved in. We guess this makes Sony the last defender of the notch-free screens.
Anyway, notch or not, the Super AMOLED screen is of the usual high-quality we've grown to like. We measured about 420 nits of maximum brightness in manual mode and 550nits in auto with the ambient light sensor is exposed to bright light. We measured a minimum brightness of 1.8nits – pretty great result.
Display test
100% brightness
Black, cd/m2
White, cd/m2
Contrast ratio
Samsung Galaxy A50
0
424
∞
Samsung Galaxy A50 (Max Auto)
0
551
∞
Samsung Galaxy A40
0
410
∞
Samsung Galaxy A40 (Max Auto)
0
548
∞
Samsung Galaxy A9 (2018)
0
399
∞
Samsung Galaxy A9 (2018) (Max Auto)
0
606
∞
Samsung Galaxy S10+
0
385
∞
Samsung Galaxy S10+ (Max Auto)
0
793
∞
Xiaomi Redmi Note 7
0.358
479
1338
Huawei Honor 10 Lite
0.344
441
1282
Oppo F11 Pro
0.316
440
1392
Nokia 7.1
0.377
490
1300
Nokia 7.1 (Max Auto)
0.465
600
1290
Motorola Moto G7 Plus
0.332
473
1425
Motorola Moto G7 Plus (Max Auto)
0.469
590
1258
Samsung Galaxy A8 (2018)
0
390
∞
Samsung Galaxy A8 (2018) (Max Auto)
0
590
∞
Sony Xperia 10
0.362
549
1517
Sony Xperia 10 Plus
0.381
583
1530
Xiaomi Mi 9
0
428
∞
Xiaomi Mi 9 (Max Auto)
0
620
∞
As we've come to expect from Samsung Super AMOLEDs, the display on the Galaxy A50 is capable of accurately reproducing different color spaces depending on content and selected display mode. The Basic mode stays true to sRGB (average DeltaE of 1.7), AMOLED Photo is for Adobe RGB applications (average DeltaE of 1.8), while AMOLED Cinema adheres to the DCI-P3 color space (average DeltaE of 2.0). Of course, the default Adaptive mode makes no claims for accuracy and posts an average DeltaE of 3.3 against a DCI-P3 target with a maximum deviation of 8.8.
Battery life
The Galaxy A50 has a large 4,000mAh battery inside, quite like them Redmi Notes. It supports 15W charging but we didn't get a retail box so we can't provide you with any charging stats.
In our testing, the Galaxy A50 achieved more than respectable results. We clocked north of 12 hours on our Wi-Fi web browsing script and almost 16 hours of looping videos in airplane mode. The 3G talk time is over a day – an excellent score as well.
Adding to the mix the excellent standby performance the Galaxy A50 posted an overall Endurance rating of 98h. And we now know what to expect from any future Exynos 9610-powered smartphone.
Speaker
The Galaxy A50 has a single loudspeaker located on the bottom. It scored a 'Very Good' mark in our three-pronged test when it comes to loudness, but the good news stops here. The output is rather poor and lacks big time in the high frequency. So, as far as quality is concerned – the A50 has a loud sound, but not that clean or rich.
| | | | | |
| --- | --- | --- | --- | --- |
| Speakerphone test | Voice, dB | Pink noise/ Music, dB | Ringing phone, dB | Overall score |
| Realme 3 | 66.0 | 71.8 | 81.2 | Good |
| Samsung Galaxy A9 (2018) | 69.5 | 72.4 | 77.8 | Very Good |
| Oppo F11 Pro | 67.6 | 72.3 | 80.5 | Very Good |
| Samsung Galaxy A8 (2018) | 69.2 | 70.6 | 81.6 | Very Good |
| Moto G7 Plus (Music) | 70.5 | 73.6 | 78.4 | Very Good |
| Samsung Galaxy A50 | 68.9 | 71.3 | 82.7 | Very Good |
| Xiaomi Mi 9 | 70.1 | 74.2 | 81.6 | Very Good |
| Sony Xperia 10 | 68.7 | 73.0 | 87.8 | Excellent |
| Huawei Honor 10 Lite | 70.0 | 73.8 | 87.0 | Excellent |
| Xiaomi Redmi Note 7 | 69.8 | 71.5 | 90.5 | Excellent |
| Samsung Galaxy S10+ | 74.4 | 74.2 | 83.6 | Excellent |
| Sony Xperia 10 Plus | 68.5 | 73.2 | 90.7 | Excellent |
| Nokia 7.1 | 75.6 | 76.0 | 81.1 | Excellent |
Audio quality
The Samsung Galaxy A50 delivered a stellar performance when tested with an external amplifier with high volume levels and perfect clarity marks.
Hеadphones markedly degraded the reproduction accuracy – some intermodulation distortion crept in while stereo crosstalk shot up markedly. The harmonic distortion reading was also a bit worse than usual, adding up to output that's average at best. On the upside the loudness was just as high as in the first part of the test and certainly among the best in the mid-range market.
One UI and Android Pie
The Galaxy A50 is among the first mid-rangers to come with the brand new One UI based on Google's latest Android Pie. It premiered on the Galaxy S10 phones a couple of weeks ago, but it's a promising replacement of the previous Samsung Experience UX. Just as expected, it packs heavy customizations and tons of old and new features but presented in a cleaner and simplistic way.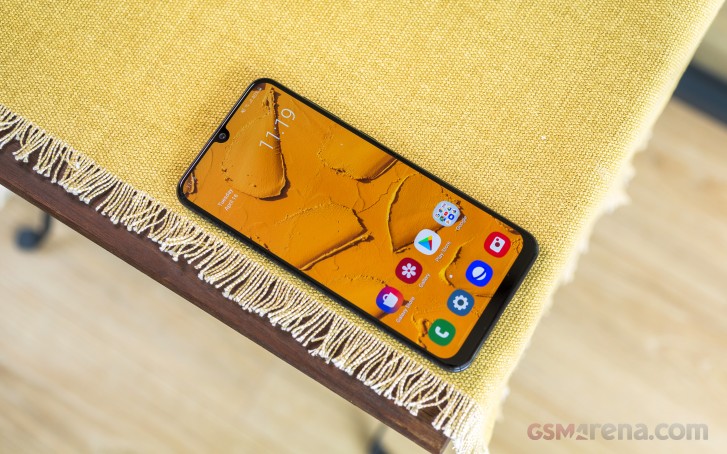 If you've used Samsung UX over the past few years, you will probably work your way around easily. However, there are a couple of major revamps that may seem strange or even uncomfortable at first, but we think it's for the best.
Aside from the colorful new icons that might not be to everyone's taste (you can swap the default ones with another icon pack), Samsung has implemented numerous changes towards more effective and comfortable one-handed use. Now all system menus, including the drop-down menu with all the quick toggles, are located on the bottom half of the screen, so they are within reach of your thumb. It takes some time getting used to, but we think it's a pretty smart solution.
Speaking of one-handed use, there are still some small tidbits that Samsung forgot about. For example, the app folders still open in full-screen with the icons placed on the upper half of the display, which means you'll have to use your other hand to reach them.
And just like everyone else, Samsung has its own way of implementing Google's new gesture-based navigation. They work as conventional buttons – swiping from the bottom-left brings out the recent apps menu by default and swiping from the bottom-right takes you a step back. You can swap them in the settings menu, but the home button remains as a single swipe from the bottom-center. If you swipe and hold, it will summon Google's Assistant.
In the end, Samsung saved a couple of pixels on the bottom, but the gestures still feel half-baked.
What doesn't feel half-baked, however, is the Always On Display feature. It gives you plenty of options although not as many as on the Galaxy S10 phones (there is no brightness setting or wallpaper option here). You can choose different clock styles and font colors, what notifications to be displayed, and when the AOD to be shown – on tap, always, or scheduled.
In line with the rest of the UI changes, the general Settings menu has been revamped too. It's pretty compact, and some of the settings you might be looking for have ended up elsewhere. For example, the Device care sub-menu now accommodates the Battery settings and information, storage and memory management and the security features. Tapping on the Battery icon will open up the familiar battery menu full of settings and adjustments. Aside from the usual info and features which you'd find on pretty much every other Android handset, Samsung has added a couple of additional options.
You have three power modes – Optimized, Medium-power saving and Maximum power saving. Optimized is the default one with performance cranked up to the maximum. In the upper right corner of the battery menu sits another sub-menu giving you more granular control over your power consumption.
Speaking of granularity, the Advanced menu gives you the option to set notifications to pop-up in a small view with which you can interact.
Google's push for the so-called Digital well-being has reached Samsung's One UI too. If you were ever wondering how much time you spend on your phone and which apps you mostly used, the Digital well-being sub-menu would give you the details. It's cool, but it will probably stay unused by most users.
As before, Samsung's own take on the custom Android is full of features and pre-installed apps. We are overwhelmed, and it's hard to go over every one of them. And besides, there are plenty of carry-overs from the previous software versions. Some users may be annoyed with the heavy customization and set of pre-installed apps, especially if you are coming from a vanilla Android.
For multimedia you have the new Gallery app by Samsung for browsing photos and videos, while Play Music handles well, your music. There is also an FM radio app on board, a proprietary My Files file manager app, Samsung Health app, Bixby assistant, among others.
And although not perfect, we kind of like where Samsung is going with this. It's addressing an issue that's been overlooked for quite some time since the new wave of huge smartphone displays. One-handed operation on the One UI is much more pleasant and comfortable. Oh, and the inclusion of the Night mode was a long-awaited feature for more than just a few users. Only using the phone's UI as a daily driver will help establish a more objective opinion but we like what we see so far.
Performance and benchmarks
The Galaxy A50 is the first smartphone we meet powered by the Exynos 9610 chip designed by Samsung. Contrary on what the model number suggests, the 9610 SoC is part of the mid-range Exynos 7 Series, so you shouldn't hope for flagship-grade speeds.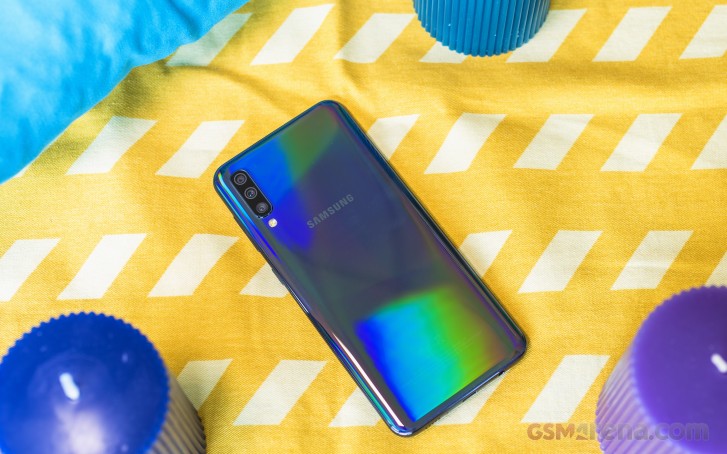 Still, the Exynos 9610 seems rather well-packed with processing punch. There is an octa-core processor with four A73 cores running at 2.3GHz and four A53 ones ticking at 1.7GHz. Those should be more than enough to handle even the most demanding tasks today.
Then there is the Mali-G72 MP3 (read tri-core). We've already seen three G72 cores in action as part of the Helio P60 and P70 chips, and those turned out to be enough for a balanced gaming experience on a budget.
Finally, the A50 comes with either 4GB or 6GB of LPDDR4x RAM depending on the market and base storage.
And now let's run some benchmarks, shall we?
As usual, we'll start our benchmark tests with Geekbench. In single-core performance the Cortex-A73 cores matche the Kryo 260 Gold in the Snapdragon 660 (Redmi Note 7), and beat everything but the Kryo 360 Gold within the Snapdragon 710 (Xiaomi Mi 8 SE).
Multi-core operations are an easy task for the Galaxy A50. It does as well as the S660 chip, close to the S710 performance, while the Helio P70 that has the same CPU configuration is a bit faster because its CPU cores have a higher clock.
The tri-core Mali-G72 is a solid performer – and in this price range it's among the best GPUs you can get in a 1080p smartphone. It is only beaten by the Adreno 616 within the Qualcomm's Snapdragon 710 (Mi 8 SE).
The Galaxy A50 is plenty fast for its asking price. It is a very dependable performer thanks to its Exynos 9610 chip. It's as great for gaming as it is for daily operations and browsing the social media. The Android OS and One UI are fast and fluid on this hardware, although once you populate apps with personal content you may notice some prolonged loading times.
We didn't notice any hot spots around the Galaxy A50 even when running those benchmarks for longer duration and there was no throttling at all. Overall, the A50 offers great performance for the class and nobody should be experiencing major hiccups whatever the tasks at hand.
A triple-camera on the back
The Samsung Galaxy A50 has a triple camera on its back – the main 25MP PDAF f/1.7 snapper is joined by an 8MP fixed-focus, f/2.2 ultra-wide and a 5MP, fixed-focus, f/2.2 depth sensor. There is also a single LED flash around.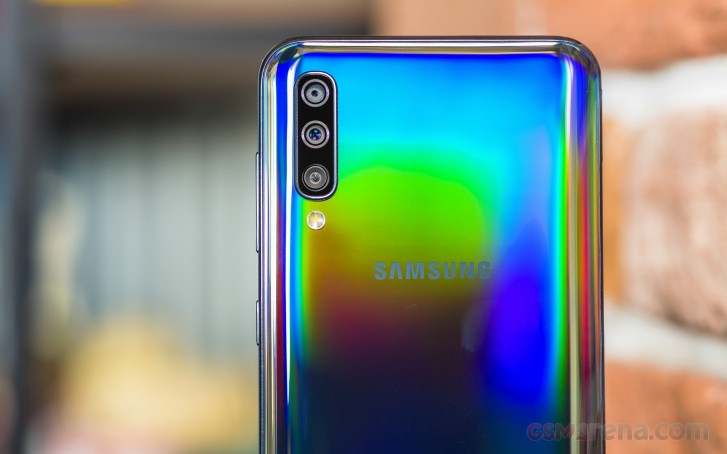 The 5MP isn't a standalone module that you can take actual pictures with – instead, it's a 'Depth Camera', to be used for 'Live Focus', in Samsung's own terms.
So, the primary camera has a 25MP resolution sensor behind a fast f/1.7 lens with a focal length that's reported as 27mm. Then the 8MP sensor behind an f/2.2 aperture lens that delivers a 120-degree field of view. The EXIF data reports 13mm focal length.
The camera app is very much the same as on any current Samsung, only with more icons in the viewfinder to control which camera is being used. The icon with 3 trees means ultra-wide-angle cam, while 2 trees denote the regular camera.
Basic operation is business as usual with side swipes for cycling through modes and an up/down action for toggling between the rear and front cameras. There's an AI-powered Scene optimizer mode that should recognize certain types of scenes and adjust parameters accordingly. We kept it off, as it doesn't make that much of a difference, plus we tend to prefer to add the effects after. The shown modes, as well as their arrangement, can be tweaked in settings.
Live focus mode is present, naturally, with all so many cameras and a dedicated depth sensor. There's also a Pro mode, but there's hardly anything pro about it – you can only choose ISO (in the 100-800 range), exposure compensation (-2/+2EV in 0.1EV steps), and white balance (presets, but no light temperature).
Image quality
The Galaxy A50 by default shoots in 12MP, but this can be changed from the aspect settings – 3:4 corresponds to 12MP, while 3:4H means 25MP. When shooting in 25MP you can't use Auto HDR or any HDR for that matter, but that's pretty much the only caveat.
Let's start with the high-res images. The detail levels aren't what you'd expect from the 25MP number but that wasn't a surprise. We already observed similar lack in detail in previous Samsung mid-rangers such as the last Galaxy A9.
So, the photos are overall soft, but you can notice the processing tried to compensate for that with sharpening, but it is often too aggressive and there are noticeable sharpening halos in the pictures.
And now the good news – the colors turned out pretty accurate, the contrast is excellent, while the dynamic range is about the average – quite expected given no HDR mode was involved.
If HDR is involved, the photos often look a bit better with even exposure and some of the blown highlights get rescued. But there are times where the colors are presented unrealistic with a noticeable greenish tint.
The ultra-wide camera produces heavily distorted 8MP images as there is no distortion correction applied. This is hardly an issue as the purpose of the wide-angle snapper is to fit as much as possible into a 4:3 image and that's the price to pay. Pixel level quality isn't great, but the colors and contrast are excellent, and the dynamic range is often improved by the Auto HDR without hurting the color presentation of detail levels. Overall, those images should be enjoyed for what they are – exaggerated perspective shots on the cheap.
The 25MP low-light photos from the Galaxy A50 are a huge mess, lacking in detail, noisy, soft, and a bit blurry. We suspect the 25MP wasn't intended for low-light at all. This is where the 12MP default option actually comes in handy. We suspect the camera does some pixel-binning but only in low-light, and thus produces much better 12MP low-light images. Far from impressive or even competitive, though.
The 12MP shots have very good color saturation although, highlights will get clipped. On closer inspection, the level of detail is underwhelming and there's prominent noise across the board even for this price range.
There is no Night Mode on the Galaxy A50, so you can't get anything close to Huawei's low-light shots. And this is mostly felt in the ultra-wide-angle photos, which are rather abysmal without any software enhancements.
And once you're done looking at real-life samples, don't forget to head over to our Photo compare tool to check out how the Galaxy A50 deals with our studio charts.
Portraits
The Galaxy A50 has a standalone 5MP camera to capture depth information and should be producing some good portrait shots. Those are saved in 12MP and indeed they turned out impressive, especially when coming from a low-tier mid-ranger. The separation is excellent, there are no abrupt transitions, and the algorithm is smart enough not to get fooled by objects close to the face. Sure, the photos aren't perfect, but we've seen flagships do way worse and we really got more than we hoped for from a budget mid-ranger.
Selfies
The Galaxy A50 comes with a high-res 25MP selfie camera, which may or may not be the same as the main 25MP one. If you get the distance right, and if there's plenty of light – you can get some detailed shots. Colors are spot on too.
Just like the main 25MP snapper, the selfie one shoots in 12MP by default unless you opt for 25MP. The Auto HDR is available only in the 12MP mode. And if it fires, it rescues blown highlights. Other than that – the images are very detailed and have excellent colors.
Portrait mode is available on the selfie camera as well, with just the one camera. The portraits are softer than regular selfies, but surprisingly – with the same meticulous subject separation as seen on the regular portrait photos. And HDR works here when needed, too, and does an excellent job.
Video recording
The Galaxy A50 records video up to 1080p at 30fps – no 4K, and no 1080/60 either. Electronic stabilization is available though and it's always-on – there is no option to turn it off. The bit rate of 1080p videos is average at 17Mbps while audio is recorded in stereo at 256kbps.
Taking in consideration the very windy weather around here that is felt in both picture and sound, the A50 still excels om 1080p video capture – the clips are highly detailed and with little noise. Dynamic range is good too and the colors are spot on. We'd rank the A50's 1080p clips among the better ones we've seen, not just in its class, but overall.
The footage from the ultra-wide-camera doesn't have award-winning detail, but it's decent as ultra-wide videos go.
Electronic stabilization is available on both regular and wide-angle camera and it does a stellar job.
In theory the Exynos 9610's ISO should support 4K video recording, which however is not available on the A50. We've encountered similar oddities with some cheap Redmis, so we suspected we could get 4K clips with a third-party app since Samsung is using a standard camera APIs. So, we just downloaded the OpenCamera app from the PlayStore and bingo! 4K@30fps. So, if you want 4K on the A50, you can have it, in pretty good quality at that.
Competition
This year Samsung has completely revamped its Galaxy A-series and once again shifted their position on the market. The Galaxy A50 is a rather obvious offer meant to keep the budget low yet bring some cool features from the higher-tier devices – like a large Super AMOLED, snappy chip and a multi-camera setup.
And things did turn out for the better – the Galaxy A50 has the looks to impress, a very colorful AMOLED screen with an under-screen fingerprint scanner, a very capable camera on both ends, a gaming-friendly chipset, and a beefy battery that will keep the lights on for quite some time. But the best part – the price of €280 is quite reasonable and competitive.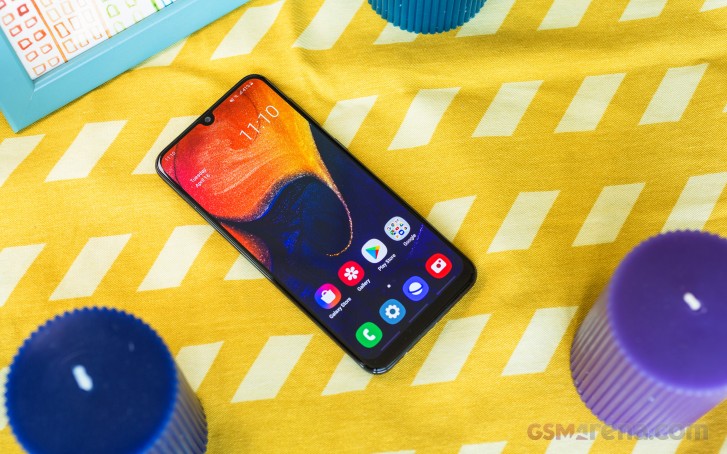 Compromises had to be made for making such a good deal – the A50 isn't water-resistant – something the old Galaxy A series has been known for. But that's probably the only beef a long-time Samsung fan may have with the A50.
Let's take a peek at the competition. Motorola is selling the Moto G7 Plus at about the same price, but it's an inferior phone in every way – the screen is an LCD, the chipset is feeble, the camera – less impressive although it can do 4K, and the battery life was disappointing.
The Redmi Note 7 is at least €60 cheaper, and it is ready to fight back big time. The Xiaomi's most popular mid-ranger is as stunning and as fast as the A50, while it's 6.3″ display is of the same resolution, but it's the IPS LCD kind. It has no wide-angle camera, but it can still excel in photos, and it even offers a Night Mode. If you aren't all about OLEDs and One UI, you may want to give it a try.
The Honor 10 Lite also impresses with a dazzling body and a large IPS LCD screen, while its Kirin 710 chip is of the same league as the Exynos 9610. The Honor omits a wide-angle snapper but makes up for that with a Night Mode by Huawei. Finally, the Honor 10 Lite costs about €80 less than the Galaxy A50 – probably the biggest reason to check this one out.
And back to Samsung – if the A50 is too large for you, then the A40 is a very good option. It is a very compact and lightweight smartphone, with a 5.9″ nearly bezel-less 1080p AMOLED, a good enough Exynos 7885 chip, and a solid 3,100 mAh battery for that size. The A40 has a dual-camera on the back with a 16MP main snapper and a 5MP ultra-wide cam, it lacks a depth sensor and thus the not-so-accurate portraits. The A40 is a bit cheaper (€40), so there is that.
The Verdict
Samsung got a lot of things right in the Galaxy A50 – the design and color options, the screen, the performance, and the battery life. The still images, while not impressive in detail, are of high-resolution and dependable as long as there's sufficient light. Nighttime photos turn out with poor dynamic range, fuzzy and noisy. Most of the competitors perform much better in low-light situations. The 1080p videos, on the other hand, are impressive.
The addition of the One UI is welcome on a midranger, and we like the direction where it is going. Yes, the Galaxy A50 isn't water-resistant as its predecessors, but it excels elsewhere and makes up for all omissions with a very competitive price. We liked it for sure, and we'd recommend checking it out if it fits your budget bracket.
Pros
Solid build and stunning paintjob
Excellent 6.4″ AMOLED
Gaming-friendly Exynos 9610 chip
Versatile camera that does the job well during the day
Great portraits, nice selfies, excellent 1080p videos with stabilization
Dependable battery life
Cons
Lacks water-resistance
The speaker quality is poor
Unsatisfactory low-light camera performance
The detail in the daylight photos could have been higher
You need a third-party app for 4K video capturing